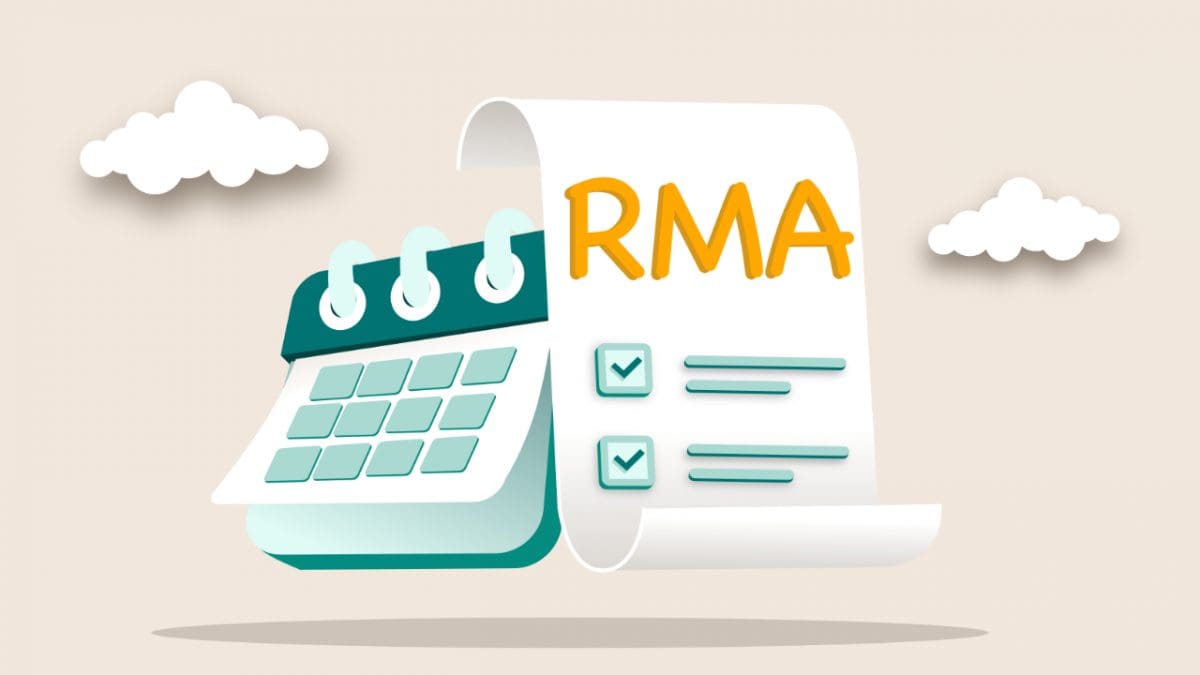 Shopping is easier than it's ever been today. Yet, the lingering possibility of needing a return hovers in the background of every purchase decision. Returns are an inevitable part of the buying process, but they don't have to be a dreaded ordeal. Whether you're a consumer puzzled over the maze of return policies or a business striving to make the process painless for your customers, this guide is for you.
With a blend of understanding, proper tools, and actionable steps, RMA returns can be simplified, making them less of a hassle and more of a seamless journey. Today, let's examine the ins and outs of RMA returns, offering insights and strategies to make them a breeze.
What is RMA?
RMA stands for "Return Merchandise Authorization." It's a green light given by a seller or manufacturer, allowing a buyer to return a product. This might be due to a defect, dissatisfaction, or any other valid reason as outlined in the return policy.
Imagine buying a gadget online. It arrives, but there's a problem—it's not working as promised. Instead of blindly sending it back and hoping for the best, you'd first reach out to the seller. They, in turn, would issue an RMA. This system ensures both parties are on the same page about the return, making the process smoother and faster.
But why is RMA so essential? A couple of reasons:
Clarity and Efficiency: With an RMA in place, buyers and sellers have a clear roadmap of the return process. It avoids guesswork, ensuring returns are handled promptly.
Inventory Management: For sellers, RMAs help keep tabs on incoming returns, making inventory updates more accurate.
Consumer Trust: For buyers, an RMA is a sign that the seller is organized and values customer satisfaction. It's a safety net, ensuring that if things don't go as planned, there's a system to make things right.
Financial Tracking: RMAs help businesses monitor potential refunds or replacements, aiding in financial forecasting.
In the world of online shopping, where touch, feel, and immediate validation aren't options, RMAs bridge the gap. They are the guarantee that, even from a distance, transactions can be flexible and trust-based, without drowning in chaos.
So, the next time you're pondering over a return, know that RMA is your ticket to a hassle-free experience. Whether you're a buyer seeking peace of mind or a seller aiming for streamlined operations, the RMA process has got you covered.
Initiating an RMA Return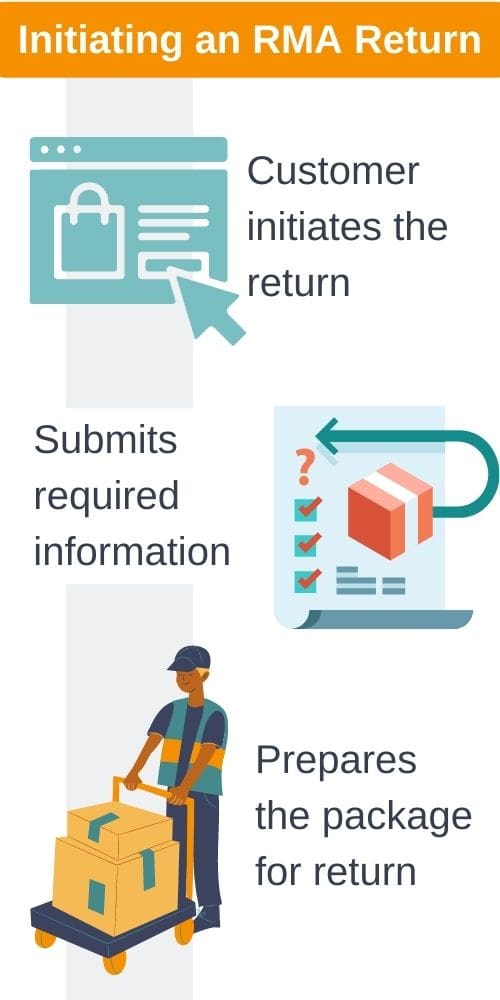 Starting the RMA process might seem challenging at first. But with a step-by-step guide, it becomes a breeze. Here's a breakdown of how to kick off the RMA return journey.
Contacting Customer Support or Initiating Online RMA Request:
Reaching Out: Begin by contacting the seller's customer support. This could be through a phone call, email, or even a chatbot on their website.
Online RMA Platforms: Some sellers provide an online portal dedicated to RMA requests. Here, you simply log in, choose the product, and request an RMA—all without talking to a soul.
Required Information for a Successful RMA Request:
Purchase Details: Have your receipt or invoice number handy. This verifies your purchase and expedites the process.
Product Details: Model number, serial number, and a brief description of the problem or reason for the return.
Personal Details: Your name, contact information, and shipping address. This ensures the seller can get in touch with questions if needed.
Tips for Preparing the Product for Return Shipment:
Original Packaging: If possible, use the original packaging. It's designed to protect the product during transit.
Include All Components: Manuals, cables, and any other accessories should be returned too. It's often a requirement.
Secure the Product: Bubble wrap or other protective materials can prevent damage during shipping.
Addressing Common Challenges During the RMA Initiation Process:
Unclear Return Policies: Always read the seller's return policy beforehand. It provides clarity on return windows, eligible products, and other key details.
Missing Information: Make sure you have all the required information before reaching out. It avoids back-and-forth with the seller.
Packaging Woes: Don't have the original box? No problem. Just ensure whatever you use is sturdy and appropriate for the product. When in doubt, ask the seller for guidance.
Communication Delays: It's frustrating when sellers don't respond promptly. Being proactive helps. Initiate your request well before the end of the return window and documented all communication until the issue is resolved.
Remember, preparation is key when you need to initiate a return. With a proactive approach and a little patience, your return process will be less of a hassle with a quick resolution to your individual situation.
How to Track Your RMA Return
Just like tracking a package you're eagerly waiting for, monitoring the status of your RMA return is important. Here's a comprehensive guide on how to keep tabs on your returned item, ensuring it reaches its destination without a hitch.
Explanation of the RMA Tracking Process:
RMA Number: Once your return is approved, you'll receive an RMA number. This unique identifier is crucial for tracking. Think of it as the tracking number for your package.
Track via Seller's Portal: Most sellers offer a portal where you can input your RMA number to see real-time updates.
Email Updates: Some companies provide automated email or SMS notifications for every step of the return journey. From the moment it's received to when a refund or replacement is processed, you'll be in the know.
Utilizing Tools to Track Returns:
A growing number of companies have platforms to simplify and automate the return process like Elite EXTRA's Returns Automation. This platform greatly simplifies the tracking process. With features like the Live Returns Dashboard and Customer Portal, both consumers and managers can monitor the return journey effortlessly. It's like having a personal assistant for your returns.
Understanding the Various Status Updates on the Return Journey:
Here is a list of common status updates you will receive during your return:
Initiated: Your RMA request is approved, and the return process has started.
In Transit: Your product is on its way back to the seller or warehouse.
Received: The seller or fulfillment center has your product in their hands.
Inspection: This stage verifies the product's condition and matches it against your stated reason for return.
Refund/Replacement Processed: After inspection, the seller has issued a refund or sent a replacement.
Completed: The entire process is done, and there are no pending actions.
Troubleshooting Tracking Issues:
Missing or Inaccurate Information: If the tracking tool shows an error or no updates, double-check your RMA number. A simple typo can be the culprit.
Contact Customer Service: If there's a genuine issue, or you feel the status hasn't changed in a suspiciously long time, reach out to the seller's support team. They'll have the most up-to-date information.
Check Your Email: Some notifications might land in your spam or promotions folder. Ensure you've whitelisted the seller's email address.
Staying updated on your RMA return is straightforward. With user-friendly platforms like Elite EXTRA and proactive communication from sellers, you'll always know where your product stands in the return process. Keeping track, after all, brings peace of mind.

Best Practices for Hassle-free RMA Returns
Navigating the world of RMA returns doesn't have to feel like uncharted territory. Both for shoppers eager to set things right and businesses aiming to uphold customer satisfaction, there's a roadmap to making returns straightforward and hassle-free. Here are some best practices to ensure just that.
Tips for Clear Communication with Customer Support or the Vendor:
Be Prepared: Before reaching out, gather all necessary details like order number, product details, and your concerns. This makes the conversation efficient.
Stay Calm and Polite: Remember, customer support is there to help. Being courteous can often lead to quicker resolutions.
Document Everything: Whether it's a phone call or an email exchange, keeping a record can be beneficial if there are any discrepancies later.
Properly Packaging and Shipping the Returned Product:
Original is Best: Always try to use the original packaging. It not only ensures maximum protection but also indicates the product's authenticity to the receiver.
Secure Everything: Even inside the box, make sure the product isn't jostling around. Use bubble wrap or newspaper to fill empty spaces.
Label Clearly: Ensure the RMA number and return address are clearly marked. It helps in swift processing once the product reaches its destination.
Opt for Tracking: When shipping your return, if possible, choose a method that provides tracking. It adds an extra layer of security and peace of mind.
Understanding the Return Policy and Timeframes for Processing Returns:
Read Before You Buy: Familiarizing yourself with a vendor's return policy before making a purchase can save a lot of heartache down the line.
Mark Your Calendar: Many companies have a specific window for returns, be it 30, 60, or 90 days. Make a note of this deadline to ensure timely returns.
Processing Time Varies: Once your return is received, refunds or replacements might not be instantaneous. Some vendors mention a processing time – be prepared to wait.
An RMA return doesn't have to feel like a trek up a mountain. With the right approach and a clear understanding of the process, it's a manageable path. The key is preparation and patience. Happy returning!
Simplifying the RMA Returns for Businesses
While RMA returns are often viewed from the lens of a customer, for businesses, a streamlined return process can be the difference between a one-time customer and a loyal fan. By enhancing the RMA process, businesses can cultivate trust, ensure customer satisfaction, and even boost sales. Here's how businesses can simplify and refine their RMA returns:
Improve RMA Processes to Enhance Customer Satisfaction:
Clear Return Guidelines: Clearly state your return policy on your website and on purchase receipts. The easier it is for customers to find and understand, the smoother the process.
Swift Responses: Time is of the essence. When a customer requests an RMA, aim to approve and provide an RMA number promptly.
Flexible Windows: While it's essential to have a timeframe for returns, offering a reasonable and slightly extended window can enhance customer trust.
Investing in User-friendly RMA Tracking Systems: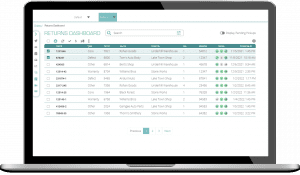 Go Digital: Investing in platforms, like Elite EXTRA's Returns Automation, can provide real-time RMA tracking for both businesses and customers. 
Automated Notifications: Systems that send automatic updates about the return status keep the customer informed and reduce the need for them to contact customer support.
Centralized Systems: Having a single platform where all RMA-related information, from approval to processing, is stored can be a boon for customer support teams.
Implementing Proactive Measures to Reduce RMA Occurrences:
Quality Control: Many returns arise from product defects. By ensuring rigorous quality checks, businesses can significantly reduce the need for RMAs.
Detailed Product Descriptions: Often, customers return products because they don't match their expectations. By providing comprehensive product descriptions, images, and even customer reviews, businesses can set clear expectations.
Open Communication: Encourage customers to reach out with concerns before deciding to return. Sometimes, a quick troubleshooting session or clarification can prevent an unnecessary return.
Feedback Loop: Encourage feedback on why items are being returned. This direct insight can help in refining products, descriptions, and even return policies.
RMA can be a chance to show customers you care about their needs and that you're willing to go the extra mile to meet them. By simplifying the process, not only can businesses reduce the costs associated with returns but also transform a potentially negative experience into an opportunity for building trust and rapport with the customer. After all, it's often the bumps in the road where businesses truly show their mettle.
Conclusion
Navigating the waters of RMA returns doesn't have to be a turbulent journey. Whether you're a consumer seeking clarity or a business aiming for efficiency, the key lies in understanding, preparation, and utilizing the right tools. With platforms like Elite EXTRA's Returns Automation, both parties can experience a return process that's smooth, transparent, and hassle-free.
For businesses, this isn't just about managing returns—it's about fostering trust, building long-lasting relationships, and elevating the overall customer experience. By investing in streamlined processes and digital platforms, you're essentially saying, "We value your time and trust."
So, why wait? Make the change so returns are no longer a pain point but a seamless part of the purchase journey. Learn how Elite EXTRA's Returns Automation can transform your RMA experience and help you streamline your returns today.