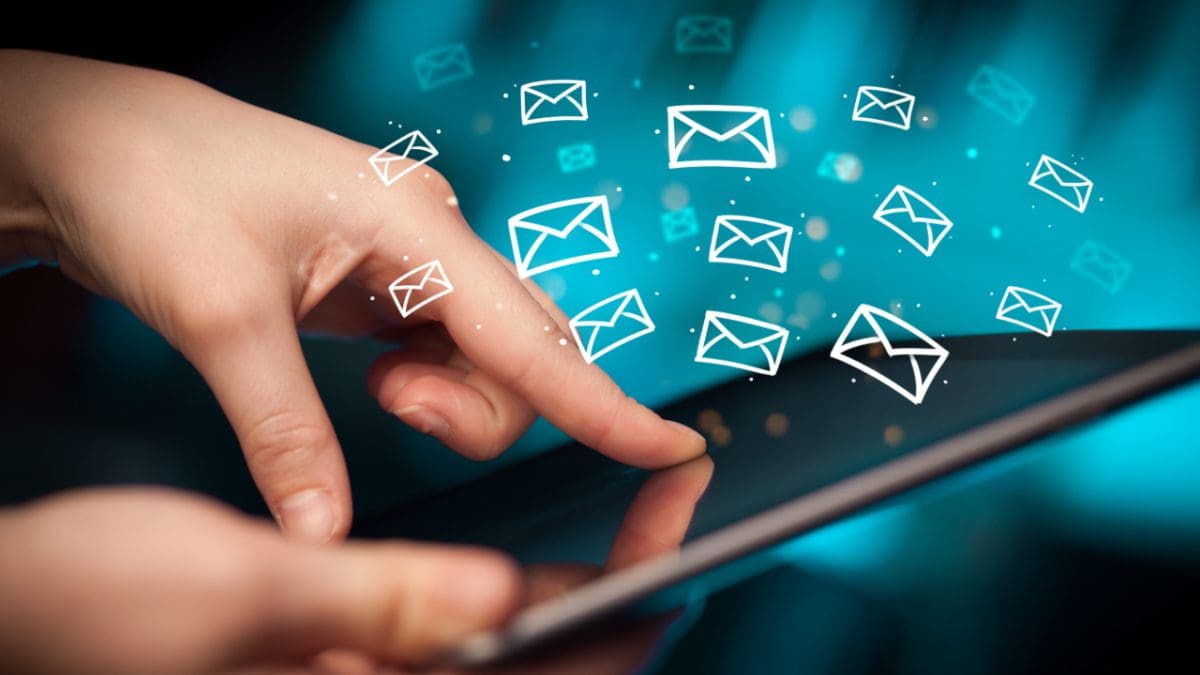 The Importance of Communication in White Glove Service
During white glove service delivery, where personalization and meticulous care are prominent, communication emerges as a critical factor that sets the stage for delivering excellence. And since this service is seen as a more luxurious last-mile delivery option, it should be treated as so through every delivery stage, especially in communication.
What is a White Glove Service?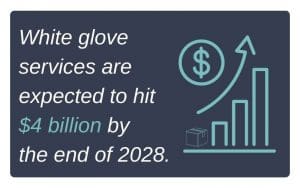 White glove services refer to a high-touch, personalized, and meticulous approach to customer service and delivery. In other words, it's service delivered with a prearranged requests, lots of care, and attention to detail. It's luxurious, memorable and makes the process as convenient as can be for customers. The emphasis of white glove services is on delivering tailored experiences for each client.
This premium service is common in high-end retail, luxury dining, art, and hospitality industries. Today's guide will focus on white glove services during last-mile delivery.
White glove services are growing steadily and are expected to hit $4 billion by the time 2028 comes to a close.
How White Glove Delivery Varies From Standard Delivery
The main difference between standard and white glove delivery services is the level of personalization and care dedicated to each. During white glove services, delivery personnel offer utmost care, an extra touch of personalization, and meticulousness for each delivery.
For example, delivery personnel won't just drop off a package. Instead, they'll bring the package to the location, unpack it, and assemble or install it at the location requested by a customer.
The personnel will go the extra mile to clear and dispose of the packaging materials. If a customer replaces a damaged item, the delivery personnel will also help dispose of the older item. Also, if there's an issue with a package, the delivery personnel will contact support and rectify the mistake.
In contrast, drivers simply drop off the package during standard delivery services. The customer is left to deal with setting up their order. If something is wrong with the delivery, customers are also responsible for notifying customer services to rectify it.
Communication Takes Center Stage in White Glove Services
A lot of components go into delivering successful white glove services. But one crucial element that ties it together is personalized and constant communication. After all, when customers choose white glove services, they don't only want extra attention on their product, they also want to be kept in the loop on the status of the delivery.
The key aspect of white glove delivery services is to instill confidence in customers that they'll receive the best. Communication makes it possible. For customers, a lack of communication is an unsatisfactory experience. This is especially dangerous since 17% of customers will switch to a competitor after just one unsatisfactory experience.
Generally, communication is important in white glove services because it helps you:
Set clear expectation
Provide real-time updates
Address customer concerns
Personalize customer interactions
Receive customer feedback
Below we discuss how to communicate with customers when you offer white glove delivery services.

1. Set Clear Expectations
Even if you describe your services as white glove, they won't encompass what every other white glove service-oriented company offers. So, be sure to define what exactly your white glove delivery service offers.
First, communicate the type of services a white glove customer should expect during delivery. For example, does your delivery entail delivering inside, unpacking, installing, and setting up the package?
Do you also dispose of old items replaced by the new delivery? Also, do you leave the workspace clean after setting up, or is that the customer's task?
Next, get into more pertinent details about your services, such as:
The entire cost of the white glove service. This should be communicated in advance before a customer decides to opt for delivery.
How long after they place an order should they wait for communication? In most cases, communication should occur immediately after a customer orders. A simple confirmation email or SMS is a good start.
How long will it take to receive a delivery? Working with routing and dispatch software can help you determine more accurately estimated package arrival times.
How much time will it take to set up a package? Customers need a rough, albeit accurate, estimate to plan their time better.
These expectations should be clearly outlined on your website. You can set up an FAQ section detailing the most commonly asked questions about your services. Your customer service team should also be able to set these expectations if customers call to inquire.
Clearly articulating what you can and can't do aligns your client's expectations with the reality of what is feasible. This transparency about timelines, communication, and limitations helps prevent misunderstanding and unsatisfactory customer experiences.
2. Provide Real-Time Updates
Real-time updates are another vital element of communication in white glove delivery services. Specifically, white glove customers expect delivery updates every step of the way. They need an update once they order and another one when the order is set for shipment. In addition, customers expect orders when a package is in transit. More importantly, they need accurate arrival time estimates of when their orders will arrive.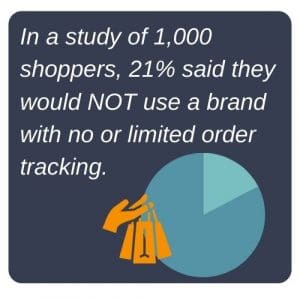 As a white glove service-oriented company, you should be able to provide customers with such updates. Fortunately, Routing & Dispatch software such as Elite EXTRA can help you define accurate ETAs. Such software might also come with a mobile app or SMS integrations that allow you to inform customers about the package's delivery progress.
Your company can go a step even further by also providing real-time order tracking. Because of its positive response from customer, this feature is now expected in white glove service delivery. Real-time order tracking is a customer favorite because it reduces delivery anxiety and reinforces that customer convenience and care are your brand's priority.
Failing to provide real-time order tracking capability might cause some customers to seek alternatives. In fact, in a study of 1,000 shoppers, 21% said they wouldn't use a brand with no or limited order tracking.
3. Address Customer Concerns Promptly
61% of customers will switch to a competitor after a bad customer service experience. Bad experiences can come in many forms, including delayed responses, bad attitudes from your customer care personnel, and inconsistencies in your messaging.
With any service, but especially in white glove delivery, promptly addressing customer concerns is essential to communication. Customers who pay for white glove services expect fast responses to their concerns.
For instance, customers would want their email queries answered in a few hours. If there's an issue with the delivered package, the customers expect your brand to make amends in two days or less and a couple of hours if it's urgent. Customers also want their concerns addressed in a single interaction— not after a frustrating string of email back and forth.
Automated tools can address these concerns but don't completely disregard human representatives. According to a 2022 study, 36% of customers would rather interact with a human representative. More than half of customers describe automated telephone recordings that make it impossible to reach human reps as the most exasperating part.
4. Don't Stop Communication Post Delivery
With white glove services, communication doesn't stop post-delivery. Part of offering a premium experience involves keeping communication going post-delivery.
Post-delivery communication shows customers you're attentive and still cognisant of their needs. For example, you can send a follow-up email after delivery to find out how the delivery experience was for customers. You get crucial feedback, and customers, yet again, experience your company's attentiveness and care. Remember, when customers feel forgotten, they are less excited to purchase from your brand again.
Communication, even after delivery, keeps your relationship alive. Overall, staying connected with customers and making them see that you care is the point.
5. Personalize Communication at All Levels
Personalizing communication primarily involves tailoring all your interactions to meet customers' specific preferences and needs. You can achieve personalization first by creating detailed customer profiles.
These profiles contain all pertinent information about your customers, such as name, location, preferred communication channels, and other preferences they've mentioned. You can then use this information to make communication more personal and precise.
Below are some tips to keep communication personal:
Give customers a dedicated point of contact. Companies can often feel big and impersonal. But behind the corporate veil, there's an accounts manager or customer representative that can help make white glove services truly personal. Having a single person handling each customer supports communication continuity and makes the interaction feel personal and premium.
Find the customer's preferred channels. Some white glove customers prefer phone calls, while others would rather text. Find what works for each, as it helps make communication less frictional.
Accommodate special requests. White glove delivery often involves handling valuable or delicate items. If customers have specific instructions or special requests regarding the handling or placement of their items, take note of them and communicate them clearly to your delivery team. Confirming and following through on these requests demonstrates your commitment to meeting customer expectations.
6. Keep Customer Feedback Channels Open
Communication during white glove services is two-way. You obviously need to communicate timelines, package details, and more. But customers should also have access to channels where they can air concerns and feedback.
A mobile app where customers can rate their delivery experience is a nice touch. If not, you can encourage customers to leave reviews about their experience on platforms like Google Business Profile. Surveys are also a reliable option to collect customer feedback.
Communication Enhances the Overall White Glove Service Experience
Communication in white glove services should create memorable and delightful customer experiences. For this to happen, be ready to engage in pleasant but professional conversation, provide fast support, and be attentive to the client's needs.
More importantly, demonstrate that you have a genuine interest in their success by making delivery convenient and free from frustrations.
By the time you wrap up a white glove delivery service, you should have a deeper relationship with your customers. Customers should also have developed unwavering trust, confidence, and loyalty toward your brand. You can determine whether you've achieved these two goals by looking at the reviews customers leave. Repeat business and sending referrals your way are other indicators.
Want more industry insights?
Subscribe to our newsletter to receive weekly last mile logistics insights directly to your email inbox each week!
Three Key Tips to Help Improve Communication in White Glove Delivery Services
With the help of this guide, you now know why communication matters in white glove services and how to communicate effectively. Here are a few other tips to make communication better.
1. Invest in the right technology. Real-time and personalized communication is only possible with the right tech stack. For instance, you'll need routing and dispatch software for real-time order tracking and instantaneous updates. You'll also need customer relationship management software to create client profiles, send SMS or emails, and derive customer experience insights.
2. Train delivery and customer service personnel. These two groups are the face of your white glove delivery services. Training ensures that they understand personalized communication and how to implement it. For example, train customer service reps to communicate with unhappy or dissatisfied customers. Even though personalization is the goal, you can provide templates to give reps a starting point during customer interactions.
3. Measure progress constantly. Ensure that you're also collecting data on customer experiences. You can do this via customer satisfaction (CSAT) and net promoter score(NPS).
Wrapping UP
Communication is the backbone of white glove delivery service. It helps you understand client needs, build trust, manage expectations, resolve issues, and enhance the overall experience. By prioritizing real-time and personalized communication, your delivery business can build trust, nurture long-term relationships, and pave the way for unparalleled customer experiences.
Learn how you can improve your last mile communication channels with Elite EXTRA.
Sources
https://www.adroitmarketresearch.com/
https://www.pwc.com/
https://www.csgi.com/wp-content/uploads/The-State-of-the-Customer-Experience-2023-Report.pdf
https://www.zendesk.com/blog/measuring-customer-experience/