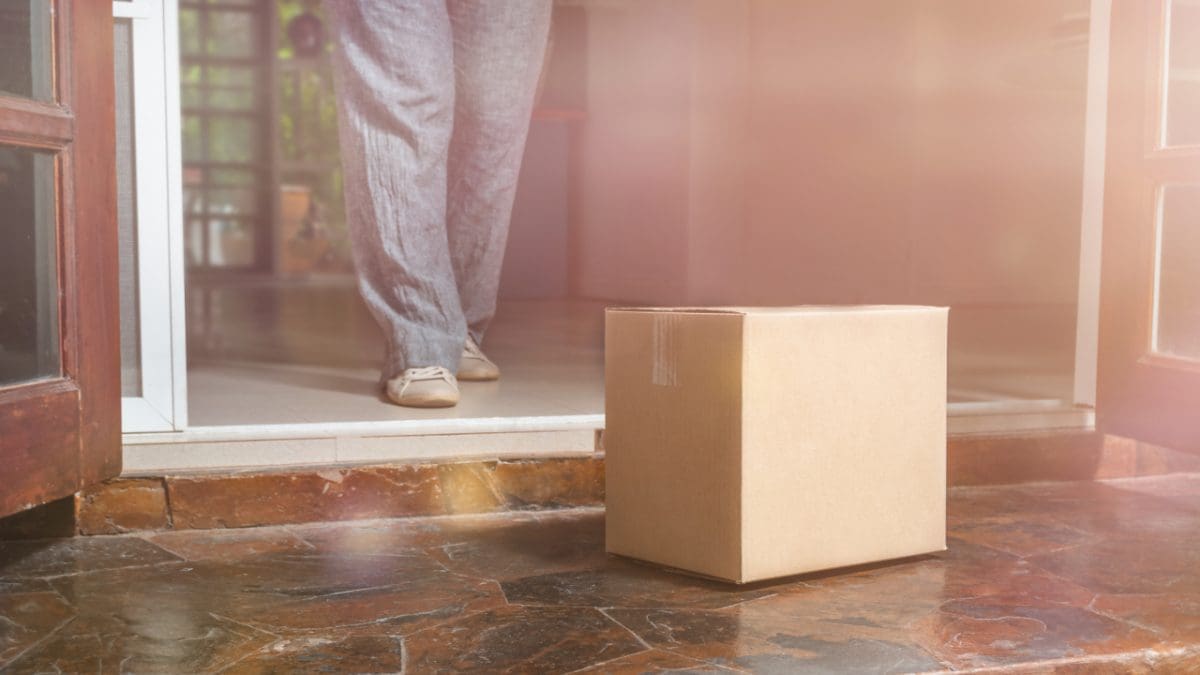 Threshold Delivery Trends & Analysis
Threshold delivery is a type of delivery service where the recipient receives the package directly, or the delivery personnel places it in the first secure and dry area in the recipient's residence. They typically put it on the porch, at the front door, or in the lobby of an apartment building.
It differs from the other types of delivery services—such as white glove and standard—in the level of service and extent of assistance the delivery personnel provide. In standard delivery, the carrier places the package anywhere within the recipient's property, and in white glove delivery, the carrier moves the package inside, unpacks, and even assembles it.
As online shopping and home deliveries continue to surge, this delivery method becomes more popular as it provides the perfect balance between standard and white-glove.
The Appeal of Threshold Delivery
To understand the appeal of threshold delivery, you must comprehensively understand what each type of delivery service entails.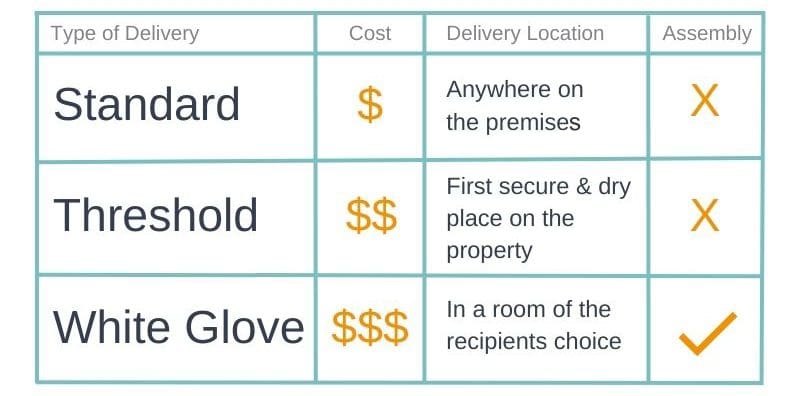 Threshold Delivery
As mentioned, carriers place the package at the first secure and dry place on the recipient's residence in threshold delivery. If the recipient lives in an apartment, the carrier leaves the package in the lobby. If they must use stairs to access the recipient's residence, they can leave it at the bottom. Recipients can also state where the secure and dry area is in the delivery description.
There are two types of threshold deliveries: basic threshold and threshold. Basic threshold delivery is what was explained above (package delivered to the first dry and secure area). In threshold delivery, the customer requests for their shipment to arrive when they are at home. They receive the delivery directly and confirm the delivery by giving their signature.
Threshold delivery is perfect for items that aren't too heavy or fragile and don't require much assembly or installation.
White Glove Delivery
When a customer orders a large item or one with a complicated assembly or installation procedure, threshold delivery is insufficient. They must use the white-glove delivery service.
In white glove delivery, delivery personnel carry the package into the recipient's room of choice and helps them unpackage, assemble, and install it if required. It is the most expensive type of delivery service because you charge the customer for the extra services. It is ideal for items like heavy furniture and refrigerators.
Just like threshold delivery, demand for white-glove delivery services is rapidly expanding. According to research, it has a CAGR of 6.3% and is expected to reach $4 billion by the end of 2028.
Standard Delivery
Standard delivery is the most common and cheapest type of delivery service. The most common parcel delivery services offer it, including USPS, FedEx, and UPS. The delivery personnel place the package anywhere within the premises of the recipient's residence. It doesn't have to be a secure or dry area.
These three types of delivery services are the most common, but they aren't the only types. Some retailers offer variations and combinations of these services.
For example, the "room of choice" delivery is a threshold variation. The delivery personnel brings the package into any room in the recipient's residence, but they don't unpack or assemble it. Some offer a combination of threshold and white-glove, where they may unpack the package but not assemble it.
But threshold delivery has several advantages over the other types of delivery services.
Advantages of Threshold Delivery Over Other Delivery Services
Advantages of threshold over white-glove and standard delivery services include the following: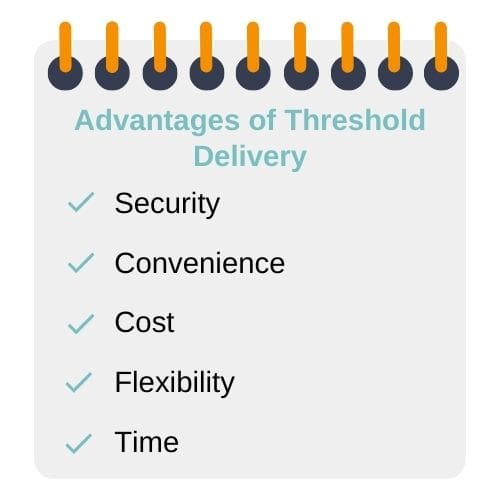 SECURITY
In standard delivery, the delivery personnel can place the package anywhere in the recipient's residence. That puts it at risk of being stolen by porch pirates or damaged by the weather, especially if they leave it exposed. With threshold delivery, the recipient receives the package directly, or the carrier places it in a secure place. This boosts customer satisfaction and trust and helps avoid negative reviews from recipients whose packages were stolen or damaged.
CONVENIENCE
Standard delivery involves delivering the package anywhere in the recipient's residence, while threshold delivery mostly involves delivering to the front door, inside the residence. The front door delivery saves the recipient the hassle of carrying a heavy or bulky item from where it was delivered to the door. This is especially helpful for larger items, like furniture delivery.
COST
Threshold delivery is more cost-effective than white glove delivery. The client pays for the additional services offered in white glove delivery. Because they include bringing the package into the residence and unboxing, assembling, and installing it, the recipient could pay very high fees depending on the carrier or retailer.
FLEXIBILITY
The recipient must be at home for a white glove delivery because the delivery team must carry the package into the house and unbox it. So, the recipient must schedule around the delivery team's availability. In threshold delivery, if the recipient can't be home during the delivery, the delivery team can still place it in a secure area for when they come home.
Some providers of threshold delivery offer additional services, so recipients have the flexibility to ask them to bring it in and assemble it for an additional fee.
TIME
White-glove delivery involves unpacking, assembly, installation, and disposal of packaging materials. It can be time-consuming and cumbersome, especially for large items with long and complicated assembly and installation procedures. It could affect the timely delivery of other goods and services, affecting your profits.
Threshold delivery, on the other hand, involves just delivering the package and leaving, which is relatively quicker and more efficient.
Many customers choose threshold delivery over the other two options because of its convenience, cost-effectiveness, availability, and flexibility.
Trends in Threshold Delivery
Threshold delivery is a relatively new and growing segment of the delivery industry. Although the concept of delivering packages to a safe area in a recipient's home has been around for a while, the term "threshold delivery" is a recent development. Some trends in this growing segment of the delivery industry include the following.
Growing Demand for Threshold Delivery
The demand for this delivery service is growing due to several reasons, including the following.
With increasing eCommerce sales, more online shoppers continue to expect their online shopping journey to provide the flexibility and convenience in delivery options of a physical store. This has led to more and more retailers offering threshold delivery services as a standard option.
During the pandemic, threshold delivery services became popular because they prevented contact. As the lockdown ceased, many people were already accustomed to them, so they kept using them.
Threshold delivery services provide a convenient way for people working from home to receive packages without leaving their homes. As more and more organizations adopt remote and hybrid work policies, the demand for threshold delivery continues to rise.
Threshold delivery services are the best way to deliver packages like mattresses and mid-sized furniture. So, as more and more consumers purchase goods online, the demand for threshold delivery services keeps rising.
Expansion of Threshold Delivery Services
Providers are expanding their threshold delivery services to new markets and areas to meet the growing demand for threshold delivery services. They are also expanding to offer faster delivery options as more and more customers prefer same-day or next-day deliveries.
Expanding their services increases their revenue, gives them a competitive advantage, increases brand recognition, and improves operational efficiency. Many expand through third-party delivery services or partnering with other logistics companies.
Emphasis on Sustainability
According to Dynata, 40% of people want to live more sustainably than before, and almost 90% think companies should switch to more eco-friendly products and assist local communities in maintaining a healthier environment. You must make environmentally friendly products to attract and retain customers.
Many threshold delivery providers received the memo and are becoming more conscious of their impact on the environment. They focus on sustainability to stand out from the competition. They do so by using more eco-friendly packaging materials and optimizing delivery routes or using hybrid or electric cars to reduce their carbon footprint.
Technology Integration
As technology advances, threshold delivery service providers increasingly integrate it into their services. It helps them improve the customer experience and increase efficiency. Technology that providers are integrating into threshold delivery includes the following:
Real-time Delivery Tracking: It allows the sender and recipient to see where the order is in real time. The sender can use the information to optimize routes, and recipients can feel more secure and estimate arrival time.
Delivery Scheduling: This is the ability for customers to choose a specific delivery date and time. It enhances convenience, increases customer satisfaction, and improves efficiency.
Artificial Intelligence: Threshold delivery service providers can use AI to optimize delivery routes.
Blockchain Technology: It enhances supply chain security and transparency.
Augmented Reality: Customers can visualize how items will look in their homes before purchasing them.
Integrating these technologies helps threshold delivery service providers provide a better customer experience, which boosts customer satisfaction and loyalty.
Customization Options
More and more threshold delivery providers are offering additional services to cater to their clients' needs and preferences. In addition to delivering the package to the recipient or placing it in a secure and dry place, they offer additional services like carrying it into the residence and unboxing, assembling, or installing it for an additional fee.
This gives customers an opportunity to customize their delivery experience. It also provides an opportunity for delivery providers to stand out and differentiate themselves from competitors offering only basic threshold delivery.

Challenges of Threshold Delivery
Despite the growing demand for threshold delivery services, providers face several challenges, including the following.
Complex Logistics and Shipping Processes
Threshold delivery requires more complex logistics and shipping processes than other types of delivery services. Suppose the recipient specified the area they'd like the delivery personnel to place the package. In that case, the delivery personnel must know the property's layout and location of the delivery point. This can be challenging, especially if the property is big or has a complicated layout.
Higher Costs Associated With Threshold Delivery
Threshold delivery services are more expensive than standard delivery services. This is because of the extra level of service and extent of assistance the delivery personnel provides in threshold delivery. The cost is even higher if the recipient asks for additional services like assembly or installation, however, in that case it would really be considered a white-glove delivery.
Although the lower price of standard delivery is offset by the risk of theft or weather damage, many price-sensitive recipients will prefer the lower-priced delivery services. This poses a challenge to the growth of threshold delivery.
Difficulties Coordinating and Executing Threshold Delivery Services
A successfully executed threshold delivery often requires the coordination and communication of various parties. They include the recipient, carrier, and other parties like building owners or property managers. Coordinating can be challenging, especially if a party is unavailable during delivery.
Liability Issues
Providers may be held liable if products are damaged or stolen after delivery. So, they must have clear policies and insurance coverage to protect them from these liability issues.
Delivery Personnel
It is getting increasingly hard to acquire and retain highly skilled and trustworthy employees to work as delivery personnel. The right individuals can add value to your services by carefully handling packages and delivering them to the recipient's residence promptly and efficiently.
Weather Related Issues
Extreme weather conditions can lead to delays or cancellations of deliveries. It would help if you had contingency plans to deal with weather-related issues.
Want more industry insights?
Subscribe to our newsletter to receive weekly last mile logistics insights directly to your email inbox each week!
Explore Different Delivery Options With Elite EXTRA
Although we really only touched on three different types of delivery in this article, there are so many more possibilities out there, such as third-party delivery and no contact delivery, to name a few. Each type of delivery service is ideal for certain products, so you should consider what you want to deliver to properly select the type of delivery service that matches it.
Continue to explore your delivery options with Elite EXTRA. We can help you compare the costs, prices and more for your specific delivery needs to ensure your deliveries are as efficient as possible.
Request a demo with Elite EXTRA to understand how it can streamline your deliveries and make your customers happier.
Sources
https://www.statista.com/
https://group.met.com/en/mind-the-fyouture/mindthefyouture/environmental-consciousness
https://www.adroitmarketresearch.com/