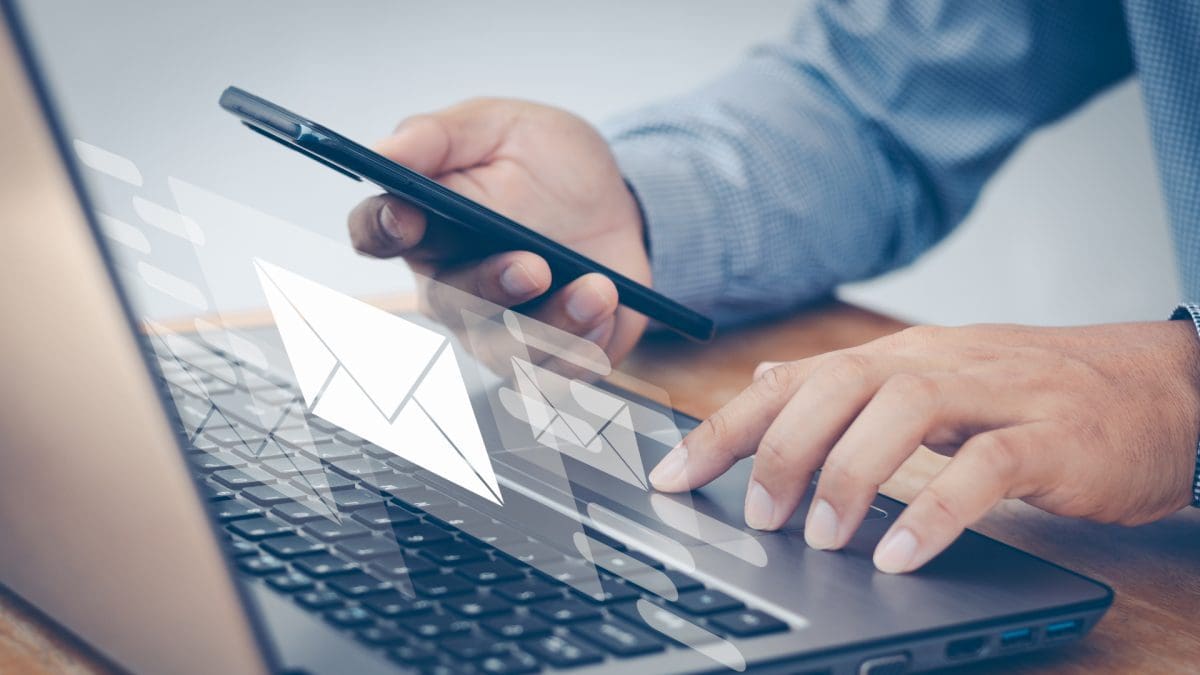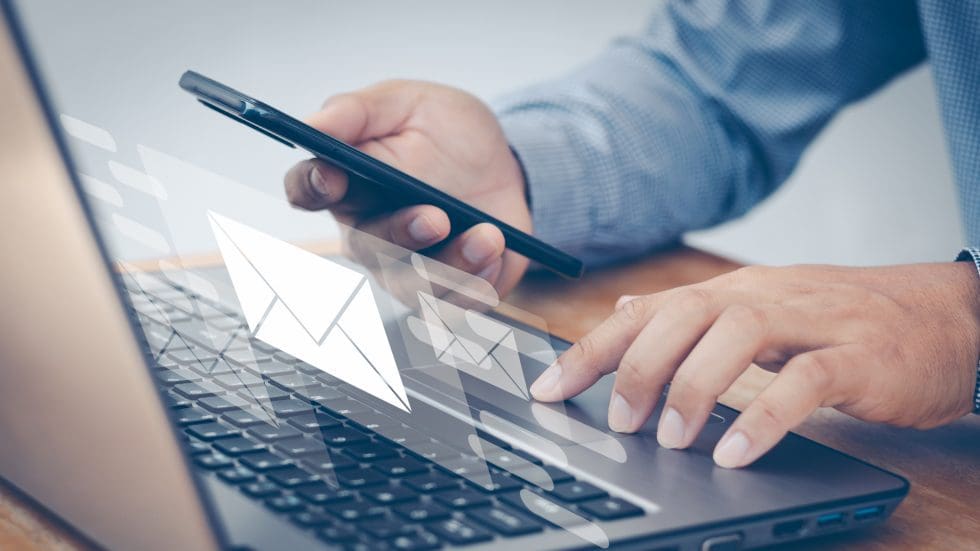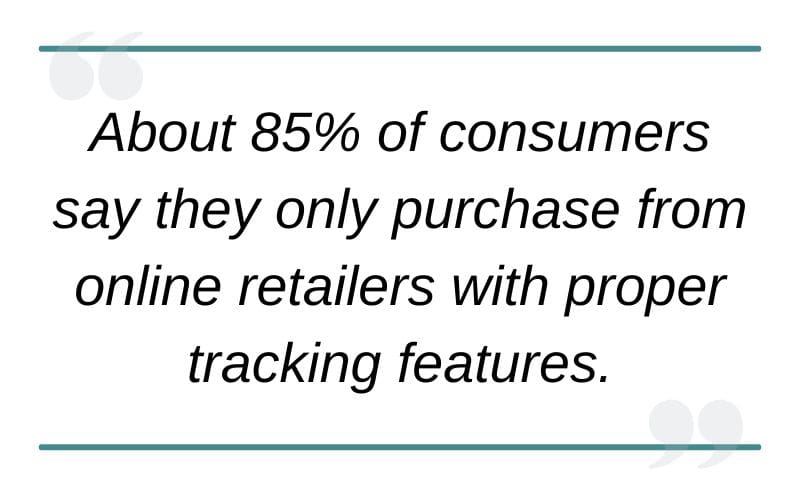 Online sales are the norm today in almost every industry, from food to furniture and even pharmaceuticals. If your business offers delivery services, now is the best chance to provide a great customer experience by incorporating delivery notifications.
According to research, about 85% of consumers say they only purchase from online retailers with proper tracking features. This enables them to track orders easily throughout the delivery process. 47% of these customers say they will not buy again from a retailer with poor delivery alerts and real-time tracking.
Delivery notifications will offer the transparency you need to increase your online sales by impressing customers and collecting accurate insights. In this article, we cover everything you ought to know about delivery notifications, what they are, the benefits, and how to set up a reliable system for your delivery process.
What Are Delivery Notifications?
Delivery notifications or delivery alerts are messages retailers send to customers and drivers while moving a package from one point to another. The notification can be in the form of text, mobile app alerts, or email notifications.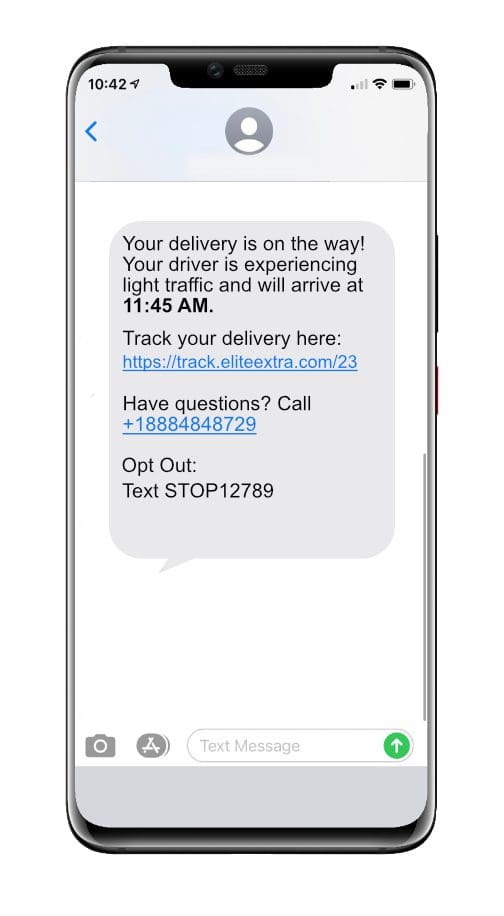 Email: Emails are an excellent way to communicate with customers. Over 83% of consumers use it as the most preferred communication channel. Email is also cheaper and allows users to send automated messages to multiple recipients simultaneously. Depending on your email provider, you can access tools to make delivery notifications seamless, customized, and effective.
Mobile Application: Other companies rely on mobile apps that allow communication between customers and the support desk. The application will send tracking information to the customers so they can access it using their smartphones or tablets.
SMS Message: SMS messaging is the most personalized way of reaching clients. It allows you to send alerts directly to your clients and inform them of the shipment progress.
The goal of delivery notifications is to keep customers and drivers in the loop throughout the delivery. It will show the estimated delivery time, the delivery tracking number, and when it is out for delivery. The last notification is sent when the customer confirms they have received their package.
Technically, the notifications make up the bulk of the post-purchase client experience, from when a customer confirms a purchase to when it arrives on their doorstep. Customers want to be part of the delivery process, and visibility helps achieve that.
They can use a tracking number, estimated delivery dates and times, tracking updates, and email notifications to know the progress of their orders. Deliveries are more about managing customers' expectations and diminishing their stress instead of waiting blindly.
How Tracking & Delivery Notifications Work
Tracking and delivery notifications go hand in hand. Real-time tracking gives access to order status and deliveries.
Delivery notifications use real-time updates by converting the information into digestible updates for customers. The real-time tracking features allow you to know the position of trucks, planned destinations, and planned routes. All this information feeds back to the delivery planners in real time.
Planners use the data to adjust deliveries and react instantly to changing circumstances. For example, when a truck gets stuck in traffic or a vehicle requires a detour, the operator will get instant communication. They can rearrange the remaining deliveries to avoid issues while informing customers of delays that may result from the issue.
Also, when customers want to check the status of their order, they will use the notifications to check for delays and understand the exact reason for them. It gives them precise and instant information they need to trust the company and wait for the delivery at a specified time.
Types of Delivery Notifications
Various delivery notifications serve several significant purposes in the buyers' journey. The following are the type of notifications and their importance in the delivery process.
Shipment Created
After a customer creates an order, the first alert should show them they have successfully made an order and that your team is working fast to get it on the road as soon as possible. The notification should include several details like tracking number or link, enabling them to track the shipment and remove worries. The customer will also remain engaged throughout the delivery.
Driver Notifications
Driver notifications help them stay on track and deliver goods at the expected time. The back-and-forth messaging may include:
Delayed stop and the reasons communicated to clients and operators
Need to reroute when the current route is causing delays
Failed deliveries when customers weren't there for POD or COD
Exceeding delivery time to inform the client they will deliver packages earlier than expected
Changing route notification to show that a new order has been added.
Customer Notifications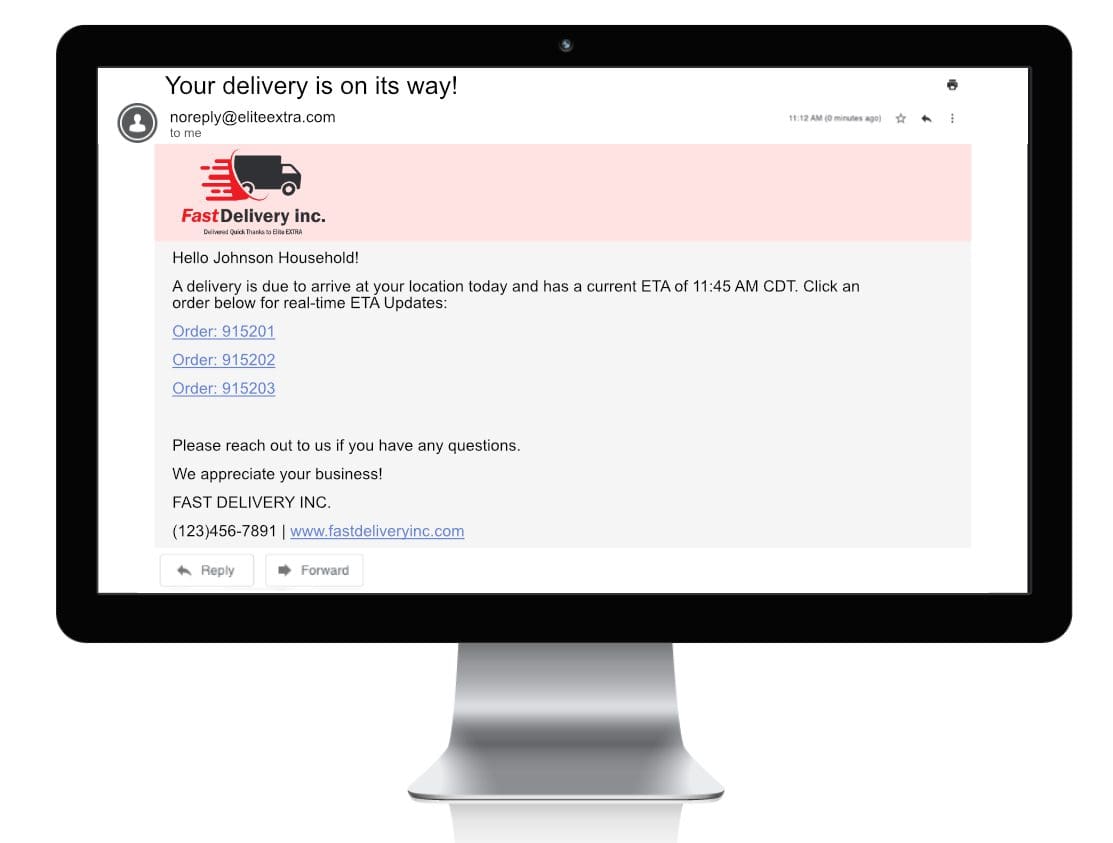 Customers will naturally be excited after making an order and start waiting to receive the package, especially for large orders. Excitement fuels anxiety if they are unsure of the delivery status. Customer notifications offer customers real-time updates and keep their minds at ease. Typical customer notifications include orders processed, out for delivery, expected delivery time, any delays, or other unexpected delivery alerts.
Other essential customer notifications include:
Order fulfillment: Notification delivered to customers after confirming the purchase
Order rejection: The notification sent back by drivers and customers when they fail to accept an order due to bad condition or the wrong package.
Time left for delivery: The alerts show the time remaining before the drivers arrive at the customers' door. They can arrange how they will pick up the order.
Orders ready to send: The notification shows how long an order will take to be on the road. Customers can also see the specified orders on the route and the expected time and day of delivery.
Orders on the way: The notification is sent after packaging and delivery start.
Shipment Exception
Unfortunately, not every shipment will arrive at the estimated time of delivery, prompting the need for delivery exceptions. Customers worry when an order fails to reach their doorstep at the specified time. A delivery exception informs them of the delivery date and time changes. It must also include reasons for the change and an apology for the inconvenience it may have caused. Transparency keeps customers at ease by eliminating doubts about the process.
Internal Notifications
Internal notifications are the alerts sent between operators, fleet managers, and other team members involved with delivery. It facilitates behind-the-scenes tasks to keep delivery running smoothly. Alerts play a huge role in balancing automated parts of the delivery and the right amount of human touch by notifying staff precisely at the buyers' journey's right and most impactful time.
Internal notifications are essential to optimizing deliveries and saving time and effort. Working without automation and a unified process is a recipe for disaster.
Remembering significant routes, dates, delivery deadlines and staying on top of hot leads is essential. Additionally, the notifications ensure that everyone in the team is aware of the existing nature of delivery, so when clients reach out, they will have answers to their queries.
Benefits of Internal and External Delivery Notifications
An informed delivery process enhances customer experience while boosting your revenue. Your customers want to be part of the delivery and know where orders are and when they will arrive. You can increase sales by satisfying your customers, which earns you more money and reduces the overall expense.
Here are some of the ways delivery companies benefit from delivery notifications:
Internal
Internal notifications are valuable to keep every team member in the loop during deliveries. It helps to:
Get Accurate Reporting: Teams constantly need information generated from deliveries to increase efficiency. Internal notifications offer fast and reliable information on order status and what they do to make instant changes and avoid delays. Accurate reporting drives more informed and evidence-based decisions throughout the organization for better and faster delivery.
Faster Responses: Delivery teams need fast answers to customer queries during delivery. Internal notification offers these answers in real time whenever they are required.
Better Route Planning: Deliveries are efficient and faster with route optimization. The team must keep in touch to check instant updates and change routes accordingly. The notifications they receive and send will ensure the drivers remain on the fastest route to deliver goods to customers.
Decrease Returns Expenses: Customers return about 20% of online purchases. It is a costly expense with a lot of moving parts. Returns cut into your profit margins and decrease customer satisfaction. Delivery teams must remain prepared to process returned goods as soon as possible. Notifications offer the transparency needed to save you the expense of processing returns.

External
External notifications update customers on the order status at every delivery step. This offers the following benefits:
Fewer Questions/Wondering: Delays, package loss, and theft are common with deliveries. Your customers will always be anxious until they receive the product on their doorstep. With an effective delivery notification, customers don't have to worry about the status of their package or become frustrated when they try to look for that information. Instead, they will get transparent and proactive shipping information that informs them where orders are throughout the post-purchase process.
Better ETA's & Planning: Delivery notifications ensure you plan better deliveries with accurate ETA. You can analyze data collected from previous deliveries to ensure that future deliveries are efficient.
Attract New Customers: If you offer exceptional notifications and tracking services, more customers will come to you because you prioritize this service. About 60% of online customers buy from the same brand since they offer the best delivery service with notifications. Studies show that 70% of consumers feel the ability to track deliveries is one of the top three considerations for shopping from a retailer.
Prevent Redelivery: If your customers don't have access to delivery visibility, your drivers may miss them. Redelivery will be required when customers are not at home, and you need signatures to complete delivery. Delivery notifications let your customers know when drivers will reach their doorstep to ensure they will be available to collect their orders.
Increase Customer Loyalty: 93% of customers want to receive alerts during the delivery process, and 98% of customers feel it is a vital part of brand loyalty. Delivery notifications satisfy your customers and earn you the loyalty you need to gain repeat customers.
How to Set Up Driver/Customer Delivery Notifications
Enabling your customers to track their order status with an automated delivery notification is among the top ways to build your brand reputation. Here are the steps you can use to set up delivery notifications:
Determine Communication Channels
The first step is understanding the channels you can use to alert customers during delivery. You can use text messaging, email, call lists, or all three modes combined to offer a perfect customer experience.
Choose Types of Notifications
The type of notification you use depends on your customers' needs and the type of business. Ensure it has order processing, tracking, and other delivery aspects.
Decide Amount of Messages
While you want to avoid over-sending similar messages, you must also ensure they are enough for customer satisfaction. Send about 3 to 5 alerts daily, including emergency alerts when necessary.
Customize Notifications
Customizing notifications adds to the overall customer experience. You can include the customers' names on the message and other phrases that are particular to their order.
Automate the Process with Technology
Delivery optimization software automates notifications throughout the delivery process. You can integrate it with routing and dispatch software like Elite EXTRA, with real-time tracking and updates.
Manual intervention consumes a lot of time, leading to dispatch and order fulfillment delays. Customers will trust your brand more if you have embedded features in the delivery to inform them about the conditions of their package.
Want more industry insights?
Subscribe to our newsletter to receive weekly last mile logistics insights directly to your email inbox each week!
Bottom Line
Real-time package tracking and delivery notifications are essential in the online shopping world. You can stand out from the competition by making the process seamless for you and your customers. So whether you choose to email, SMS, or mobile applications, delivery notifications should be part of your customer support and experience.
Elite EXTRA is a last-mile logistics software you can use to improve your logistics operations, drive your bottom line, and satisfy your customers. It offers optimized route planning, auto-routing & dispatching, and customer ETA notifications for seamless tracking and notifications. Book a demo today to see it in action.
Sources
https://blog.hubspot.com/marketing/email-marketing-stats