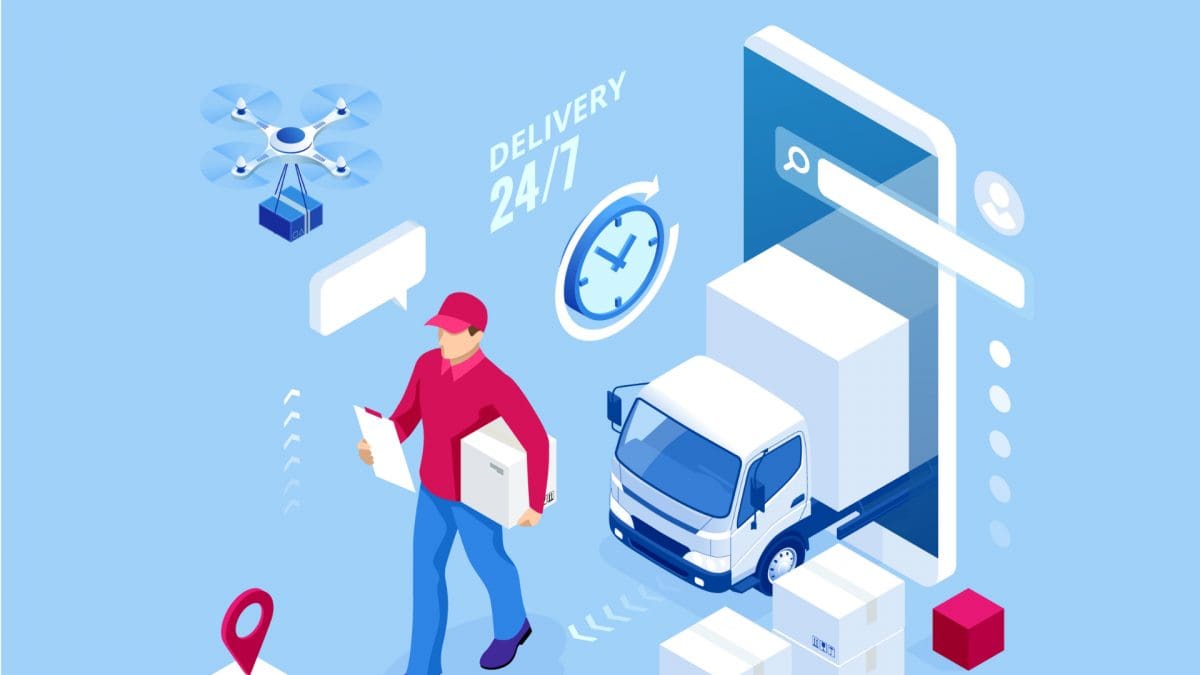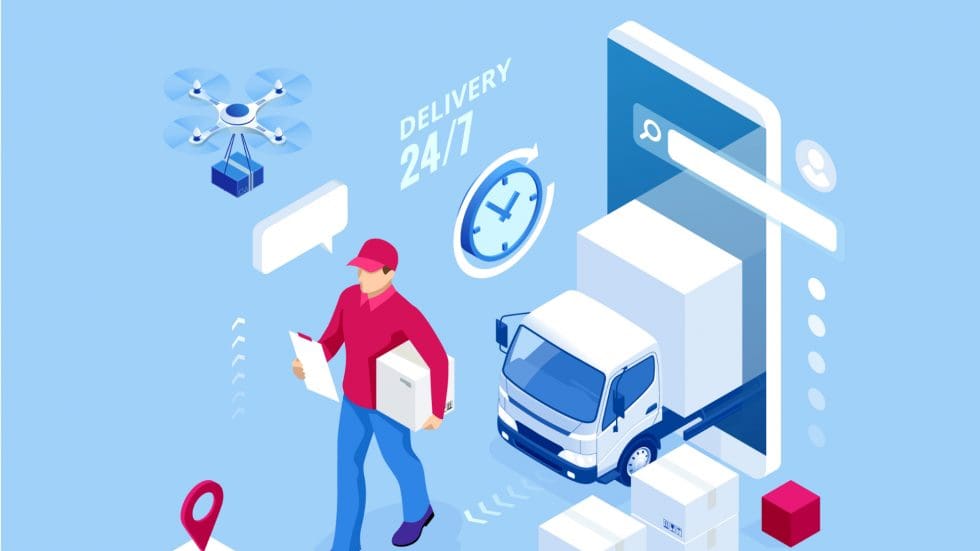 The fulfillment and logistics industry contends with new challenges daily. Some years back, customers were willing to wait several weeks to receive their deliveries.
But their patience gradually started running out long before the pandemic. A 2019 study reveals that 44% of people were willing to wait up to two days before canceling their order.
When COVID hit, the eCommerce world experienced a spike in orders. Expectations for fast deliveries also skyrocketed, with more people desiring same-day deliveries. Today, around 95% of consumers say they're likely to return to a retailer that offers a positive delivery experience.
What are the Impacts of Delivery Speed on Your Business?
While ensuring speedy delivery to your customers' doorstep is challenging, you should prioritize your customers' satisfaction. Delivery speed impacts your business in the following ways:

1. Builds Your Brand
Nowadays, fast delivery isn't a perk in the eyes of consumers—they see it as their "right." Almost every buyer expects their ordered products to reach them as quickly as possible, and any delay can spark doubts about your shipping standards.
Here are the numbers: 62% of consumers love quick delivery. And while next-day delivery is still okay, the desire for same-day delivery increased even before the pandemic hit the scene. The figure stood at 10% of companies offered same-day delivery in 2019, up from the previous year's 7%.
Delivering goods within the shortest time possible boosts your brand's image. A happy customer will spread the good news via word of mouth and online. So in addition to returning for more, they'll bring new referrals to your business.
Fast shipping also builds trust, helping your brand to roar above the internet clutter and noise. The fast delivery tags, positive reviews, and happy testimonials assure new buyers that their goods won't take ages to arrive.
2. Boosts Conversions
Fast shipping can reduce cart abandonment. Research reveals that 22% of customers abandon their carts due to slow delivery, and some may even cancel the delivery midway. Offering various combinations of cost and speed helps solve these issues. And if the product is delayed due to unavoidable issues, rush to communicate with your customers.
High shipping speed also boosts customer lifetime value (CLV). Once new customers learn that you deliver quickly, they'll trust you enough to return. Throw free shipping into the mix, and your CLV will skyrocket.
The faster your delivery, the higher your search rankings and listing visibility get. Your brand will pop up among brands offering fast shipping when online shoppers filter search results by delivery. Online marketplaces also love fast-delivery brands—no wonder they include the delivery option for easier filtering.
3. Increases Average Order Value (AOV)
Besides increasing conversions, quick delivery also increases the AOV of your customers. You can spice up your shipping options to provide "fast and free" delivery.
Many brands hesitate to offer this delivery model since they think it can eat into their profits. But studies reveal that consumers frown when businesses delay deliveries. Furthermore, 65% of them won't hesitate to pay extra for same-day shipping.
Build a fast delivery reputation, and buyers will trust you to deliver even high-ticket and urgent goods. More shoppers will pile more goods in their carts, knowing they'll get them on time. The result is a higher-order value.
4. Helps Beat Competition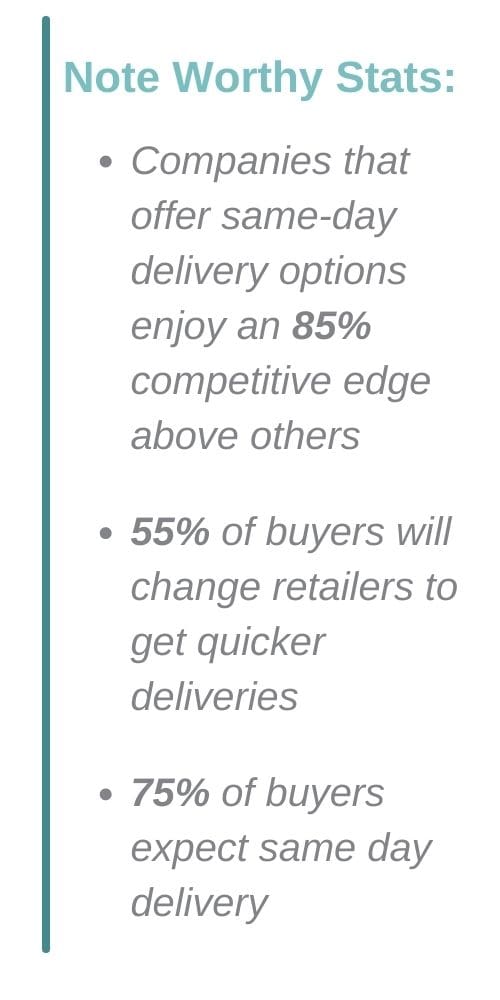 As online shopping continues to balloon and customers expect faster delivery, the only option is to deliver goods faster than your competitors. In fact, eCommerce companies that offer same-day delivery options enjoy an 85% competitive edge above others in a saturated market. And 55% of buyers will change retailers to get quicker deliveries.
But most businesses are unable to meet the soaring demand for quick delivery. In fact, just over 50% of retailers provide same-day delivery compared with 75% of buyers expecting such shipping. This gap is your golden opportunity for growth.
Remember to specify expected arrival times and stay clear of late deliveries as much as possible. In 2021, only 20% of your consumers would forgive you for disruptions in delays. The figure was even concerning in the pandemic-driven year 2020 when delays became a norm for every brand.
Logistic challenges continue to haunt businesses post-pandemic. Despite that, consumers aren't willing to bear late deliveries. That means meeting consumers' demands faster than your rivals will put you many miles ahead of the pack. Entice consumers with faster shipping before your competitors do.
Work with in-house capabilities and logistic companies to make your customers happy. But if delays occur due to unavoidable circumstances, inform clients on time and promise to improve your services in the future.
5. Prevents Losses
Theft of goods is a common issue in business. 2020 saw companies losing goods worth $49.6 billion to organized theft, reducing stock and increasing the shrink rate.
Same-day or timed delivery can solve this issue since goods won't stay for long in your store or warehouse. Also, customers can choose convenient delivery times, ensuring someone is home to receive the package.
Stock pile-up is another issue that can gulp down huge costs. This problem forces you to rent more warehouse capacity to serve your customers better. Organizing the space can also be another time-consuming and labor-intensive headache.
Fast delivery comes to your rescue here again. An order (even a standard one) doesn't have to stay in your business premise for days if you have the capacity to ship it immediately. The result is saving costs on storage space, labor, and equipment.
How to Boost Delivery Speed
No two companies can ever be the same. That means there's no one-size-fits-all solution to slow delivery speed. But you can tailor a tried-and-true formula from these remedies:
1. Join a Delivery Network
A delivery network is your first solution to slow shipping. Consider this: All your drivers are engaged, you don't have enough capacity to handle piling orders, and a delivery deadline is quickly closing in on you. With a robust delivery network, you can dispatch the order to crowdsourced fleets in your area.
Cherry-pick the nearest delivery service that will deliver your package as fast as possible. Each provider has real-time estimates of their arrival times and per-mile price. You can rest assured the customer will receive goods within the right time and budget. Once you've selected a driver, they'll come to your warehouse or business to pick up the merchandise. From there, the swift journey to your customer begins.
Get complete visibility of the merchandise as it travels to your customer from the warehouse. That way, you ensure the product has reached the right person at the right time and place. In addition, your customer can also know where the product has arrived and rest assured of on-time delivery. In case of an issue along the way, your team can spring into action to avoid further delays. Bid farewell to endless customer inquiry calls.

2. Route and Dispatch Automatically
Advanced routing and dispatching technology is another solution that can speed up things. Route optimization means choosing the quickest and most pocket-friendly routes possible.
Companies are shunning paperwork calculation because it no longer cuts it, especially when dealing with many vehicles and orders. That's why the logistic software market is expected to hit the $18.31 billion mark by 2030.
Adopt a robust routing and dispatch software and you'll save time delivering urgent orders. Integration of your existing systems allows quick passage of orders into the software—no more wasting time dealing with your eCommerce, POS, ERP, or other systems separately.
The software lets you use the best and most efficient route for urgent orders based on your rules. It can even determine up to several weeks' worth of routes for all your drivers and orders in seconds, boosting your delivery capacity. Put your drivers to task immediately after you get an order. Have you run out of in-house capacity? As mentioned before, you can also include crowdsourced networks in your route optimization.
Fleet managers can make quick decisions thanks to the insights from the software's reporting capabilities. Accessing patterns and data from the dashboard helps you determine what's working and what isn't.
And the best part? You don't have to rush back to your desktop to set things rolling. Log in right from your mobile app wherever you are and issue dispatches. Your drivers can follow the route and take photos, plus a signature as proof of delivery.

3. Plan In Advance
Scheduling several weeks ahead is crucial if you're looking to reduce delivery times. It allows you to adjust your plan and routes where necessary, putting you on top of deliveries.
Suppose orders are piling up for a festive season that begins three weeks earlier than expected. You'll easily notice this spike and arrange extra drivers if you usually schedule five weeks ahead. Time won't catch up with you since you have enough time to respond accordingly.
Planning also helps you maintain team productivity and morale. For example, operators who know their operation days and hours in advance will prepare themselves. The drivers also have enough time to find a replacement or coverage when they need to attend to a personal or family issue. This healthy work-life balance makes employees happier, ready to spring into action whenever urgent orders scream for attention.
4. Allow Route Adjustment in Real-Time
Every journey can have surprises, such as traffic jams, delays at delivery, harsh road conditions, and flat tires. So while scheduling ahead is crucial, your plan should be flexible enough to accommodate sudden changes. Don't forget to communicate the changes to drivers and customers in real time.
With a robust software that has real-time visibility, you can know immediately when your driver experiences a hold-up or deviate from the specified route. Are they experiencing sudden delays? Adjust routes and update them via phone immediately.
Customers should also receive real-time modification updates beyond just "out of delivery" or "in your locality" alerts. Thanks to live GPS tracking and alerts via phone, email, or SMS, your customer will know that their package is heading in the right direction.
Let your buyers know the arrival time down to the minute. Real-time monitoring reduces customer complaints and boosts general satisfaction. Plus, your workforce won't have to contend with extra work, enabling faster workflow and delivery.
5. Prioritize Stops Appropriately
Efficient and quick delivery also hinges on prioritized stops and deliveries. You need to factor in multiple things when setting up stops along the way.
Prioritize next-day deliveries above standard ones. You don't want to disappoint a customer that paid extra for quick shipping. But what if a few non-rush delivery customers are located along a five-mile route to an expedited delivery buyer? Here, stopping and making those standard deliveries along the way is sensible.
It's also crucial to understand order allocation across your operators. The workloads may be uneven if they handle even territories (such as a square footage per operator). A driver may have to overwork to beat deadlines yet others are idle most of the time. Furthermore, some stops are better handled by operators with specific skills—a good example is when the worker has to offer after-sales installation services at the delivery.
Dividing your territory amongst your drivers isn't enough when you desire fast deliveries. Have a complete approach and robust software that suits your unique transportation needs. With solution worth its salt, you can prioritize routing, cut costs, and reduce uneven workloads. It becomes easy to modify routes to prioritize order deliveries even amidst changes.
Final Thoughts
A fast delivery can skyrocket your brand, boost conversions, and help you outcompete your rivals. But how can you hack it? Your success begins with effective software tailored to your logistics needs.
Elite EXTRA solutions helps you smash tight delivery windows and make your customers happy. We don't just keep abreast with the latest innovative technologies—we go beyond and evaluate best practices that move goods quickly around the globe. So, are you hunting for a solution that can speed up your logistics? Contact Elite EXTRA and start implementing ways to increase delivery speed.
Sources:
https://www.grocerydive.com/news/delivery-speed-is-king-for-online-shoppers-survey-shows/599282/
https://baymard.com/lists/cart-abandonment-rate
https://www.capgemini.com/wp-content/uploads/2019/01/Report-Digital-–-Last-Mile-Delivery-Challenge1.pdf
https://www.pwc.com/
https://www.latimes.com/business/story/2021-12-15/organized-retail-theft-crime-rate