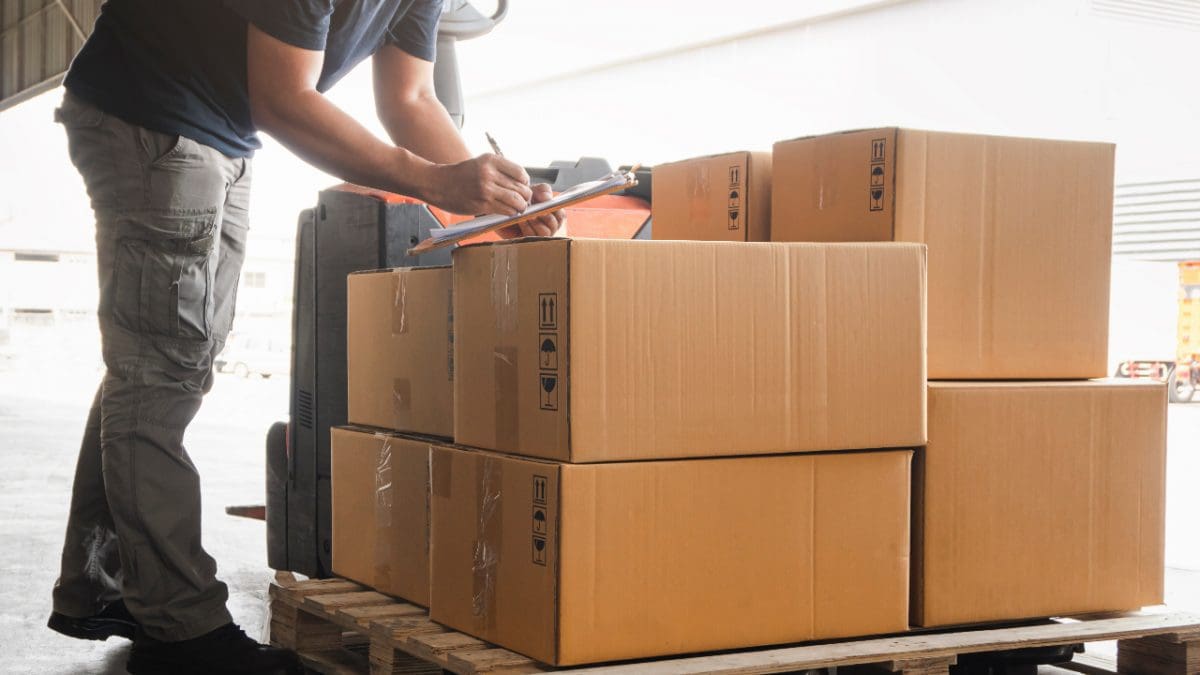 Regardless of how lean your operation is, your business will likely hold excess inventory at one point. The culprit may be overly optimistic forecasting, purchasing too much, market shifts, or even a lack of consumer knowledge about your products.
As you can imagine, having excess inventory can have far-reaching effects, including increased carrying costs, wastage of resources, higher insurance premiums, tied-up cash flow, and reduced profit margins. Also, over time, the excess inventory may become obsolete, carrying no value for your business.
So what do you do when your business has excess inventory? Read on to discover the dos and don'ts of managing excess inventory in your supply chain.
What is Excess Inventory?
Excess or surplus inventory are products that haven't been sold yet and exceed the forecasted consumer demand for that product. In other words, it is the number of items per SKU (stock-keeping unit) exceeding the rationally calculated and cost-effective inventory levels. Generally, surplus inventory has been sitting on warehouse shelves for a long duration and is not expected to sell any time soon.
Reasons for Excess Inventory
Excess inventory can arise due to a number of reasons. These reasons can be categorized into intentional and unintentional.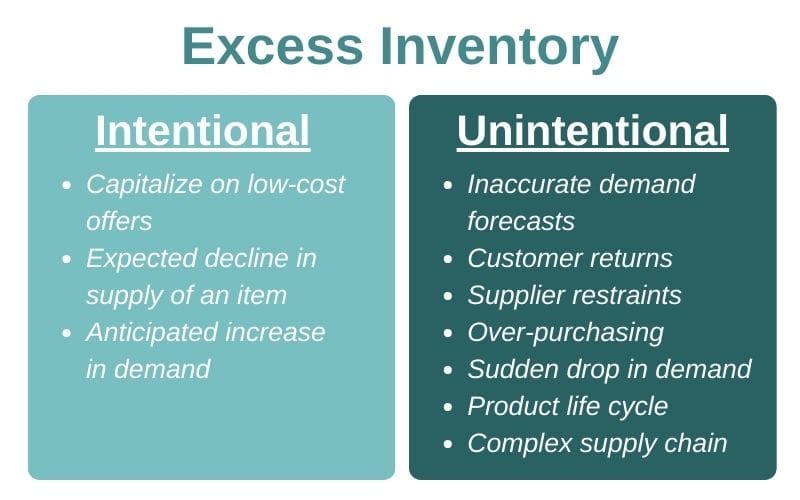 Intentional Reasons
A business can hold excess inventory intentionally due to the following reasons:
Capitalizing on low-cost offers: There are times when suppliers offer discounts on items. Businesses often make the most of these opportunities to stock up, even exceeding their optimum inventory levels.
Expected decline in the supply of an item: When there's an expected decline in the supply of a given item over a certain period, businesses usually acquire excess stock as a precaution.
An expected increase in demand due to seasonality changes: Businesses that deal in seasonal items usually stock up early (even holding excess inventory) in anticipation of the increase in demand. They also do so to avoid the high prices charged by suppliers during the peak season.
Unintentional Reasons
The unintentional reasons why a business would have excess inventory include the following:
Inaccurate demand forecasts: More often than not, surplus inventory or dead stock results from inaccurate demand forecasting. When businesses make inaccurate demand predictions and then fail to manage their inventory properly, they usually end up with excess stock.
Returns from customers: When many customers return goods due to them being faulty or failing to meet their expectations, you may end up with surplus inventory.
Supplier restraints: One requirement for having a successful inventory management strategy is working with a reliable supplier. An unreliable supplier is more likely to have longer lead times and other inefficiencies within their supply chain. If that's the case, the next time you send them an order, you may request a higher volume than you actually require for future demand. In such a situation, you run the risk of having excess inventory.
Over-purchasing: Sometimes, unethical suppliers can offer huge discounts to get rid of their slow-moving goods. When you buy such goods in large quantities, you may end up having too much inventory than you can move
A sudden drop in demand: If this happens, your current stock levels will be higher than optimal.
Product life cycle: Every product goes through a life cycle, from market introduction to growth, maturity, and finally, decline. In each of these stages, the demand for the product will change. Failing to factor in a product's life cycle can result in you having excess inventory, especially if the product is in its decline stage.
Complex supply chain: Businesses with multi-site or multi-layered supply chains usually find themselves carrying excess inventory. This is due to decentralized inventory purchasing. In a complex supply chain, at every stage of the supply chain, more inventory is added to an order to cover inaccuracies in demand forecasting and delays in supply. This results in the accumulation of surplus stock at each layer of the supply chain.
The Dos and Don'ts in Managing Excess Inventory
The Dos of Excess Inventory Management
Here are some do's for managing excess inventory without weakening your brand:
Bundle products or services: Bundling can be an excellent way of moving your inventory without visibly reducing retail prices. For instance, if you offer beauty products and services, if something is a slow seller, you could bundle it with a complementary product and offer a haircut on the combined price to show value. When you bundle a slower-moving product with a popular one, you could potentially see an increase in its sales.
Repackage as an incentive: Consider repackaging slow-moving items as rewards or incentives for customers. Doing this can help build relationships with your existing customers and foster relationships with new or prospective customers.
Do a price reset: Review your pricing portfolio to see what price adjustments you can make to help move your products and make a profit.
Re-market inventory: The chances are that the items in your inventory are having a hard time selling because they aren't reaching the right audience. Consider updating your product titles, keywords, and product descriptions or adding visuals to communicate your products and services more clearly to your target market. You could also inform your customers of the other uses of your product that they may not have been aware of. Re-marketing is an excellent strategy for reaching an audience seeking the inventory you have in stock.
Opt for bulk discounts over markdowns: Running promotions that encourage customers to buy more to save more can deliver higher-value carts and preserve your product's integrity.
Buy now, pay later: For customers actively managing their budget or those hesitant to make large purchases, buy now, pay later can be an excellent way to break up the payment into multiple payments. Buy now, pay later makes a purchase more approachable and manageable for customers.
Explore selling online: There are many ways to reach customers, including creating a dedicated site for your store or selling on marketplaces such as Amazon and eBay. Preferably, you should take an omnichannel approach. This is because taking an omnichannel approach to selling your surplus inventory can increase your sales by enabling you to reach a larger audience who may have been unfamiliar with your store or the products you sell.
Donate for a tax write-off: You should also consider donating inventory in exchange for a tax write-off. Depending on the type of inventory you donate and the entity you donate it to, you can receive a considerable tax deduction. Follow up with a tax professional to determine whether your donation qualifies for a tax write-off.
Want more industry insights?
Subscribe to our newsletter to receive weekly last mile logistics insights directly to your email inbox each week!
The Don'ts of Excess Inventory Management
However frustrating having excess stock may be, here are some of the things you should not do when managing your surplus inventory:
Dump inventory without a clear plan: When you have excess inventory, you may be tempted to dump or liquidate it whichever way so long as it moves. However, moving your excess inventory without a sound plan can result in significant financial losses. Therefore, as a rule of thumb, you should create a plan for moving your excess stock to minimize your financial hit.
Use inventory as a band-aid: Don't use excess inventory as a band-aid for operational problems. Instead, determine why you have excess inventory in the first place and determine, and then determine how you can solve those problems and move your inventory efficiently.
Use the excess inventory to mitigate supplier risks: Continuing to carry excess stock isn't the answer to solving issues with your supplier lead times. Instead, you can alleviate supplier risks by monitoring supplier lead times and planning for supplier holidays in time.
Allow it to become dead stock: Dead stock refers to unsold goods lying in a store or warehouse for a long time. It can be detrimental to any business, given that it not only takes up valuable space but also acts as a bad investment for your business. You can only make a profit, or at the very least recover part of or the whole amount of money you used to buy inventory if you sell it. So instead of accumulating obsolete or dead stock, you could either liquidate it or recycle it rather than dispose of it in a landfill somewhere.
Order more inventory before you've determined how to get rid of or move your excess stock: You shouldn't continue ordering new inventory before moving the inventory you already have. Doing this will only compound your inventory problem.
The Role of Technology in Managing Your Inventory
It is impossible to downplay the role of technology in inventory management. It has revolutionized the inventory management process by automating the ordering, storing, and shipping of products, among other tasks which were previously done manually. Here are how different technologies help with inventory management:
Returns Management Software
Returns management software help manage the inventory return process for retailers, manufacturers, suppliers, and businesses. This includes communicating with customers via portals or self-service platforms to manage the shipping, tracking, inventory, replacements, refunds and credits and printing prepaid shipping labels. Returns management software can also allow businesses to personalize return portals with custom branding or even integrate directly with the retailer's website.
Inventory Tracking
Businesses usually have a lot of money tied up in their inventory. Since inventory is an investment, these businesses need to know where their inventory is and want an accurate account in real time. That is where inventory tracking software comes in.
Businesses use this technology to track and monitor inventory, given that manual tracking is outdated, time-consuming, and error-prone. These solutions automate inventory monitoring and tracking, saving businesses time and money and giving them the visibility they need.
Businesses that still use manual inventory tracking processes, such as manually recording transactions in a spreadsheet, aren't gaining a competitive edge. Conversely, those with automated inventory tracking processes and use RFID tags and barcode labels eliminate nearly all the human errors associated with manually tracking inventory.

Warehouse Management Software
Warehouse management systems are applications that help manage warehouse operations or distribution centers. They offer a wide range of capabilities, such as receiving, putting away, stock locating, cycle counting, inventory management, and order allocation, among other tasks. These systems incorporate mobile devices, RFID, and barcodes to form the transactional foundation of warehouse management.
Route Optimization Tools
There was a time when businesses were stuck with constant challenges, such as the unavailability of drivers, high fuel costs, high transit times, and low capacity utilization of delivery vehicles. Gone are those days—while these problems still exist, modern businesses can overcome these supply chain challenges by leveraging route optimization tools.
Route optimization tools help determine the most cost-efficient route for delivering goods to customers. It factors in the number and location of all the required stops on the route, along with the time windows for deliveries. It also considers the availability of loading and unloading personnel, traffic, equipment availability, and weather conditions, just to name a few.
By having the capability to perform these tasks, route optimization tools can help relieve the delays, back up, and get the supply chain moving again.
Conclusion
Excess inventory is plaguing businesses of all sizes, filling their stores and warehouse shelves, increasing inventory holding costs, and dragging down profits. According to a Morgan Stanley Study, retailers currently have a 19% discrepancy between inventory levels and sales growth.
The best way to solve the problem of excess inventory is to automate your inventory management process. The benefits of automating your inventory management include increased accuracy, efficiency and productivity, real-time insights and tracking, reduced overhead costs, and increased customer satisfaction.
Looking for a logistics solution to help with your inventory management? At Elite EXTRA, we provide quality routing and dispatch, delivery network, and returns automation solutions to help streamline your inventory management. Our solutions can help you find the best sequence stops for faster deliveries and schedule various deliveries in the same region for your drivers to complete them in one go. Additionally, you can use our solutions to make your product return just as efficient as your product delivery. Contact us to learn more about our solutions.
Sources
https://www.shopify.com/blog/what-is-dead-stock
https://www.nerdwallet.com/article/loans/
https://www.freightwaves.com/news/