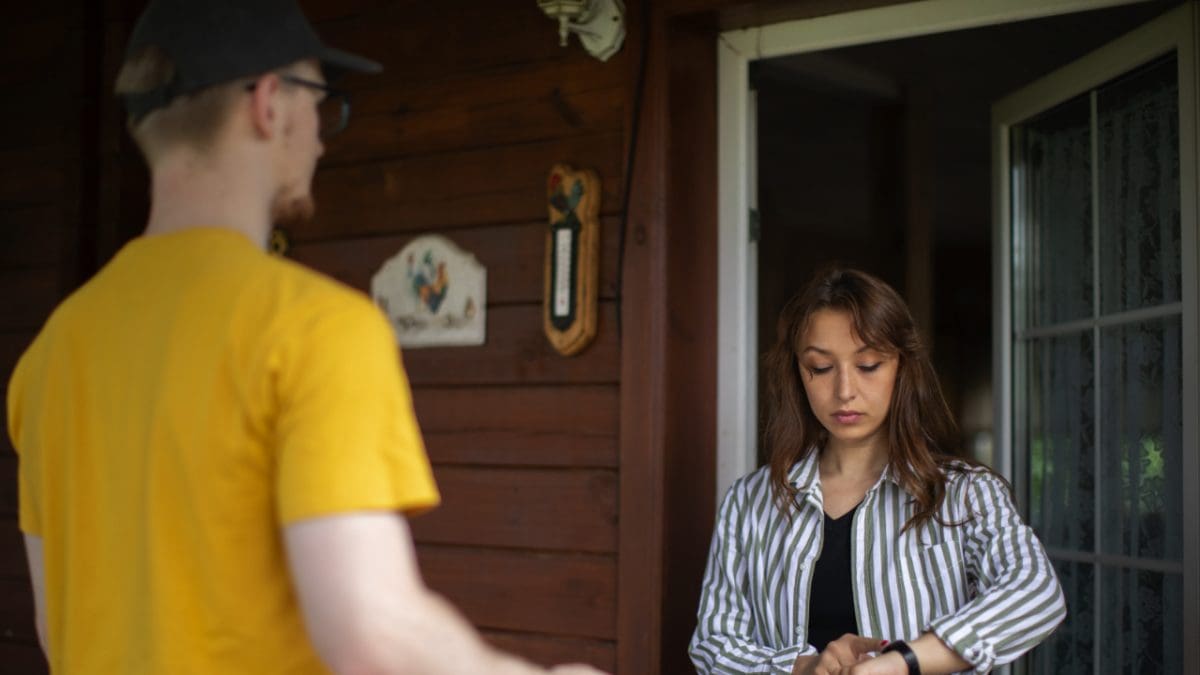 "The waiting is the hardest part."
It's easy to think that Tom Petty was referring to delayed packages in his classic hit "Waiting" because of how aggravating delays can be for both consumers and delivery companies.
Delays are every delivery firm and retailer's worst nightmare, and no consumer expects the "package delayed in transit" notification.
While most shipments reach their destinations safe, sound, and on time, unforeseeable events sometimes derail plans. Staying ahead of the challenges can help you address the hurdles and ease your customers' anxiety.
In this detailed piece, we'll take you through what this update means, the common causes of logistical delays, and the best practices for delivery companies to minimize these situations and cope when they arise.
What Does 'Package Delayed in Transit' Mean?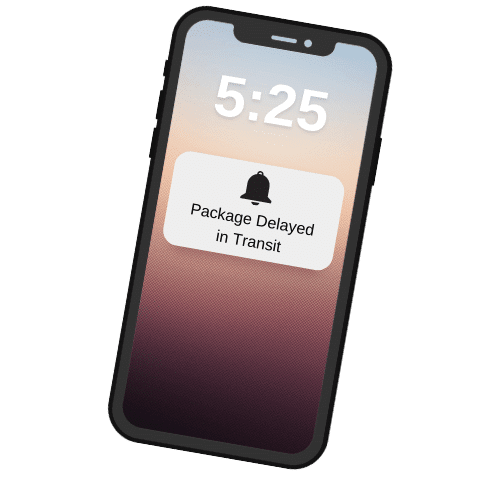 The "package delayed in transit" update means that a shipping delay is causing a package to reach its destination slower than anticipated. The delay could result from many factors, as you'll learn in the next section.
And what does the phrase "in transit" mean? When your package is in this state, the delivery company has already picked it up, and the item is headed to the intended delivery address. Typically, they'll inform you of the expected delivery date.
So how long should one wait before the package arrives? Typically, the "delayed in transit" notification would mean the item will be delivered a day later than it was scheduled. But in rare situations, the delay may take even longer.
What are the Primary Reasons for Delays?
Here are the primary reasons why one may receive the "package delayed" notification:
Problems Within the Supply Chain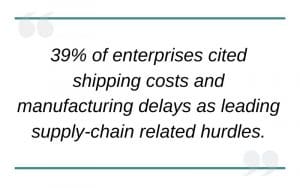 Logistical challenges are among the leading causes of package delays. In a recent survey, 39% of enterprises cited shipping costs and manufacturing and shipping delays as leading supply chain-related hurdles. Besides the pandemic-related costly cargo capacity, emergency shipments, and clogged ports have caused transport delays and product line closures.
Only 34% of shipping vessels made it to their destination on time in 2022, with some delays taking up to a week.
System Failures
Delivery companies may also delay operations due to system failures, especially those that leverage outdated systems.
For instance, some eCommerce stores work with unreliable hosting companies and end up working with sluggish websites that cause numerous shopping cart errors. Constant system failures can inhibit seamless order management, a key recipe for delayed package deliveries.
Holidays
During the 2022 festivities, 25% of shoppers in the United States mentioned that they were concerned about shipping delays for a good reason.
Holidays are a prime time for every eCommerce store as it is the season with the greatest spikes. Of course, this translates to massive shipment volumes that may overwhelm the capacity of respective delivery companies.
Companies that lack an adequate delivery system or network face the greatest risk of delayed packages at a time when consumers can't compromise on package arrival time.
Extreme Weather
Adverse weather conditions account for about 12% of truck delays in America. From gale-force winds traversing the sea to freezing conditions on the highways, unfavorable conditions can cause chaos at any stage of international and domestic shipping.
Back-orders and Overselling
Stock synchronization via sales channels and manual inventory management can lead to overselling, especially if a delivery company's manual operations lag. This can cause late deliveries. When suppliers lack sufficient items in stock, they'll likely delay their deliveries until the right time.
Additional setbacks are also possible due to back-order items that aren't in stock. Delayed delivery is typical when such packages await shipment, which mostly arrive late.
Contact Information Inaccuracies
Delivery delays may also occur when consumers fail to provide all the essential details or when delivery company staff make mistakes when capturing the data.
How will the courier deliver if they can't find an accurate address? As a result, the projected time of delivery will push back until there are accurate or complete details.
Crunched Capacity and Driver Shortages
Finally, inadequate talent and crunched capacity have become a reality for delivery companies.
For instance, employers in the United Kingdom anticipate the most pressing job candidate scarcity ever. On the other hand, job openings in the United States have hit the highest point in history.
This trend is also affecting the logistics sector. Package delays are inevitable without the personnel to handle the different supply chain operations.

What to Expect When You Get the Package Delayed Update
Your delivery company sends you a "package delayed in transit" notification to inform you that the item you ordered is running late and may not hit your doorstep on time. There's nothing to worry about because the parcel will most likely arrive within the expected timelines. Usually, the courier may notify you of a new delivery date.
You should have the following expectations in mind:
The package will arrive on the new delivery date – When the courier extends the timeline, you'll need to relax as you wait for the item to get to you during the stated period.
It may arrive beyond the extension – If the status doesn't change for a week or more, there could be a problem. While this isn't a common outcome, you can't rule out its possibility. Such long delays may result from many factors.
How Should Delivery Companies Handle Delays?
Delayed deliveries are a leading setback for delivery companies as they affect the overall customer experience and cause churn. But all is not lost. The following remedial steps can help you reverse the impacts:
Communicate
Once you notice the chances of a shipping delay, you should reach out to your client as soon as you can. Understandably, talking to them about the glitch may seem like walking on eggshells, since the "package delayed" notification isn't always good news. However, you can ease the blow for your customers and restore satisfaction by heeding these tips: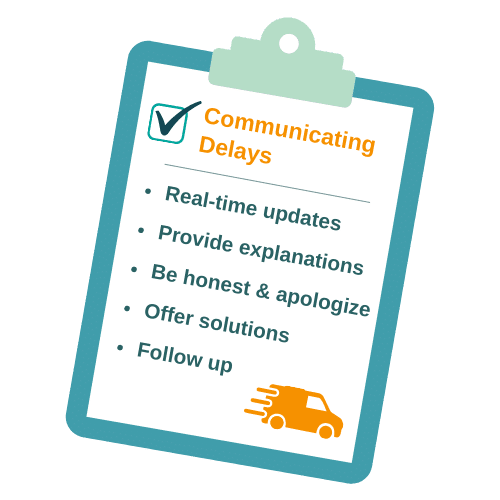 Provide Real-time Updates – Radio silence after ordering can cause delivery anxiety. It's a crucial missed opportunity to build rapport, considering clients are more receptive to brand communications in the post-purchase stage. Fortunately, tracking updates are crucial ongoing touchpoints for brand trust.
Provide Explanations, Not Excuses – Customers hate excuses, and they can sense them from miles away. If a client knew about your occasional delays before they ordered, making up reasons would worsen things. Instead, tell them what went wrong and what you're doing to fix the situation and prevent it from occurring.
Be Honest and Forthcoming – Your customer shouldn't feel deceived at any point. Therefore, provide a clear, honest answer when they inquire about the order status or ETA (estimated time of arrival). If the details aren't readily available, find out, then get back to your client as soon as you can. Never make promises you can't keep.
Apologize – Clients appreciate when companies take ownership and apologize for a problem. When apologizing, explain the origin of the issue and what you're doing about it.
Offer Potential Solutions – If possible, offer the client compensation or a refund to show that you value them and would love to continue collaborating with them.
Follow Up – After resolving the problem, ensure you follow up to know whether they've received their order and are satisfied. Thank them for their patience in the process. This shows that you're a reliable partner who cares about them, nurturing a healthy relationship.
Bend Over Backwards
Delays cause a bad customer impression and can affect your reviews. But you can neutralize their frustrations through refunds, coupon codes, discounts, inexpensive gifts, or free shipping the next time you do business. Ensure you find the middle ground since not every delay is your fault, and you cannot take a financial hit on every case.
Address the Primary Issue
Finally, you'll want to tackle the specific cause of the delay and implement procedures and tools to ensure it doesn't come up again. For instance, if the delay resulted from incorrect client information, enter the correct details and devise a solution to data entry errors. If there aren't enough staff members to meet your orders, you may hire more talent or subcontract extra tasks. You may do these in advance if you anticipate a "high season."
You'll find more tips on how to avoid future delays in the next section.
How to Avoid Packages Being Delayed in Transit
Package delays are doing your business more harm than you can imagine. Thus, you need to implement proper remediation steps to ensure the issues don't arise next time. The following best practices can help you avoid disappointing your customers with delays:
Leverage a Tracking Solution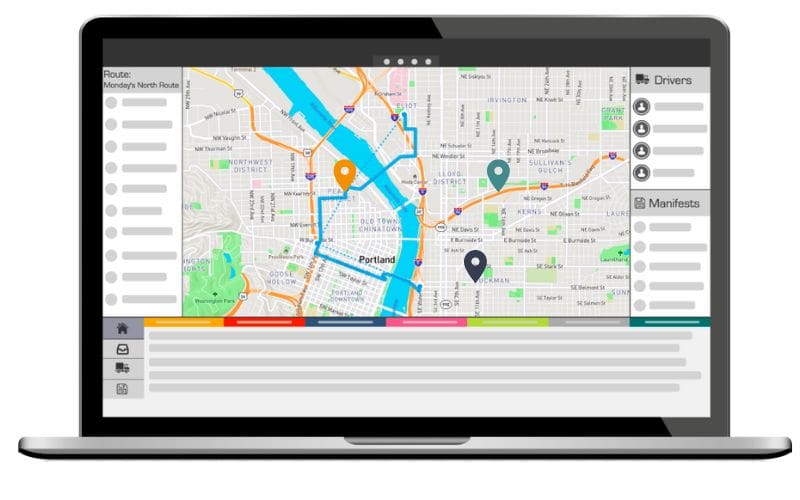 Delivery delays are inevitable and commonplace. So you're better off with a pre-established approach to handling delays before they impact respective customers. The most effective way to overcome the challenge is to install a reliable parcel-tracking solution. This tool monitors package movement across carriers and locations. It can offer predictive alerts and notify you of shipments that lag behind schedule.
When facing an unavoidable challenge that will delay your delivery, you can inform your client using automated, timely notifications tailored to the specific situation. This way, your client will always know the status of their package and ease their anxiety.
Be Upfront
Refrain from complicating things so much to put your company in a situation where package delays are frequent because you're stretching your resources. If you're anticipating a busy period or experiencing high volumes, be upfront and honest with clients from the moment they make their first contact or visit your website.
For instance, you may place a banner on the homepage notifying them that couriers are handling or anticipating more orders, and therefore deliveries may take longer than normal. Also, add similar reminders to your respective product pages and checkout. Post the news on your socials, and send emails encouraging clients to shop promptly to avoid the last-minute rush.
Clients appreciate honesty and transparency. By providing more information upfront, you'll have an easier time if you fail to meet the anticipated timelines.
Create and Share a Shipping Policy
Dedicating a section of your website to your delivery service's shipping policies is a remarkable first step toward transparency. Here, you might outline potential hurdles, address common questions before they come using a comprehensive FAQ section, and thank your clients for their patience to enhance your communication in case of delays.
Typically, a great policy must highlight the average processing and handling times, shipping cost specifics and options, and exchange and return policies.
Offer Delivery Options
Providing options is also an incredible way to manage delivery timelines and meet client expectations. At checkout, provide an opportunity for your clients to consider urgency and priority before they click the "Buy Now" button. For instance, you may provide delivery options like express, click and collect, standard, or overnight along with their varying rates. This will encourage your client to think about their expected dispatch time.
If you only have a standard shipping option, you may have to deal with orders with a similar priority level, even if respective clients would be okay with waiting a week or so. Providing different choices, including different pricing structures, will also make your couriers happier.

Partner With Domestic Suppliers
Another solution to package delivery delays is to work with suppliers who own warehouses in your target locations. These partners can fulfill orders within the proximity of the closest storage facilities, and customers won't be forced to wait for consignments from your main office. This significantly saves on shipping times and helps you avoid delays.
Stay Ahead of Delivery Delays
Package delays are inevitable. However, sometimes they occur more than you'd appreciate. When you can't control the situation, you must keep your clients informed and updated on the progress. The more they're in the loop with transparent and honest communication – even if it's the dreaded "package delayed in transit" notification – the more they'll trust you.
Fortunately, this shouldn't be a problem when you leverage the last mile software. Besides keeping you informed through real-time updates, the program helps you address the greatest logistical hurdles and streamline operations. Request a demo to enhance your deliveries today!
Sources
https://www.shopify.com/research/future-of-commerce/future-of-retail
https://www.reuters.com/world/uk/uk-employers-face-worst-shortage-job-candidates-record-rec-2021-09-09/
https://www.reuters.com/business/us-job-openings-rise-record-109-million-july-2021-09-08/
https://www.usatoday.com/story/life/health-wellness/2021/10/08/usps-delivery-our-unhealthy-obsession-tracking-packages/5993535001/