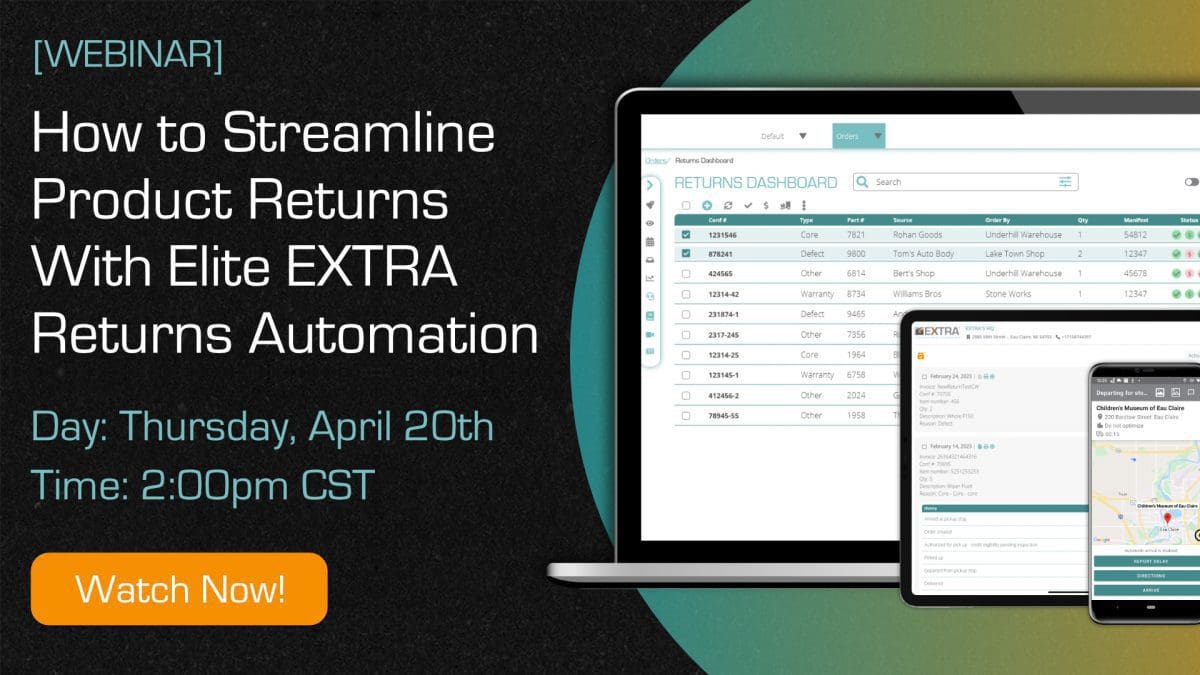 Please fill out the form to download this webinar:
Once submitted, a copy of the webinar recording will be sent to your email
The Official Launch Webinar of Elite EXTRA Returns Automation
You won't want to miss out on the official product launch webinar of Elite EXTRA's Returns Automation! Learn how this returns management software is helping companies across numerous industries digitize their returns operations, decrease reverse logistics inefficiencies and cut the costs of lost products. Returns Automation allows you to bring the Amazon-like returns experience to your business, so you can improve customer satisfaction and drive repeat purchases.
What We'll Cover
In this webinar, you'll learn:
How to manage all of your company's product returns from a single online dashboard
How to increase returns transparency, trackability, and visibility
How to automatically enforce your returns policy
How to simplify the returns process for your drivers
How your customers can utilize an easy-to-use customer portal for self-service returns
Pricing for Elite EXTRA Returns Automation (Special attendee discount)
And much more!
What People Are Saying
"Returns Automation has made a positive impact on our returns process faster than I expected. No more cumbersome return write-ups for drivers, everyone knows the status of each return, and customers have every purchase at their fingertips. I was surprised how well rolling out the portal to our customers has gone with over 95% adoption so far."

John Book, Early adopter of Returns Automation in the automotive industry
Saving Money with Streamlined Product Returns
Another early adopter of Returns Automation in the wholesale auto industry with sales of ~$13 million has forecasted returns savings of $75,000+ in the first year of using Returns Automation. We expect these savings to grow as the product is further implemented into their operations, and we are thrilled to hear the solution has been so influential.
Getting Started with Returns Automation
Looking to learn more about Returns Automation and get started? Contact our team today for a demo of the product and to learn about the next steps for getting started!