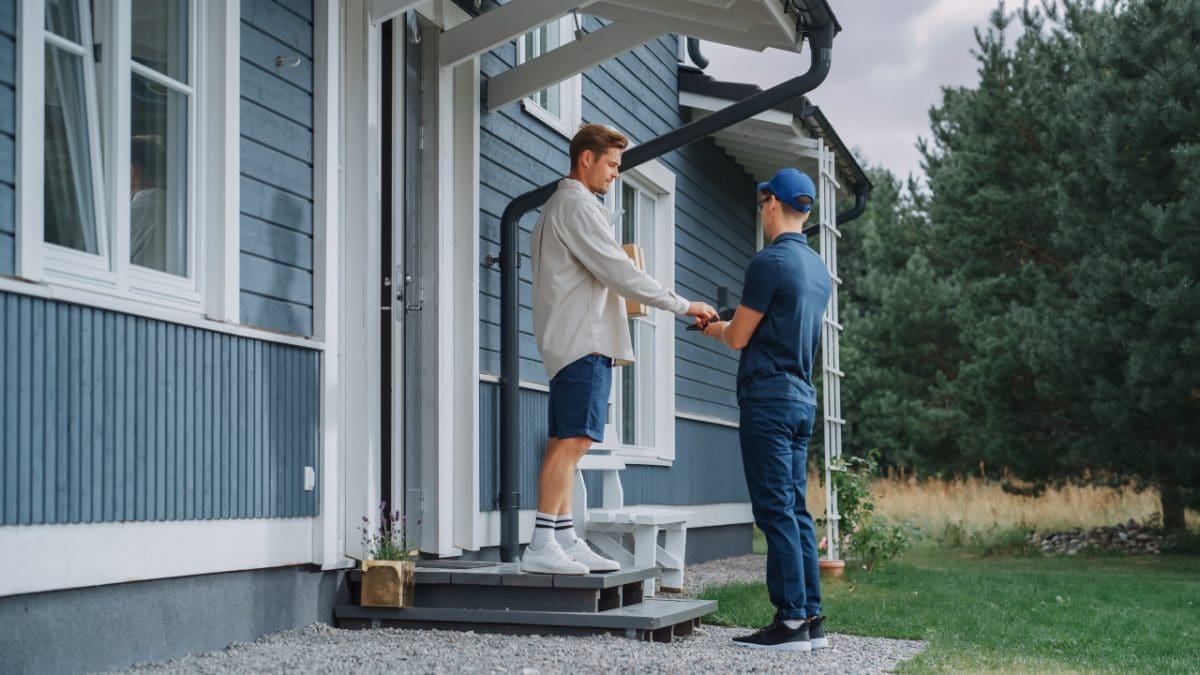 In B2B delivery, rapid and secure delivery of goods is essential. However, the rise of theft incidents during the delivery process has posed significant challenges for businesses. Porch pirating, a notorious form of theft that targets unattended packages left at doorsteps, has not only affected residential areas but also extended its reach to commercial settings.
Porch pirating and other types of B2B delivery theft are detrimental to a business because of the lost trust and massive financial losses. Fortunately, tech-enabled solutions such as proof of delivery (POD) can help delivery companies prevent B2B delivery theft.
A Deep Dive into B2B Delivery Theft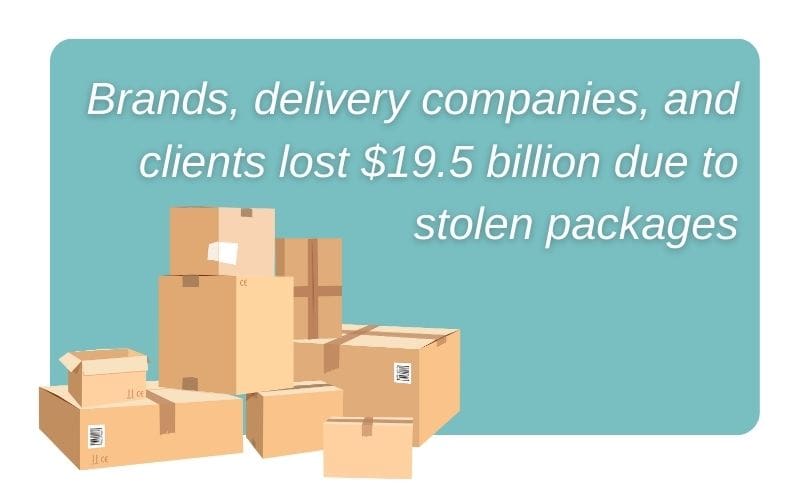 Porch pirates stole 260 million packages in 2022. The result was $19.5 billion in losses for brands, delivery companies, and clients. In the past, porch piracy was synonymous with residential homes, but as package theft increases, commercial premises have also started to feel the heat.
But this is not the only form of B2B delivery theft. Delivery companies also have to deal with cargo theft and sometimes internal theft.
Another common misconception is that theft only happens once the package is left at the final destination. In reality, B2B theft can occur at various stages of the delivery process, including during transit, at delivery points, or even within the recipient's premises.
The impact of B2B delivery theft goes beyond the direct loss of merchandise. It can result in delayed orders, dissatisfied customers, and potential legal and financial repercussions. Also, businesses may face reputational damage and loss of trust from clients and partners.
Preventing B2B delivery theft requires a comprehensive approach. Specifically, extra focus should be on transportation security, tracking systems, and secure delivery procedures.
Types of B2B Theft Incidents
B2B delivery theft incidents can occur in various forms and at different supply chain stages.
1. Cargo Theft
Cargo theft refers to stealing an entire shipment or a significant portion of it during transit. Cargo theft criminals may target trucks, warehouses, or distribution centers.
Criminals will often use tactics such as hijacking or diverting the cargo to unauthorized locations. And while cargo theft can happen at any point in the supply chain, a report by Senitech showed that 55% of all cargo theft happened at unsecured parking lots. Distribution warehouses closely follow as the second most common location of cargo theft.
2. Fraudulent Transactions
Fraud and deception are other prevalent forms of B2B delivery theft.
According to TT Club:
15% of cargo theft claims have their source from fraud or deception.
Carrier fraud— where criminals pose as subcontractors, drivers, and haulers— accounted for 84% of deception and fraud claims in 2022.
Here are more examples of how fraudulent transactions can contribute to B2B delivery theft.
False non-delivery claims: A dishonest recipient falsely claims a package was not delivered.
Tampering with package contents: A criminal alters the contents of a package during transit. They can either remove valuable items or substitute them with lower-value or counterfeit goods.
Identity theft and fraudulent ordering: Fraudsters impersonate legitimate businesses and place orders for B2B shipments using stolen or fabricated identities.
3. Internal Theft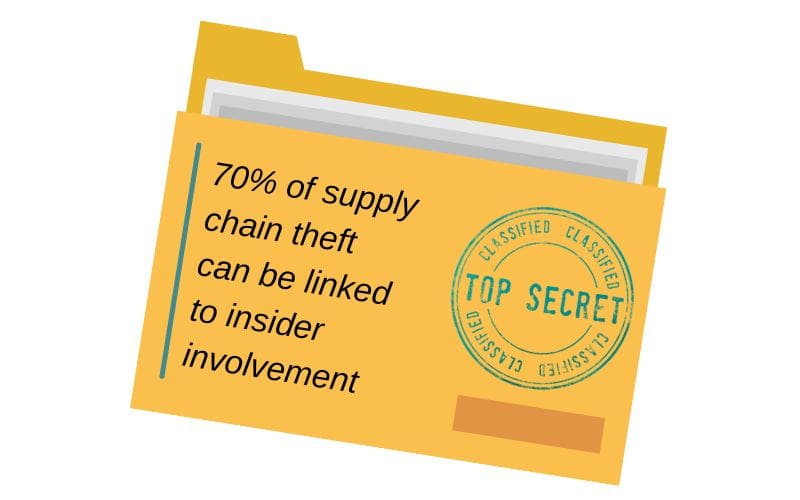 The Transport Asset Protection Association found that 70% of supply chain theft can be linked to insider involvement. For example, a driver can collude with an unauthorized recipient to deliver a B2B package to an incorrect location.
In another example, warehouse employees can share sensitive data such as shipment dates and routes with cargo theft criminals. Some cargo theft criminals even plant some of their members in warehouses and distribution centers to gather shipment information.
Pilferage is yet another example of internal theft. It involves warehouse employees stealing small quantities of packages. Because the amounts are small, this will not raise eyebrows in a distribution center processing thousands of packages.
However, when added up, pilferage and other forms of internal theft spell substantial financial losses for delivery businesses.
Common Challenges in Combating B2B Theft
Combating B2B theft can be challenging because of the complex supply chain structure. Below we cover these challenges and how you can navigate them.
Lack of Visibility and Accountability
Operating by old manual processes exposes your B2B deliveries to theft and damage. For example, if you've not implemented end-to-end oversight over your delivery chain, you will not know where packages are in real time. Should theft happen, it will be harder to locate and recover them.
Digitizing delivery via route planners, GPS tracking, and real-time updates can provide greater accountability and visibility over the delivery process.
Difficulty in Tracking Stolen Goods
Once theft occurs, it can be challenging to trace and locate the stolen items. Theft during B2B delivery may not be immediately detected, especially if there are delays in updating tracking information.
In addition, criminals may disable or remove tracking devices from the stolen goods, rendering tracking methods ineffective.
The best way to combat this is to invest in updated POD systems and greater measures to safeguard against security breaches such as leaked shipment routes.
Limited Means of Verifying Delivery Completion
Incomplete or unreliable POD documentation can undermine the verification process. If these documents are not correctly filled out or are subject to human error, they may not provide the necessary evidence of delivery completion. Tech-supported POD documents, in addition to photo capture, can help reduce such instances.
The Role of Proof of Delivery (POD) in B2B Delivery Transactions
Proof of delivery is a document or receipt showing a delivery has been completed. POD serves as evidence or verifiable record that delivery personnel delivered packages as instructed by the client.
Primarily, there are three types of proof of delivery(POD).
1. Paper-Based Proof of Delivery
Paper-based POD is a traditional method that involves a physical document record. Once delivery personnel delivers a package, they present a paper document for the recipient to sign. When signed by the recipient, this paper document acknowledges that the client received their order in good condition.
2. Electronic Proof of Delivery(ePOD)
Electronic proof of delivery involves digital technologies such as QR codes and barcodes to record successful delivery completion. The captured information is typically stored in a centralized system or cloud-based platform. This provides real-time visibility and faster access to details.
3. Photo and E-Signature Based POD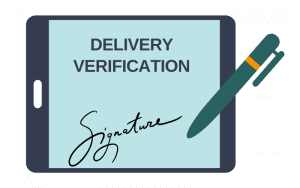 As the name suggests, this type of POD involves capturing photos via a company-issued device. It also requires the collection of an e-signature from the recipient. Photo and E-signature-based POD relies on automation with the help of tech devices. As such, it affords delivery companies greater transparency, speed, and accuracy in last-mile delivery.
The POD document will often include the following elements:
Delivery date and time
Recipient information
Delivery address
Description of the client's package
Quantity or volume of delivered good
Condition of goods
Signature from the recipient or an authorized representative
The tracking number of the order
Key Components of a Robust POD Process
An excellent POD system will cover the following bases:
Delivery Documentation and Signatures
Whether you're using a paper-based or electronic-based POD, a signature plus an official POD receipt are elements of a robust process. The POD receipt document will contain the items listed above. It will also have the recipient's signature to acknowledge receipt of their order.
Electronic Proof of Delivery (ePOD) Technologies
Paper-based PODs are not sustainable for B2B delivery. A more robust system will use electronic proof of delivery.
ePOD) systems enable digital signatures, time stamping, and geo-tagging, providing robust evidence of delivery. These systems can also include photo capture features to further document the condition of the goods upon delivery.
Time-Stamping
Time stamping accurately records the exact time when a delivery is made. Capturing the precise moment of delivery helps businesses validate the timely completion of the delivery. It also establishes proof in case of any disputes or discrepancies.
GPS Tracking
GPS tracking data provides verifiable proof of delivery by capturing the exact location where the goods were delivered. It confirms that the delivery was made at the intended destination.
Benefits of Implementing a Strong POD System
A strong POD system safeguards delivery businesses from losses arising from B2B delivery theft. This system also provides accountability for both parties involved in the transaction. Below are some additional benefits:
Enhanced Visibility and Transparency
POD systems provide transparency and visibility throughout the delivery process. It allows businesses to track shipments in real time, monitor progress, and ensure that deliveries are on schedule. This transparency helps improve customer satisfaction and builds trust between trading partners.
Increased Accountability and Deterrence
When you implement POD, you communicate to employees that theft is unacceptable. Hence, delivery personnel will take the necessary measures to mark a delivery as completed.
On the other hand, a POD system shows clients that you take keeping records seriously. This can help deter fraudulent clients from making false claims.
Improved Dispute Resolution
POD serves as irrefutable evidence of successful delivery. If there are photos, the recipient's signature, GPS data, and the delivery time stamp, it will be easier to address non-delivery claims.
Customer Satisfaction
A strong POD system gives peace of mind to clients because they get assurance of when and where their package is delivered. Also, POD enables prompt resolution in case of delivery discrepancies or issues. This speeds up the process of addressing customer concerns. It also minimizes potential frustrations.

Preventing Theft During Transit
While it's challenging to eliminate all risks, there are several steps you can take to deter theft during transit.
Verifying the Identity of the Recipient
It's not unheard of for criminals to pose as the recipient of a package. This is especially possible in busy commercial buildings. To avoid this, ask delivery personnel to request identity cards or other documents proving the recipient is authorized to receive the order.
Confirming Delivery Location and Condition of Goods
Ensure you have a process to confirm the delivery location before sending out an order. You can do this via a simple SMS or call to the client. In addition, ensure that delivery personnel ascertains that an order is in good condition before delivery.
Real-Time Tracking and Monitoring of Shipments
More importantly, ensure that each package is accounted for with the help of GPS tracking and close monitoring. This helps create a data trail showing when and where a package is. In turn, clients will have a reasonable estimate of when to expect their goods.
Mitigating Fraudulent Transactions
Having stringent verification and visibility standards can help reduce fraudulent transactions. Here's how:
Validating the Authenticity of Delivery Documents
Thoroughly examine the delivery documents, such as invoices, delivery receipts, or shipping manifests, for any signs of tampering or alteration. Check for consistent formatting, accurate information, and legitimate signatures or stamps. Cross-reference the details with the corresponding order and customer information to ensure consistency.
Eliminating Fake or Unauthorized Deliveries
Use stringent verification procedures to authenticate the delivery personnel and the recipients. This can include verifying identification documents, checking delivery authorization codes, or employing biometric authentication for added security.
Also, use route scheduling technology to create a structured delivery appointment system. This system lets you know which deliveries are scheduled, when, and where. Centralized dispatching can also prevent unauthorized deliveries from slipping through the cracks.
Building a Strong Evidence Trail for Legal Purposes
Ensure that you record successful deliveries with photos, time stamps, recipient signatures, and GPS data. This information will be needed to deal with fraudulent claims legally.
Addressing Internal Theft and Pilferage
To prevent internal theft, you will need to perform comprehensive background checks. In addition, take the following steps.
Implementing Checks and Balances Within the Delivery Process
Use various methods such as order verification, double-check systems, and delivery manifests to reduce supply chain theft. These measures will promote accuracy and accountability and reduce B2B delivery theft.
Holding Employees Accountable Through POD Records
Create rigorous systems that ensure employees collect the necessary evidence of delivery. This measure can serve as evidence for resolving discrepancies. The documentation can also be a means of evaluating employee performance.
Identifying Patterns of Internal Theft for Preventive Measures
Regularly conduct internal assessments to identify vulnerabilities and patterns within your organization. The reviews can help identify gaps that need patching and inform mitigating actions.
**sign up for newsletters**
Examples of Successful POD System Implementation
FedEx
FedEx, a global logistics and delivery services company, uses a robust POD system that includes photo capture, real-time tracking, and electronic signatures. Their system provides customers with accurate updates on the status of their shipments and ensures accountability in the delivery process. These measures also help prevent porch piracy and other B2B delivery theft types.
Amazon
Amazon utilizes ePOD, photo capture, and electronic signatures to combat B2B delivery theft. In addition, Amazon has installed secure locker locations in 900 U.S. cities. Furthermore, they have introduced Amazon Key, a service that enables customers to grant remote access to delivery drivers for securely leaving packages inside the home, garage, or car trunk. These measures provide customers more flexibility and convenience while ensuring the secure and successful completion of deliveries.
POD Systems Are a Must-Have for All Delivery Companies
As businesses continue to prioritize customer satisfaction, embracing POD will remain vital in mitigating B2B delivery theft and building trust within the delivery ecosystem. Don't miss out on the opportunity to enhance security and demonstrate reliability— make POD a priority in your company's B2B delivery.
Or better yet, discover how Elite EXTRA can help you protect your deliveries with proof of delivery. Schedule a demo today.
Sources
https://www.fool.com/the-ascent/personal-finance/articles/porch-pirates-stole-260-million-packages-last-year-heres-how-to-protect-your-online-orders/
https://www.ttclub.com/media/files/tt-club/bsi-tt-club-cargo-theft-report/tt-club-tapa-emea-and-bsi-annual-cargo-theft-report.pdf
https://www.foodlogistics.com/21117906
https://www.asisonline.org/security-management-magazine/articles/2020/10/criminals-eye-stalled-supply-chains-for-weak-links/
https://www.fedex.com/en-us/tracking/picture-proof-delivery.html
https://www.cnbc.com/2020/01/10/package-theft-how-amazon-google-others-are-fighting-porch-pirates.html