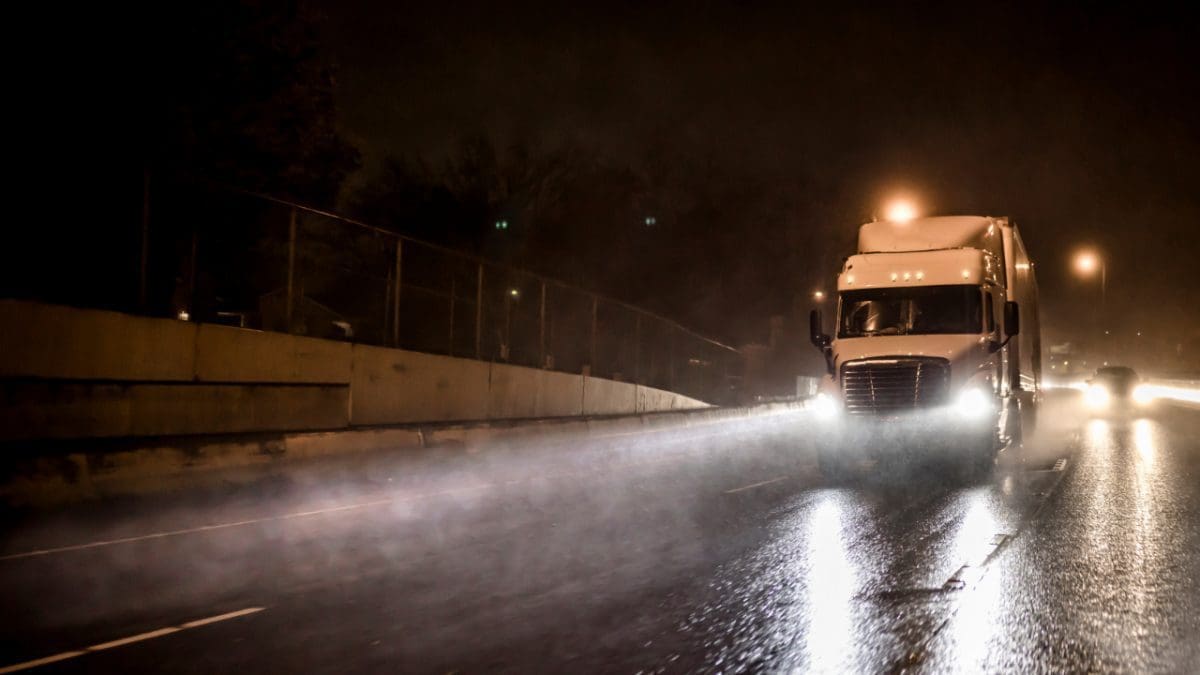 There are times when you'll need to deliver time-sensitive loads within a short time frame. At such times, the traditional hauling services just won't cut it. That's where hot shot dispatching services come into play. This service ensures not only the safe handling of cargo, but also their timely delivery. Furthermore, clients and drivers alike are turning to hot shot dispatching for prompt and flexible delivery schedules. This article will focus on how to leverage hotshot deliveries to increase your delivery capacity.
What are Hot Shot Deliveries?
Hot shot delivery (also known as hot shot trucking) refers to a delivery service that aims to ensure the timely delivery of time-sensitive goods. These are usually less than truckload (LTL) freights that are less than full truck capacity load.
At times referred to as "the Wild West" of trucking, hot shot trucking is said to have begun in Texas oil fields in the 70s, where truckers would stand by to deliver crucial parts to the oil rigs, thereby helping the companies improve efficiency by avoiding lost time. Today, all sorts of industries and individuals rely on hot shot trucking to deliver everything from foods to electrical materials on time.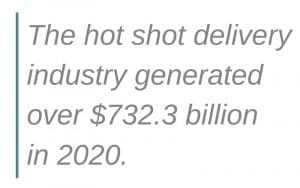 Hot shot delivery isn't the same as expedited shipping. While expedited shipping entails a motor carrier typically keeping vans, pickups, or track trailers on standby to complete a delivery job, hot shot delivery jobs are distributed among different hot shot drivers instead of keeping the expedited vehicles waiting.
A hot shot trucker can operate a wide range of trucks, most of which are on-ton delivery trucks often labeled as "medium duty" by the FHWA (Federal Highway Administration). Class 3, 4, and 5 are the most common hot shot trucks. On the other hand, the trailers used for hot shot hauls include gooseneck hauling trailers, bumper pool trailers, dovetail shipping trailers, lowboy hauling trailers, and step deck shipping trailers.
Over the years, hot shot trucking has become one of the most lucrative industries in the US. In fact, a recent report found that the industry generated over $732.3 billion in 2020.
So How Do Hot Shot Deliveries Work?
Here's a breakdown of how the hot shot delivery process:
The driver receives notification via the load board informing them of the availability of a hot job. They can either accept or decline the offer.
Suppose they accept; they will pick up the package at the hot shot delivery point and deliver it to the intended final destination.
Upon completing the delivery, the driver can either return to their post or search for another job on the load board.
Generally, truck drivers are paid per hot shot delivery, while the payments for hot shot drivers are calculated per mile.
To operate a hot shot trucking business, you must adhere to the following requirements:
Weight Requirements
Suppose your load exceeds 10,000 pounds; you must have a CDL (commercial driving license).
If the combined weight is more than 26,000 pounds, you must have an international registration plan, an international fuel tax agreement, or sometimes both.
Failure to meet the requirements can result in you incurring hefty fines.
Driver Requirements
You must have a motor carrier authority number
If you're transporting a combined weight that's less than 10,000 pounds, you won't need a CDL
You must meet the FMCSA's physical driving requirements
You must have FMCSA approval
Besides the above requirements, you must follow the Department of Transport's (DoT) regulations on hot shot deliveries.
What are the Benefits of Hot Shot Delivery
There are several reasons why you should use hot shot trucking to deliver your cargo. Here's a look at some of the benefits: 
Cost-effective: Hot shot delivery services are often reasonably priced compared to other delivery services, given that you only pay for the miles driven and not the weight of the load.
Drivers are skilled professionals: Every hot shot driver has undergone rigorous training on how to get packages to the delivery destinations quickly and efficiently while driving safely.
Frees you up to focus on other aspects of your business: With hot shot delivery trucking services, you can rest easy knowing that your package will arrive safely and on time. As such, you can focus on other business functions, such as marketing.
How to Increase Your Deliver Capacity with Hot Shot Deliveries
Hots shot trailers can legally carry 16,500 pounds of freight on their deck. Because of this, shippers looking to haul more capacity than the stipulated limit often opt for other options for their freight. But that doesn't have to be the case.
Have more deliveries than you are capable of handling with your own fleet? Here are some ways to increase your delivery capacity with hot shot dispatching services.
Double Your Deliveries by Hiring Third-Party Hot Shot Drivers
Making deliveries completely on your own can be taxing, from the planning of each route to the never ending physical maintenance of your fleet, time and costs all add up fast. Moreover, you may not have enough trucks to handle your deliveries.
By delegating your deliveries to hot shot drivers, you can keep your entire business operation humming. No need to worry about keeping drivers overtime to complete the deliveries or pulling your employees from other essential tasks to handle cargo delivery.
By seeking the services of hot shot drivers, you'll have more drivers at your disposal. This can be a game changer for the future of your deliveries. With the hire of third-party, hot shot drivers and delivery trucks, your delivery capabilities have grown exponentially without having to take on the responsibility of maintaining their vehicles or creating their schedules. Consequently, you will be able to ship more goods to your clients in an economical, timely manner.
Keep in mind that when you exceed your customers' expectations both in terms of the volume and speed of delivery, they will take you more seriously. They are more likely to become repeat customers and can even send referrals your way.
All you need to do to achieve this feat is to ensure you get the right third-party drivers.

Expand Your Delivery Range
Typically, shipping companies have specific zones they keep their deliveries contained to. This is predominately due to driver availability, hot zones for customers, or because it is near their facility. When orders are made outside of this range, the customers may not be able to complete their purchase or they may have to wait longer than usual for their package to arrive.
With hotshot dispatching, this is no longer an issue. While your personal fleet of drivers continues about their routes as normal within your delivery zone, you can hire hot shot drivers to make the deliveries outside your zone. This allows you to continue your typical deliveries without disruption while being able to expand your delivery range and customer base.
As mentioned above, hot shot deliveries are typically ordered on a per-delivery basis. However, thanks to their dynamic routing capabilities, they are able to alter and add orders to their route at any instance. This flexibility makes them an ideal option when exploring new zones.
Ultimately, hot shot deliveries can assist in expanding your delivery range, thus increasing your overall delivery capacity.
Unite With Hot Shot Delivery Companies That Operate 24/7
Most companies that do their own deliveries often only make day-time deliveries. This can be disadvantageous in terms of the quantity of shipment delivered to customers since there's a limited period for making those deliveries. Also, when you only make day-time deliveries, you may not be able to complete time-sensitive orders shipments that need to be delivered in the evening. So, in short, when your shipment services don't operate round the clock, you'll be limited in the volume of deliveries you make and the ability to complete time-sensitive deliveries.
That said, many hot shot trucking delivery companies operate 24/7, meaning they provide delivery services at any time of the day. This is because the nature of the goods (time-sensitive or high-priority)they transport requires them to meet tight deadlines and handle unexpected challenges along the way.
However, the round-the-clock operating hours of these companies do not only benefit you by ensuring timely delivery of goods, but the longer operated hours can also help ensure that you make more deliveries. You can make the most of their longer operating times to transport more cargo to your clients.
So, when you partner with a hot shot delivery company that operates 24/7, you will not only increase your delivery capacity but will also be able to complete high-priority deliveries on time.
Prioritize Final Mile Delivery Solutions
With rising pressure on carriers and shippers today, there's a need to leverage automated solutions and innovative technologies now more than ever. Using an API can help you secure high delivery capacity even amid the ongoing shortages of delivery services. A fully onboarded API solution makes accessing last-mile delivery technologies easier, which can help boost delivery capacity and ensure the timely delivery of shipments.
Hot shot final mile delivery solutions are redefining how carriers and shippers handle on-demand orders and deliveries. They are creating a new focus on faster and more affordable services, sustainability, same-day delivery, and next-day shipment. They also ensure that companies can deliver high volumes of shipment while ensuring the final day goes smoothly and customers receive their items in good condition.

Use Hot Shot Delivery Trucks to Make Dedicated Deliveries
As mentioned earlier, hot shot delivery is a premium service that uses dedicated trucks and trailers to deliver your freight exclusively. While it is designed to deliver shipments with tight deadlines, its fast nature can also help you increase the capacity of your deliveries.
So how exactly can exactly does this happen? Since hot shot shipping is dedicated to only delivering specific orders, there won't be pit stops for making deliveries to other clients and your deliveries will be completed faster. Given that your deliveries will be completed in a more timely manner, you can then make multiple deliveries through the same hot shot driver throughout the day, or even have multiple hot shot drivers complete their singular deliveries simultaneously (if you hired multiple drivers through a delivery network).
Of course, the faster your deliveries are completed, the faster you can deliver more cargo.
Leverage Larger Vehicles Through Hot Shot Deliveries
The sizes of trucks and lengths used for hot shot delivery services will determine the amount of cargo you can haul. For instance, here are different weight limit of classes:
Class 3 medium-sized trucks is 10,001-14,000 pounds
Class 4 medium-size trucks' weight limit is 14,001-16,000 pounds
Class 5 medium-size trucks is 16,001-19,500 pounds
The trailer you use also determines the capacity of cargo you can deliver. Gooseneck trailers can carry heavier, larger loads but you'll need to invest in a special hitching system.
So, if you want to increase your load capacity, ensure you work with a hot shot delivery company with vehicles with a high weight limit that can allow you to deliver large volumes of cargo at a go.
Conclusion
Regardless if you are already satisfied with your current fleet, adding hot shot dispatching services gives you another option for serving your customers. It can even be there as a safety net on days that your drivers can't be reached. Either way, it expands your delivery capabilities significantly when it is used right.
On the other hand, instead of using it to bolster your deliveries, it can be used to make more economical deliveries. For example, leveraging hot shot delivery services also allows you to downsize when a customer needs a small load, as it would be uneconomical if you used a full-length flatbed to transport the small load.
Are you looking to increase your delivery capacity or grow your delivery options? Look no further! Elite EXTRA has been streamlining logistics operations to over 325,000 users since 2008. Our solutions can help you gain access to third-party delivery providers within our Delivery Network, compare delivery times of various third parties, automate your routing and dispatching, and more. Contact us today to get started with hot shot deliveries.
Sources
https://www.trucking.org/news-insights/annual-trucking-trends-report-shows-impact-pandemic-industry
https://www.fmcsa.dot.gov/medical/driver-medical-requirements/driver-medical-fitness-duty