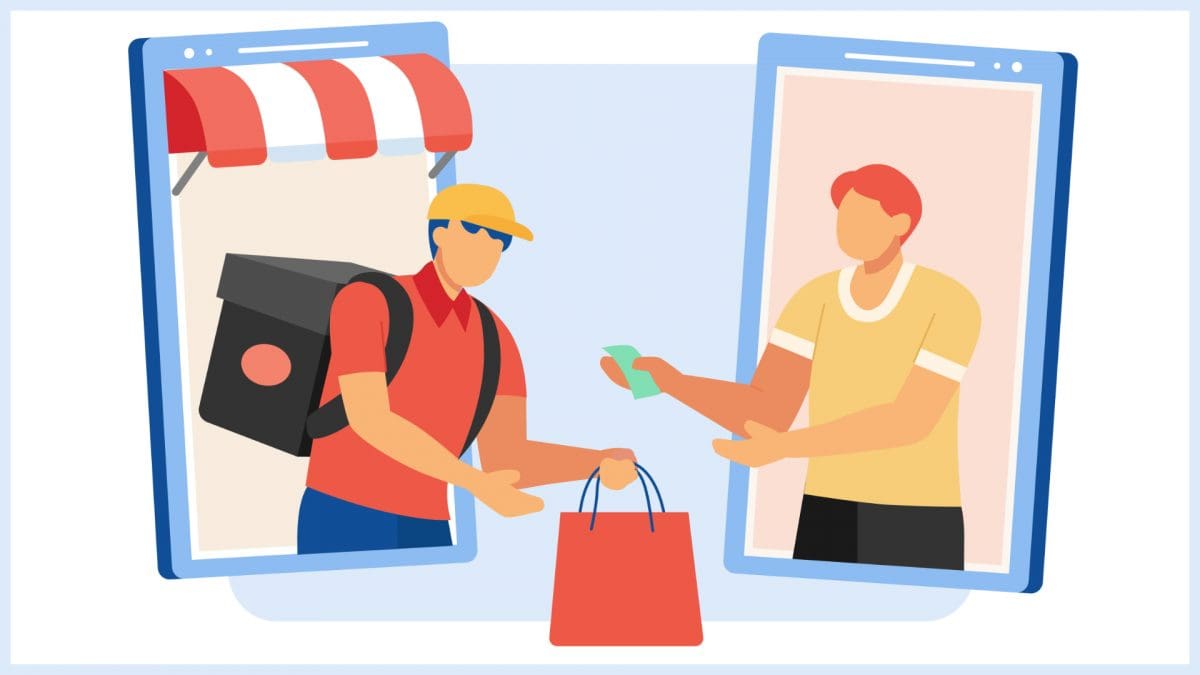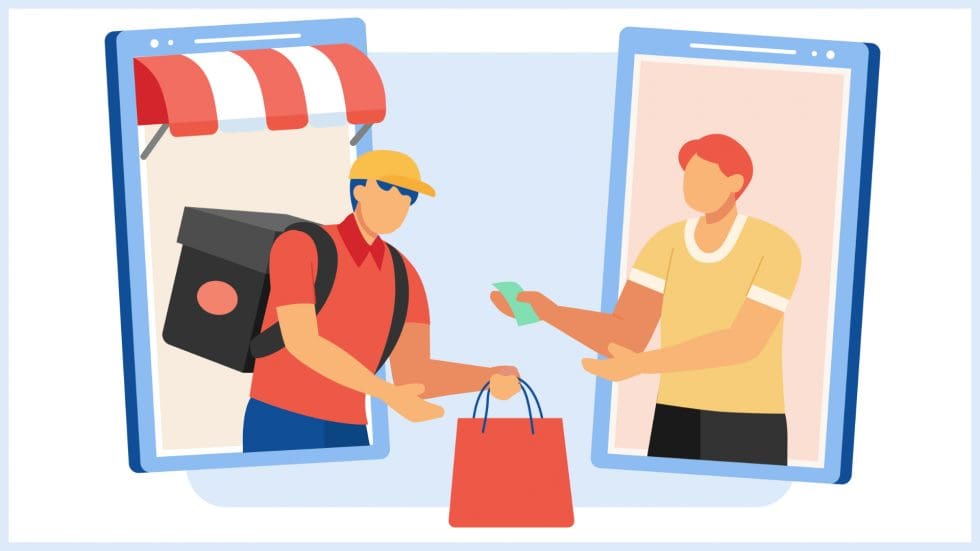 Over the past decade, but increasingly so in the last few years, shopping from the comfort and convenience of the home has gained widespread popularity thanks to technological advancements, the pandemic, and more. The pandemic also accelerated the adoption of technology and disrupted several industries– with the logistics sector being at the top of disruption due to the numerous prolonged lockdowns and travel restrictions. Thanks to online shopping, the eCommerce logistics sector was one of the few that was able to efficiently survive and revive as it made it convenient to shop for whatever you need without having to visit the store.
Although shopping options have turned electronic, payment methods don't have to be. For those shoppers that don't feel comfortable sharing their credit card information online, cash on delivery (COD) is an option offered by many businesses.
However, while cash on delivery is a popular payment arrangement in eCommerce logistics, many sellers still shy away from offering it. It turns out that although COD is a lucrative payment option for customers, it is also a significant hassle for sellers. Successful COD orders for eCommerce logistics is one of the biggest challenges online retailers face.
In this post, you'll learn what exactly cash on delivery payment entails and strategic ways to manage your COD orders.
What is Cash On Delivery (COD)?
As its name implies, cash on delivery is a payment method in eCommerce logistics where customers don't submit the required amount of money due for the product or service until delivery. Therefore, the transaction is not finalized until the goods or service are accepted in person and is paid for. If the customer decides not to keep the items, they return them to the seller.
Unlike traditional online shopping, this payment arrangement means shoppers can browse through any eCommerce store that offers COD, choose the items they want, and then make the order without paying a dime until delivery. The payment method will then be completed upon delivery.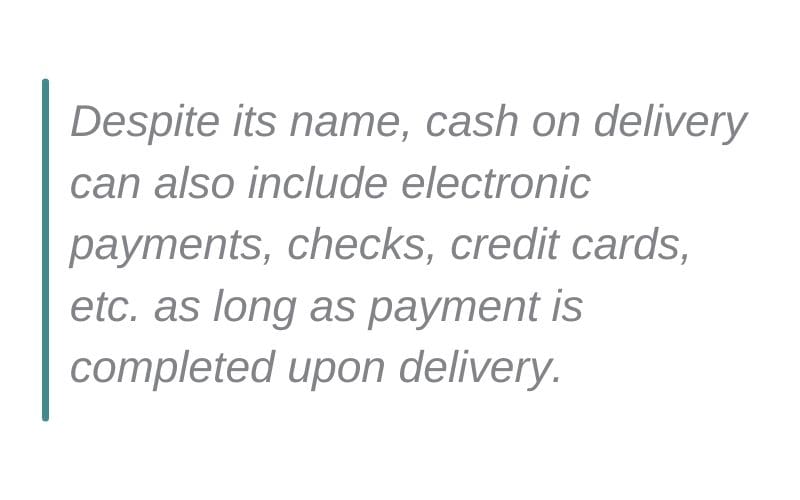 COD is most common among brick-and-mortar retailers, where the purchasing, invoicing, and delivery of the items happen simultaneously in the same location. However, COD is also most commonly used by order-based retail outlets where shopping is done online, via catalog, or over the phone.
Despite its name, cash on delivery doesn't solely need the use of hard cash for payment which is why some also refer to it as collection on delivery. Shoppers can also use electronic payment methods, credit cards, checks, etc.
How Does COD Work?
When shoppers place an order via sales staff or a website, they select the COD payment option. The retailer then generates and sends the customer an invoice containing the estimated cost, including delivery. Unlike conventional methods, COD buyers don't pay for their selected products when they place the order, and the payment isn't due until receipt. However, a deposit or shipping costs may sometimes be required immediately upon placing an order.
Transport is often handled through a shipping partner or the seller's staff, who also oversees the collection of payment. And if the customer decides not to complete the transaction, the delivery personnel are responsible for returning the shipment.
Assuming the transaction was completed, this is where cash on delivery can get tricky. Retailers must ensure that they have an organized filing process to make certain the payment is properly handled and applied to the correct account. Furthermore, there has to be a system to keep the drivers accountable and to verify all the payments are being submitted at the end of a route.
Because COD orders bear high risks, some eCommerce shops like Shopify lets their stores set a price range that acts as a qualification for COD. If an order costs higher than the set maximum amount, it simply fails to qualify for COD. This way, the merchant's risks are minimized.
Which Type of Industries Benefits From COD?
Businesses that might use the COD payment method include companies selling to retailers like wholesale distributors.
To consumers, however, here are a few examples of businesses that most commonly employ COD arrangements:
Food delivery. For example, paying for pizza or other food upon delivery is a common and successful business model among food industries.
Clothing outlets. Some large stores like Amazon allow shoppers with a Prime subscription to place their order and try on clothes before paying for their preferred selections and returning the rest.
Tailoring and dry cleaning. Customers often want to pay for these services after they receive the items.
Department stores. Several eCommerce department stores set up COD arrangements for jewelry, electronics, home and kitchen items, apparel, and nutritional supplements.
Pros and Cons of Cash on Delivery
Whether a seller or a buyer, there are several benefits that come from the use of a COD payment arrangement. However, these benefits have corresponding downsides or risks. As a result, if you are considering offering COD payment, you need to weigh the following advantages and disadvantages before making a decision.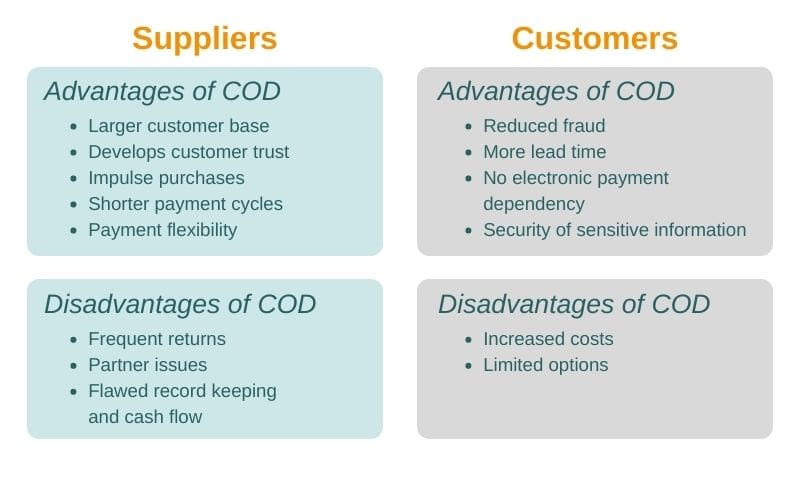 Advantages of COD to Suppliers
Attracts a wide range of customer base. For consumers, one of the biggest benefits of COD is that they can wait to pay for an item until after they've seen it in person, ensuring they are satisfied with the product before purchasing. This has made the payment method immensely popular among online shoppers. In India, for example, COD is the preferred payment mode for 65% of orders placed on top e-retail platforms. Suppliers can, therefore, offer COD payment arrangements as a strategy to reach this wider customer base.
Develops customer trust. Because COD shoppers don't have to pay for their items in advance, they have a lesser risk of losing their money. This enhances their confidence in your brand. In addition, shoppers can personally examine the item and ensure it's exactly what they wanted before paying. In case they decide not to keep the product, they can return it without having to pay.
Impulse purchases. When customers don't have to raise the necessary amount at the ordering stage, they are highly likely to choose to purchase more than just the necessities.
Shorter payment cycles. Compared to conventional sales policies, which are credit-based, a COD arrangement can reduce payment timelines and eliminate the risk of failed payments.
Payment flexibility. A COD payment mode allows you to reach customers who may not have a credit card or are not willing to disclose their banking or credit information online.
Advantages of COD to Buyers
Reduced fraud. Since they only pay for the products they have physically received, it's much harder for customers to fall victim to fraud.
More lead time. The COD payment method offers customers additional time to find the required amount to pay for their orders.
No electronic payment dependency. COD payment mode doesn't make customers dependent on credit or debit cards. This is especially beneficial to consumers from rural and suburban regions where many people don't use the cards.
Security of sensitive information. With COD, security can be easily maintained. Customers don't need to disclose sensitive data, such as debit cards, credit cards, or banking details to the supplier.
Disadvantages of COD to Suppliers
Frequent returns. There's always a risk of buyers losing interest or changing their minds about a product before the transaction is completed. And every canceled or returned order means additional transportation costs accumulating to a loss for your business.
Partner issues. Unless your company solely handles deliveries internally, there are high chances that you'll be working with a third party, such as courier services, to oversee your collections. This usually reduces your level of direct control and enhances the possibility of outside complications or risks. Moreover, it often takes a long time before the money collected via cash on delivery is transferred to your account, whereas debit and credit cards are instant.
Flawed record keeping and cash flow. Due to so much manual work, offline payment methods make it difficult to facilitate COD. The delivery personnel must keep track of the collection and deliver them to the accounting team to manually process and reconcile payments with the right accounts. This makes it rather challenging to determine the correct cash flow and balance records.
Disadvantages of COD to Buyers
Increased costs. According to a study, because sellers assume higher risks with a COD payment mode, they are likely to offset some of the liability by setting a higher price compared to if the transaction was finalized at order.
Limited options. If suppliers only want to collect payment via cash or credit bank transfer, this could limit customers' ability to finalize their purchase electronically even if they had the required funds available at the ordering time.
As you can see, it's not all risks and no wins for buyers and sellers who employ a cash on delivery payment arrangement. While larger logistics companies may struggle to operate a COD payment mode, smaller sellers can leverage COD to incentivize consumers to buy from their new brands, knowing they have more time to deliver payment.
8 Tips For Managing Cash On Delivery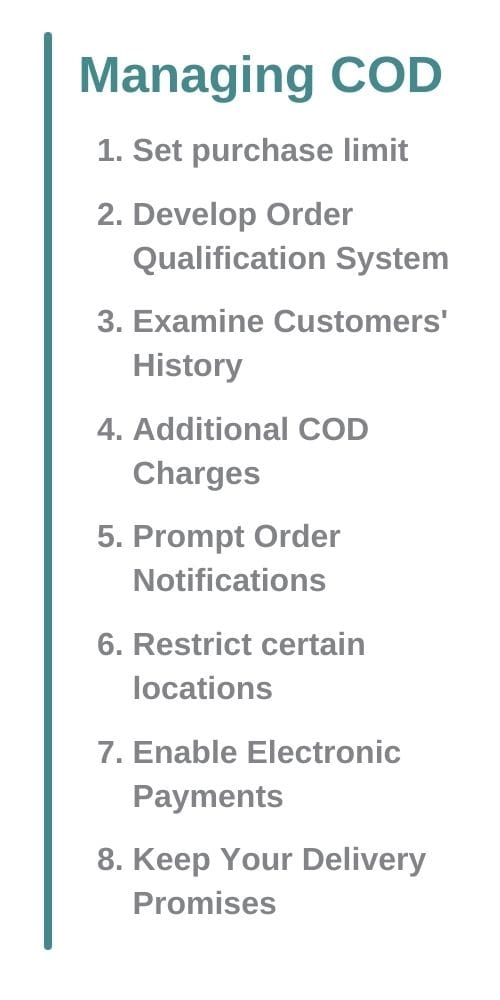 Cash on delivery payment remains one of the most used and misused features in eCommerce logistics. However, with the practical management of COD orders and some best practices, sellers can improve their COD order delivery approach and reduce their losses due to bad COD orders. Here are some top practical strategies to follow:
1. Set a Purchase Limit on Order Value
The best way to manage COD orders is to set a minimum and maximum purchase limit for the items. The threshold value will help minimize COD transportation costs and make delivery hassle-free. As a result, buyers will try to purchase more to receive the COD option, and you won't risk high-value items for COD.
2. Develop a COD Order Qualification System
Setting a way for customers to qualify for your COD orders is another intelligent way to manage COD orders. However, this requires you to understand your buyers' shopping behavior and then use the data to develop a qualification system for COD orders.
3. Examine Customers' History
COD order delivery for the logistics companies invites several fake orders or people who like to drag the payment process out. So use customer behavior analytics from the database and find customers with a history of refusing or canceling COD orders based on previous orders and rejections. This will create an efficient COD process by screening out serious clients and shipping genuine orders to minimize losses due to fake orders.
4. Set Additional COD Charges
The most efficient way to push shoppers to utilize online payment methods and cover up risks and losses is to add extra charges for COD orders. Setting a small fee for COD orders versus no fee for online payment schemes can divert buyers to other payment methods. However, this strategy may lead to increased abandoned carts, especially if you aren't charging this extra fee on other channels where this or similar items are sold.
5. Notify Customers About Order Delivery
When the order arrives, most buyers aren't available to receive it. Some customers also don't have payment ready with them during delivery. You can send timely notifications about the order delivery to avoid returns for such reasons. Partner with a shipping provider that allows customers to choose their preferred delivery date.
In addition, notify customers of any delays to keep them informed about their delivery. You can share the Non-Delivery Reason (NDR) of a shipment in advance to ensure that comments about the COD shipment's non-delivery are accurate. Sending NDRs to buyers and receiving their comments via WhatsApp or SMS will allow customers to alert the logistics company of any gaps in real time, enabling corrective steps to be followed.
6. Restrict COD to Particular Locations
You can also allow COD payment options for particular cities or locations by setting pin code restrictions. List your serviceable pin codes and mention whether or not COD payment mode is enabled for that pin code. This is especially beneficial if you want to blacklist some pin codes due to high rejected COD deliveries from those locations.
7. Enable Electronic Payments
You should allow customers to pay for COD orders via Wallets, UPI, or by swiping their cards at the convenience of their homes. Enabling electronic payments will, in turn, minimize rejections and enhance the COD process.
8. Keep Your Delivery Promises
Most COD orders are rejected due to late deliveries. Work with a shipping provider that allows you to keep your delivery promises to your customers with quick deliveries. Ensure you use a platform like Elite EXTRA to make the entire delivery process simple and structured. With our easy-to-use software, you can have complete process visibility and track the order shipment from assigning, planning, and dispatching stages to the route optimization, travel, and estimated arrival time and handover. You can track, record, and optimize everything along the process, including delivery time, customer feedback, payment record, proof of order delivery, and total service time.
Dive deeper into the world of last mile logistics by downloading our latest white papers for free!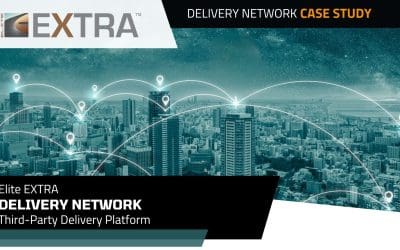 In this case study, we examined the impacts of diligent use of our Delivery Network product among our power users. Check it out!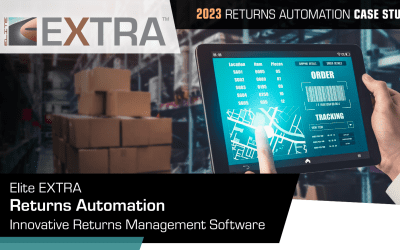 This in-depth case study analysis explores how Elite EXTRA Returns Automation has improved returns operations for numerous early adopters!
Final Thoughts
With the right measures followed promptly, a COD arrangement can help you grow your business. However, whether you choose a COD payment mode or another payment method, having an effective software solution that supports your logistics needs is critical to keeping your business operational and well-structured.
Elite EXTRA believes in creating the best logistics solutions encompassing a wide range of business use cases. This software solution is not just about maintaining pace with the latest technological advancements in the optimized delivery management landscape but also about taking top responsibility for evaluating best practices in the logistics industry. So if your business is searching for high collection rates and exceptional experience for both you and your customers, reach out to Elite EXTRA today!
Sources
https://www.news18.com/news/business/one-out-of-three-cash-on-delivery-orders-in-india-remain-undelivered-report-2382381.html
https://indianonlineseller.com/2015/11/cod-logistic-service-providers-for-your-ecommerce-business/