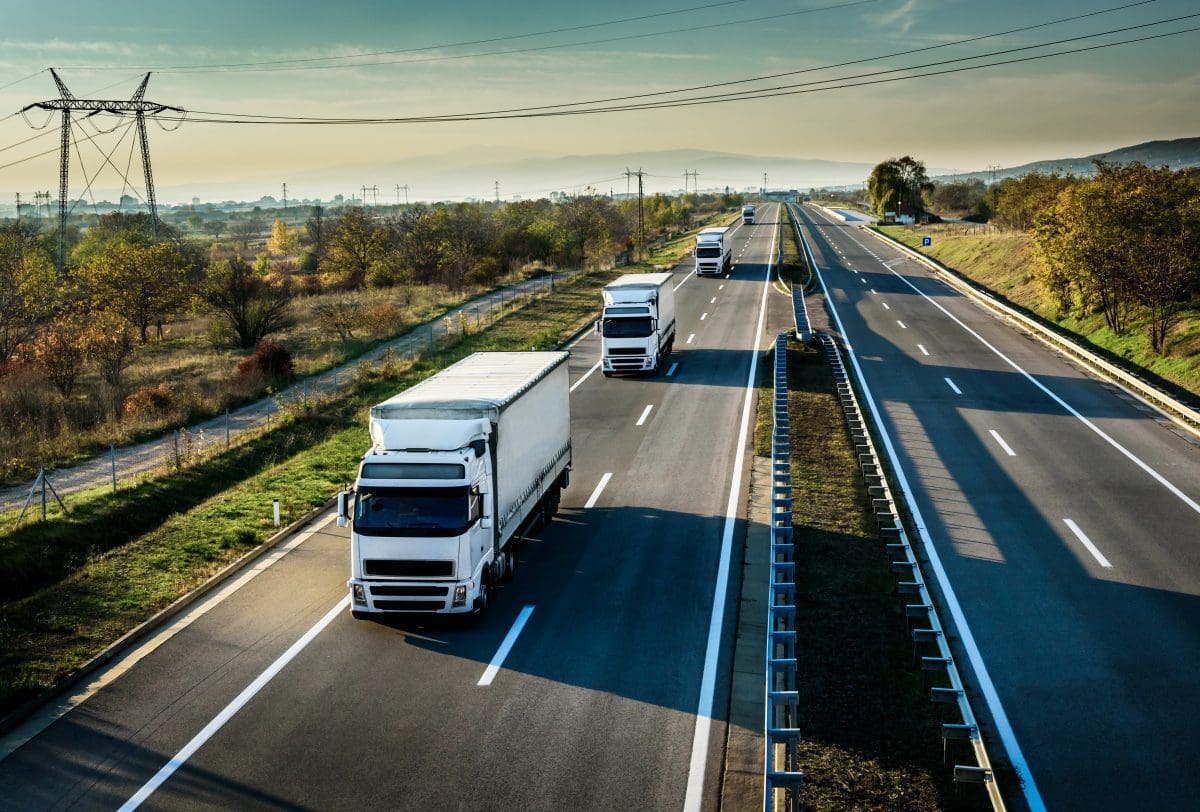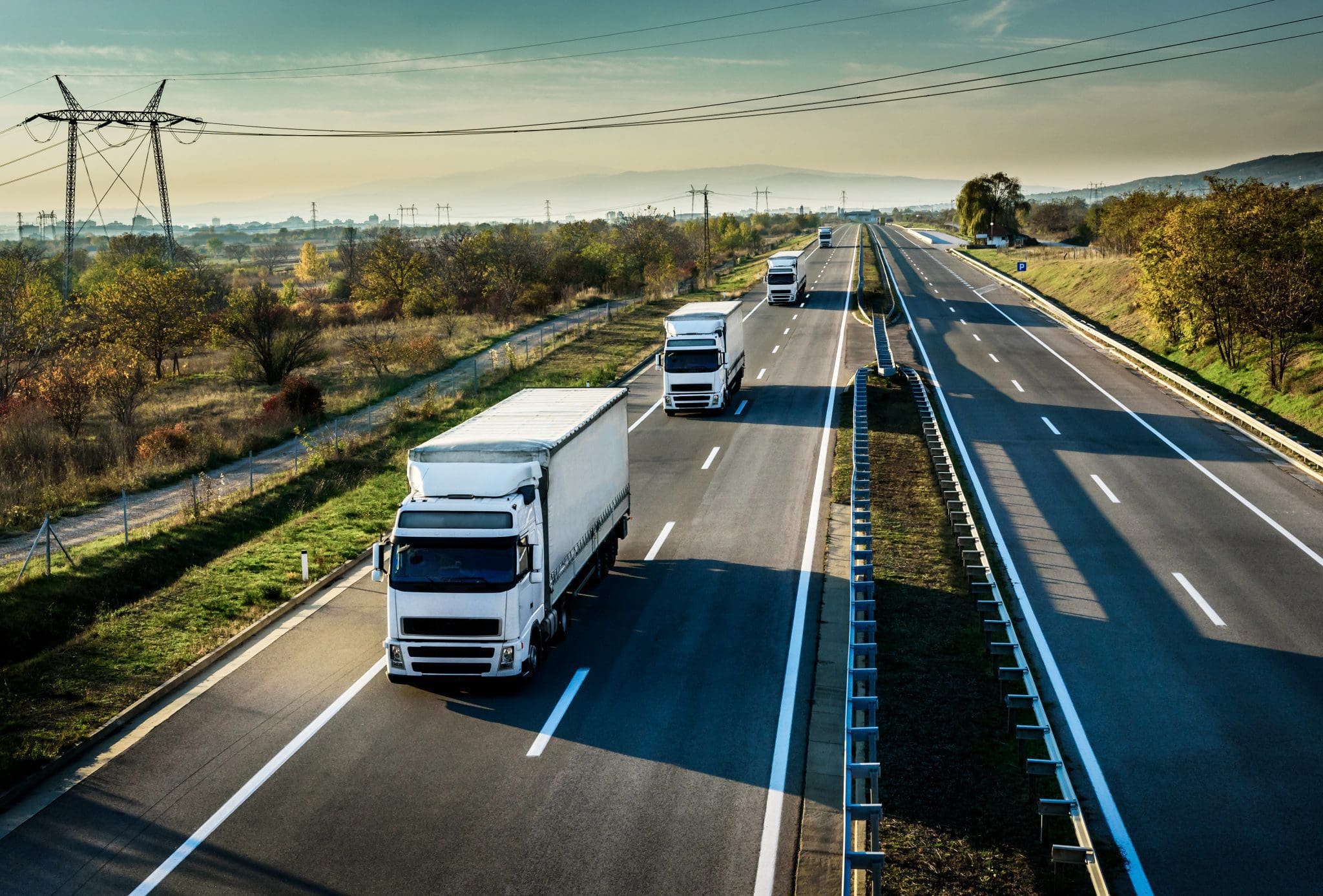 Every business dealing with physical goods requires both inbound and outbound logistics processes to streamline its supply chain management. And while these two terminologies have different meanings in other industries, in the logistics world, the primary difference comes down to the receiving and sending of goods—inbound logistics focuses on receiving, while outbound logistics is all about delivery.
With a robust inbound logistics process, businesses can quickly launch new products for sale and even restock their best sellers for the high-demand season. Similarly, a strong outbound logistics process will allow them to deliver customer packages more efficiently. As such, inbound and outbound logistics are crucial components of all supply chain management strategies.
Today's enterprises understand the importance of efficiently managing their supply chain network. Even so, it's equally vital to understand the differences between inbound and outbound logistics and how these processes can work harmoniously to positively impact the overall supply chain.
What is Inbound Logistics?
Inbound logistics refers to how goods and materials get from a supplier to a company. It is a vital part of the supply chain process since it builds a foundation for everything that happens afterwards. The inbound logistics process entails stock control, material handling, and transportation of materials to facilitate market disbursement and production. Generally, it deals with the supply side of the supply-demand equation.
Here's a closer look at the activities involved in the inbound logistics process: 
Sourcing and procurement: This involves identifying and assessing potential suppliers, getting price quotes, and selecting the right supplier.
Purchasing/Ordering: This entails a company buying materials and goods it needs in the right quality and quantity.
Transportation: This activity entails deciding on the mode of transport (truck, train, airplane, etc.) for moving the goods. It also involves choosing how fast the incoming supplies will be delivered and contracting third-party transportation companies to help efficiently move the materials.
Receiving: This involves handling the arrival of new supplies, unloading trucks, and confirming that the delivered supplies match the order. Suppose the supply doesn't match the order; you should contact the supplier and inform them of the discrepancy.
Material handling: The received supplies are moved for shot distances and staged for later use.
Warehousing and storage: This entails managing goods before they are moved to manufacturing or customer fulfillment. The warehousing and storage department ensures that the right storage conditions are in place and goods are in the right position for fulfillment.
Inventory management: Inventory management involves deciding the type and quantity of materials to store and how and where to store them so they can be located easily.
Distribution: The sending of various materials to various destinations within the business where they are needed.
Tracking: Confirming details of incoming supplies, such as their location.
Reverse logistics

: This entails the moving back of goods from customers due to reasons like returns, delivery issues, defects, repair, and refurbishment.
The inbound logistics approach a company implements will depend on a number of factors, including the nature of the incoming goods, the buyer-seller relationship, and the industry in which the company operates. Additionally, how well your inbound logistics process functions will depend on how optimized it is. Some of the recommended ways for optimizing inbound logistics include:
Building strong relationships with suppliers: There are several ways you can benefit when you establish strong partnerships with suppliers, including better terms, cost savings, and reduced lead times.
Leveraging a transportation management solution: These solutions automate freight operations, thereby allowing you to gain complete visibility into the supply chain and enhancing the efficiency of your transportation.
Using a warehouse management system: This software streamlines the receiving, inventory management, putaway, picking of supplies, and more, optimizing warehouse operations.
Role of Inbound Logistics in Supply Chain
Inbound logistics influence the production unit of every business. When done correctly, inbound logistics can cut manufacturing costs while reducing material wastage. The proper management of inbound logistics costs can help increase the cost efficiency of a supply chain.
That said, how streamlined your inbound logistics process is will impact the quality of your final product, especially given that the quality of a product is determined by the raw materials used to produce it. As such, an efficient inbound logistics process is crucial to the success of your business.
Other benefits of efficient inbound logistics include:
Steady production rates
Improved vendor relationships
Efficient inventory management
Lower transportation costs
Greater visibility to supply chain problems
Higher product quality
On-time deliveries
Foundation for successful sales
Inbound Logistics Example
Here's an example of inbound logistics for an eCommerce business:
Say you manufacture tablet computers. The raw material supplied to your facility for further processing will be classified as inbound activities. These could include iron ore, steel, silica sand, and glass. Once you receive all the necessary materials in your plant, you can begin the manufacturing process. Upon finalizing the production of your product, you'll need outbound logistics activities.
What is Outbound Logistics?
Outbound logistics refers to all the activities associated with collecting and distributing finished products to the end user. It basically focuses on moving the final products from the manufacturing plant to the end users. In other words, outbound logistics focuses on the demand side of the supply-demand equation. It typically entails the selection, transportation, and organization of the outflow of packages from the seller to the buyer.
When dealing with physical goods, outbound logistics involves inspection, warehousing, and transportation. On the other hand, it entails bringing consumers to the business when dealing with intangible services.
Below is an outline of outbound logistics activities:
Storage and warehouse management: Generally, companies often keep a given amount of materials to meet their demand. Companies usually use outbound logistics to store those goods in an organized fashion and in the right conditions. While inbound and outbound overlap slightly in warehouse management, the former (inbound) focuses on product acquisition, the latter (outbound) concentrates on outgoing finished products.
Inventory management: This process entails determining the ideal place for storing goods in the warehouse to ensure faster order fulfillment and efficient order picking and packing operations.
Transportation: This activity involves selecting the right transport means for moving the final products to the end user. The means of transport you use to ship products will vary depending on the type and nature of the goods. For instance, perishable products such as flowers should be placed in refrigerated containers and transported by plane. Conversely, huge materials such as heavy machinery can be transported by truck in small order quantities.
Delivery: Timely delivery of products is crucial to the success of your business. Outbound logistics takes the responsibility of ensuring that packages get to customers on time. It also ensures that the orders have the right items and quantities and that the packages don't get lost or damaged while in transit.
How optimized your outbound logistics process is will determine your profit margins and your customer satisfaction. Suppose your outbound logistics process isn't optimized; you risk incurring high inventory and shipping costs and driving customers away due to incorrect or late deliveries. You can avoid such predicaments by optimizing your outbound logistics in the following ways:
Understanding when fast delivery begins: You can meet carrier requirements for speedy shipping by setting up product staging at the distribution centers, sorting shipments based as stipulated by distribution center guidelines, and tailoring the packaging to meet their requirements.
Building and improving partner relationships: Closely work with key outbound logistics partners such as your customers and freight providers. By establishing the right relationships with your partners, they can provide insights into your product's performance in the market. With these insights, you can tweak your production, order fulfillment, and shipping to improve the performance of your product.
Adapting to current inventory strategies: Implementing current inventory strategies such as just-in-time (JIT) inventory will eliminate the norm of delivering large customer orders at widely spaced intervals. Tailor your outbound logistics to integrate with these inventory strategies.
Using smart route planning: Automating your route planning can reduce the travel and waiting times of deliveries. As a result, this boosts customer satisfaction and cuts fuel costs.
You can also optimize your outbound logistics by using technology to organize schedules and determine the best delivery networks.

Role of Outbound Logistics in the Supply Chain
Outbound logistics include picking and packing, order fulfillment, and transporting products to the end user. Monitoring the production and distribution processes is crucial to ensuring the optimal movement of products. Also, delivery should scale appropriately in case there's an increase in production to meet customer demand.
Whereas outbound logistics plays a significant role in customer satisfaction, its most vital role is in the value chain. It can help you get the right product to your customers at the right place and time. Outbound logistics also ensures that the product's condition, quantity, and cost are correct.
Here are other benefits of outbound logistics:
Faster deliveries
More on-time deliveries
Less order cancellation
Decreased returns
Lower cost for your company ( and your customers)
Less damage and loss while goods are in transit
Fewer delivery mistakes and failures
Stronger company reputation
High customer satisfaction.
An Example of Outbound Logistics
We will use the same scenario from the example described in the inbound logistics section.
Once you have completed manufacturing your product, you will begin receiving orders from dealers and individual customers. Your team is now responsible for delivering the final product. The methods you use to receive orders and get them to your customers is the outbound logistics process.
Inbound vs. Outbound Logistics: The Key Differences
Here are the key ways inbound logistics differs from outbound logistics:
Definition: Inbound logistics refers to the activities involved in moving goods or materials Into the supply chain and acquiring inventory that your business later sells. On the other hand, outbound logistics refers to the activities involved in moving finished products out of a supply chain—it aims to fulfill end-user orders.
Focus: Inbound logistics focuses on purchasing and transporting incoming goods and materials to the manufacturing plant, while outbound logistics focuses on the outflowing of final products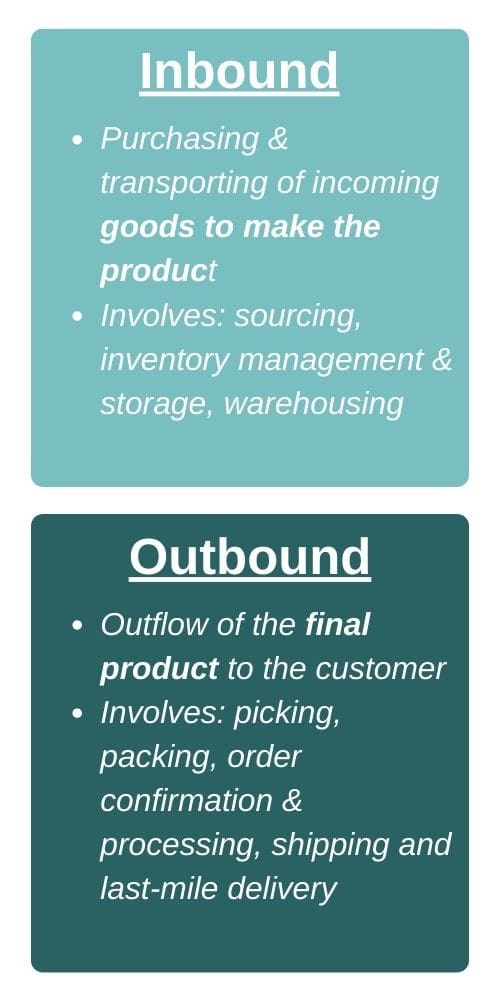 Processes: The processes involved in inbound logistics include sourcing, materials/inventory management, warehouse receiving, and inventory storage. In contrast, the processes involved in outbound logistics include picking, packing, order confirmation & processing, shipping, and last-mile delivery.
Touchpoints: In inbound logistics, goods and materials are transported from suppliers, manufacturers, distributors, or product holders and delivered to a company, retailer, brand, or third-party logistics company. In outbound logistics, the final product is transported from the company, retailer, brand, or third-party logistics company and delivered to the end users/end customers.
Key Relationships: With inbound logistics, you build relationships between your company and the suppliers, vendors, and distributors. On the other hand, with outbound logistics, your company builds relationships with the end consumers as well as distributors, wholesalers, and retailers.
Role: Inbound logistics concentrates on receiving and sourcing raw materials, while outbound logistics focuses on distribution channels and customer service.
Strategic Imperative: Inbound logistics obtain materials or goods the company needs to make its products, while outbound logistics strives to meet customer demand and support the sales process to generate revenue.
Understanding the differences between inbound and outbound logistics can offer insights for creating a comprehensive supply chain management strategy.
Which of the Two Processes is Important
Neither outbound nor inbound logistics are inherently more crucial to the supply chain than the other. Without inbound logistics, businesses won't have products to move through outbound logistics. And without outbound logistics, inventory would pile up and become dead stock, and businesses won't profit.
Needless to say, inbound and outbound logistics are equally important and need to work harmoniously for a cohesive supply chain. Businesses should carefully optimize each phase of the supply chain since every step can affect customer satisfaction.
Conclusion
A seamless logistics process is vital to the success of your business. It can ensure a more reliable distribution network that helps reduce transportation and storage costs.
Need help streamlining your logistics processes? We can help. At Elite EXTRA, we understand the importance of having a comprehensive supply chain management strategy. Contact us today to find out how we can help you achieve efficient logistics processes.
Sources
https://www.ibm.com/topics/supply-chain-management
https://www.zoho.com/inventory/guides/what-is-putaway.html
https://www.forbes.com/advisor/business/just-in-time-inventory/
https://www.shopify.com/blog/what-is-dead-stock