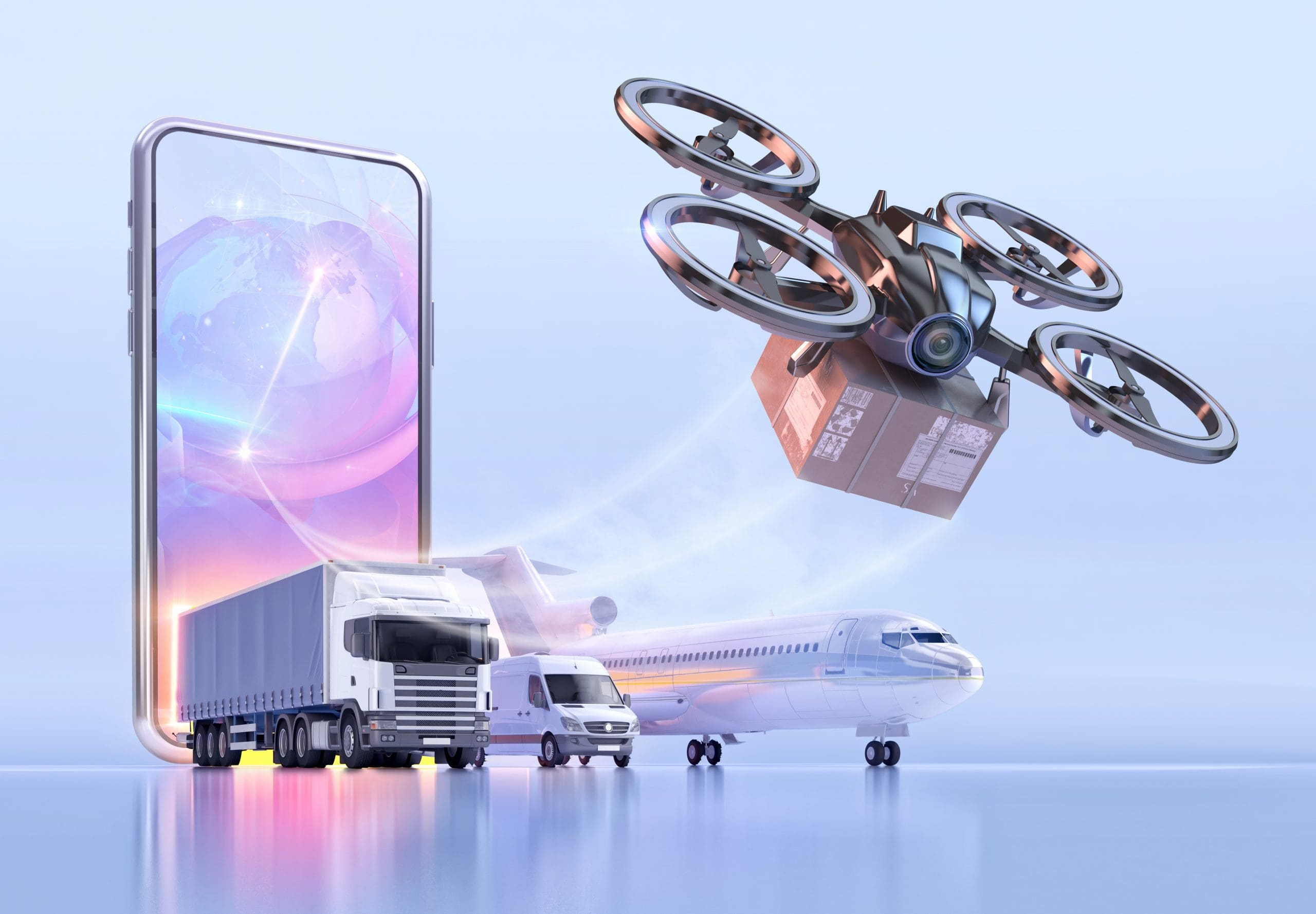 The Future of Delivery
Imagine… it's 8 p.m. on a Saturday in the middle of December. It's cold outside, and a good movie would be the perfect end to a productive day. You grab your tablet and order up a bag of popcorn and a smart device to stream movies to your television. Within 13 minutes, a drone lands outside your window with a package containing your items. You accept the delivery, and watch the drone fly out over the hillside before setting up your new device.
This scenario may seem like an improbable future, or science fiction; however, this exact delivery by drone was made just several years ago, on Dec. 7, 2016. Although widespread drone and autonomous vehicle deliveries are a ways out, advances in "futuristic" delivery methods are being made every day.
The Buzz Behind Autonomous Vehicle Delivery
Why is there such a need for autonomous vehicle delivery?
It all starts with the demand for delivery. Whether it's food delivery to a consumer, or an auto part for a business, everyone wants their goods delivered as fast and inexpensively as possible.
The U.S. courier, express, and parcels market is a $70 billion market and is projected to increase by over 60% in the next 10 years.With this, 56% of online consumers expect to have same day delivery, with 61% willing to pay more for it. This is where autonomous delivery comes into play. Companies will be able to save hundreds of thousands of dollars per year in salaries, vehicle maintenance, and insurance by utilizing autonomous vehicles. Additionally, autonomous delivery by drone or vehicle will decrease delivery times drastically to fulfill that need for same-day delivery.
Another reason for autonomous delivery is the tremendous shortage of delivery drivers. By 2022, the trucking industry projects a driver shortage of more than 100,000 drivers. This will dramatically increase the cost of labor for drivers and therefore increase the cost of products for consumers. By implementing autonomous vehicles in the delivery ecosystem, companies will be able to hire less drivers, increase efficiency, and dramatically decrease costs.
Amazon's disruption in the delivery industry is another driving factor for autonomous vehicle delivery. When Amazon Prime 2-day shipping debuted in 2005, retailers began to see a push from consumers for e-commerce and faster shipping. By 2014, more than 80 million Americans were Prime customers and one in five customers are now unwilling to wait longer than 2 days for a package. Retailers are struggling to compete, and Amazon continues to move into more verticals including: groceries, restaurant, and digital services, to name a few.
Driving Toward an Autonomous Delivery Future
Widespread autonomous delivery is not as distant as people may think. McKinsley & Company recently completed a research study determining that, due to increasing opportunity costs, last mile autonomous delivery will be widespread in parts of Europe and the U.S. in the next 10 years. 
And to support that, the U.S. already has autonomous delivery vehicles on the road:
A start-up called Udelv has developed and completed its first autonomous grocery delivery with their new autonomous electric van. On Jan.29, Udelv's autonomous van completed a 3-mile delivery on public roads from a local grocery store to deliver to two households at a mere 5 cents of operating cost per mile. The company plans to rent out a full fleet of 1,500 vehicles by 2021 to deliver for local silicon valley businesses specializing in last mile delivery.
Switching gears to autonomous long haul delivery, Embark Technology tested their self-driving box truck with a 650-mile delivery of refrigerators from El Paso, Texas to Ontario, Calif. The class two system was able to switch lanes, automatically follow, and keep lanes during the delivery. Embark plans to use their technology to alleviate the vast shortage of long haul truck drivers coming in the next few years.
Lastly, drone delivery continues to make strides. In Cincinnati, a company called Workhorse has developed an innovative new way to expedite last mile delivery. Autonomous drones, called HorseFly's, deliver packages from a delivery vehicle to their last mile destination. Customers are able to pinpoint the delivery location, track the HorseFly drones, and even monitor the delivery in real-time via a camera mounted on the drone. The driver of the delivery vehicle puts the package on a mount, and then hits a button to signal the HorseFly. The HorseFly will then unhinge from the vehicle, deliver the package to the destination ranging from a few hundred feet to over 2 miles, and then catch up and dock to charge directly from the vehicle's electronics. Workhorse envisions their drones saving companies time, money, and increasing consumer visibility of the delivery process.
The Brain Behind Autonomous Delivery: Advanced Dispatching Software
Autonomous vehicles and drones will change the supply chain, last mile, and long haul delivery drastically within the next 20 years; however, one crucial piece of technology is needed to make autonomous delivery a reality – advanced dispatch.
In essence, advanced dispatching software will be the brain behind what delivery gets assigned to what delivery method (employee drivers, couriers, autonomous vehicles, drones, etc), as well as integrating with thousands of ordering/ERP systems, and solving complex optimization algorithms on the fly.
Float Your Fleet
A concept that is gaining ground within the delivery industry is the idea of "floating your fleet." Essentially, this means that a company with multiple delivery locations within a geographic area would float their delivery drivers between all of their locations. Advanced dispatching software is then capable of reading a pickup and delivery, and assigning the best available driver to make that delivery. This is very similar to what certain couriers and Lyft are doing with their drivers, using route optimization concepts such as optimal time windows, shortest distance and time, load balancing, priorities, etc.
Integration with Enterprise Resource Planning Software
Advanced dispatching software will also act as the middleman between the ordering/ERP systems and the autonomous vehicles. Essentially, advanced dispatch is capable of reading and uploading order files from ERP systems, organizing them, and then dispatching them off to the best delivery vehicle based on a variety of factors.
Additionally, advanced dispatch has the ability to set priority customers to be first in delivery, set up zones and territories that will automatically build routes, and then dispatch based on cutoff times, and a plethora of additional functionality that streamlines the delivery process.
Optimized Route Planning
Another key benefit of advanced dispatching is the ability to optimize routes based on a variety of factors:
Routes can be optimized based upon time windows. For example, Steve's auto closes at 4pm everyday and only accepts deliveries during business hours. Lets say Steve orders a part at 3:30; advanced dispatch can take that time window and dispatch it to a truck that can complete the pickup and delivery before the 4pm cutoff.
Shortest distance and shortest time. Advanced dispatch can also be configured to create routes for the shortest distance to save fuel expense, or shortest time to increase service levels to customers.
Optimization can take route around inaccessible roads for large vehicles. Box trucks and other heavy duty vehicles will have their routes optimized by advanced dispatch to only drive on accessible and truck-friendly routes during deliveries.
Customer Priority. Customers can be set at levels of priority. For example, a STAT medical delivery can take precedence over all deliveries and be automatically dispatched to the vehicle that can make the fastest pickup and delivery. Additionally, customers can be set at different levels (priority 1, 2, 3) and their deliveries can be automatically routed and optimized based upon the highest priority.
Best delivery method. One of the largest problems for a delivery company is actually choosing the best method to complete the delivery. Dispatching software is able to take real-time ETA's and learn the fastest way to deliver different goods to the end consumer.
For example, a customer in a busy neighborhood orders a small stack of paper supplies – the advanced software can take that load type and ETA, and know that a drone will be able to satisfy that delivery the fastest. This can hold true for a variety of other delivery methods including: autonomous vehicles, box trucks, manual deliveries, and even utilizing a ride sharing service like Uber or Lyft to complete a delivery.
Advanced dispatch can combine these different methods to meet a delivery company's ideal plan. Additionally, advanced dispatching software leaves room to optimize on many other factors including load type, sequencing patterns, and many more.
Conclusion
With autonomous delivery on the horizon, retailers and delivery companies will benefit by having more cost-effective options for delivering and moving products and services. Advanced dispatch software will be at the center of it all, coordinating the requests and optimally dishing out the tasks, all in real-time and satisfying society's thirst for instant gratification.
References
Davidson, Paul. "Truck Driver Shortage Is Raising Prices, Delaying Deliveries." USA Today, Gannett Satellite Information Network, 29 Apr. 2018, www.usatoday.com/story/money/2018/04/26/truck-driver-shortage-raises-prices/535870002/.

Durna, Keith. "E-Commerce Logistics and the Amazon Effect: Disruption and Innovation." Reveel, 5 Feb. 2018, www.reveelgroup.com/how-amazon-is-changing-e-commerce-logistics/.

Hanley, Steve. "Workhorse Autonomous Drone Delivery Begins In Cincinnati." CleanTechnica, 17 May 2018, cleantechnica.com/2018/05/17/workhorse-autonomous-drone-delivery-pilot-project-begins-in-cincinnati/.

Laporte, John. "Topic: Courier, Express and Parcels (CEP) Market in the United States." Statista, www.statista.com/topics/4063/courier-express-and-parcels-cep-market-in-the-united-states/.

Lasky, Joshua. "Cheaper, Faster, Better: Logistics in the Era of Autonomous Vehicles." Medium, Augmenting Humanity, 29 May 2018, medium.com/s/your-autonomous-future/cheaper-faster-better-logistics-in-the-era-of-autonomous-vehicles-8ef14a5f4835.

Mcfarland, Matt. "Amazon Makes Its First Drone Delivery in the U.K." CNN Money, Cable News Network, 14 Dec. 2016, money.cnn.com/2016/12/14/technology/amazon-drone-delivery/index.html.

McKinsey and Company. "Parcel Delivery: The Future of Last Mile." Travel, Transport and Logistics, Sept. 2016.

O'Dell, John. "Udelv Demos Autonomous Delivery Van, Launches On-Road Testing." Trucks.com, Trucks.com, 31 Jan. 2018, www.trucks.com/2018/01/31/udelv-autonomous-delivery-van-testing/.

Saleh, Khalid. "The Importance of Same Day Delivery – Statistics and Trends." Invesp, www.invespcro.com/blog/same-day-delivery/.

Written by: David Ward, Elite EXTRA Sales Executive