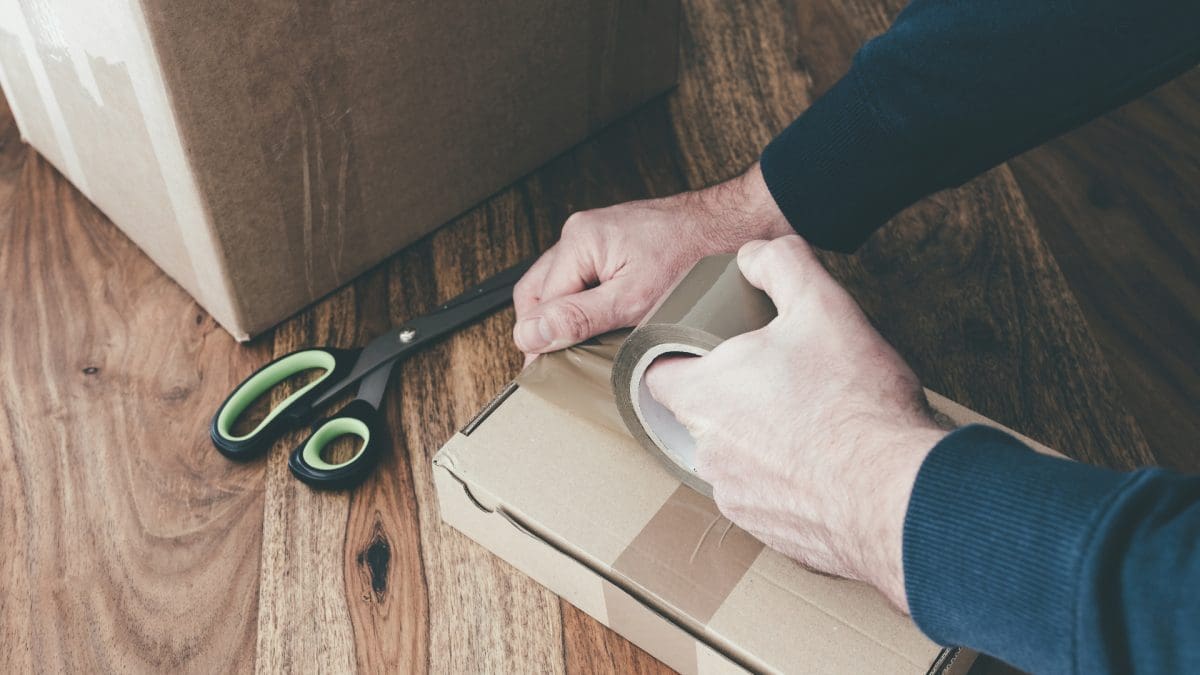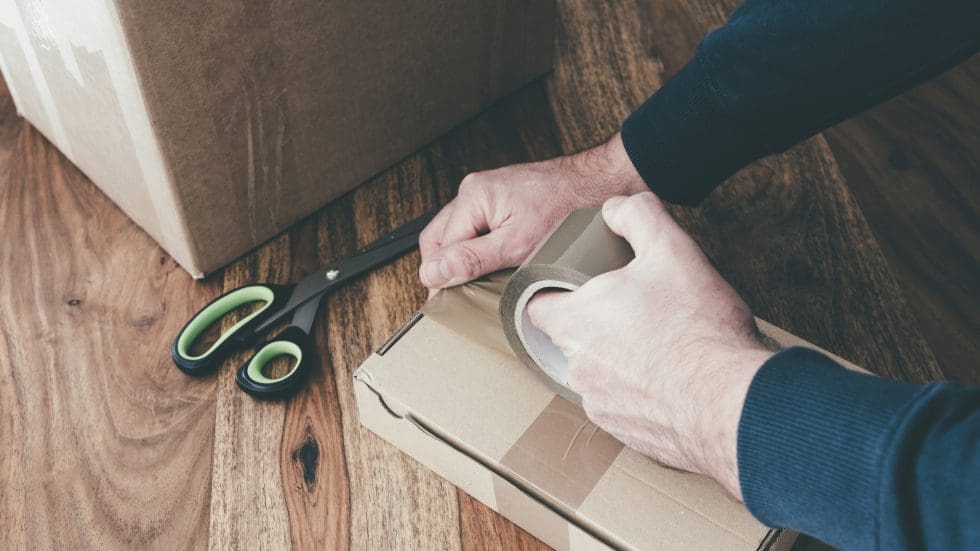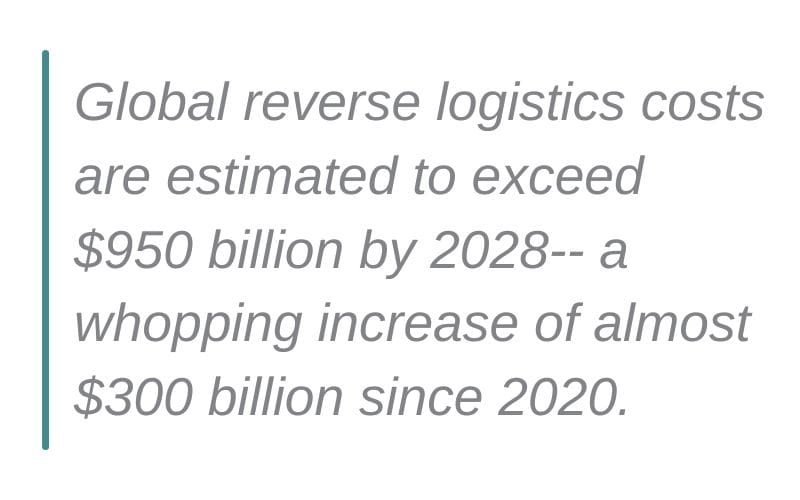 Across the wholesale automotive and aftermarket industries, companies have struggled for years with the high costs and complexity involved with parts returns. In fact, global reverse logistics costs are estimated to exceed $950 billion by 2028—a whopping increase of almost $300 billion since 2020. These costs are only expected to increase further as consumers order more and more of their products online, and a fast, reliable returns process becomes an expectation.
The pressure is on for parts distributors as the entire industry looks to improve their returns processes. An enjoyable returns experience has become a key competitive factor in the parts distribution space, and companies will have to solve their reverse logistics challenges in order to keep up. To solve these problems, parts distributors should implement a returns management software into its reverse logistics operations. This brand of software is the best solution to returns challenges because it is cost effective, can automate tasks, and offers a great customer experience.
Alternative Returns Solutions
Though returns management software has been proven to be the most effective solution to a complex reverse logistics process, companies still pursue alternatives.
Restricting Returns Policy
One such alternative is implementing a more restrictive returns policy. This solution seems straightforward: by allowing less customer returns, companies will have to deal with less expenses and complexity in their reverse logistics operations. In fact, this solution has proven to reduce the amount of total returns, and thus have a positive impact on company cost effectiveness. However, as product returns become more of a customer expectation, restricting returns policies could mean losing out on business. This is because in the hypercompetitive wholesale and aftermarket parts marketplaces, companies compete on customer service and restricting returns leads to a poor customer experience. According to Dave Sutton, an expert in the logistics industry, this simply is not an option for parts distributors since policy restrictions will very likely send customers to their competitors.
Relationship-Oriented Returns Perspective
The next alternative takes an opposite approach of the last by implementing a relationship-oriented returns perspective. In this approach, companies liberalize their returns policies, allowing more returns, to increase customer satisfaction. In this case, companies put an emphasis on customer trust and relationships to keep customers happy with a liberal return policy. The fallback of this approach, though, is there is more likelihood for returns policy abuse, and the company has to face the increased costs and complexity of handling more returns. Sutton explains that returns policy abuse is common in the parts distribution space, and can lead to high costs for these companies. Because of this, liberalizing returns policy could lead to more costs than benefits.
Effective Product Packaging
Another alternative solution attempts to reduce the number of returns and retain product quality by practicing effective product packaging. The benefits of this are twofold: customers are informed fully about the product they are buying, and the product is not damaged in transport. Both of these effects reduce the likelihood of a customer returning the product, which simplifies the reverse logistics process. Though this approach may help in reducing the number of returns a company has to handle, it does not help the company handle the remainder of customer returns that will still be necessary.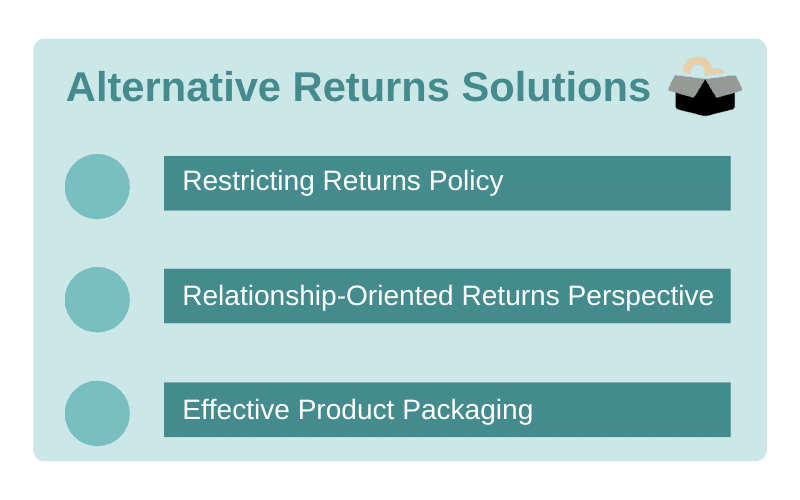 Primary Returns Solution: Returns Management Software
Though each of the above alternative solutions may help solve one aspect of the returns hassle, they cannot solve every challenge. When it comes to distributors implementing one solution that is most effective at reducing costs and increasing efficiency, the company needs a more all-encompassing approach. This is the solution that returns management software offers.
Benefit 1: Cost Effectiveness
The first major benefit of returns management software solutions is that they are cost effective. According to research performed by the Industrial Marketing Management journal, the implementation of this software has proven to have significant positive impacts on cost effectiveness and operating level effectiveness of reverse logistics operations. This is because the software increases efficiency and transparency of returns operations, and simplifies much of the complex manual tasks involved with handling returns. This means the company can continue liberalizing their returns policy without hurting its bottom line. This benefit comes at little investment as some solutions come as cheap as $0.20 per return. At this price, the software pays for itself in no time with increased operational efficiency and customer satisfaction.
Benefit 2: Automating Returns Tasks
The next benefit is that this brand of software automates many of the complex and costly tasks involved with returns operations. According to Sutton, the most innovative returns management software solutions can automate returns validation, pickup requesting, driver routing, and inventory updating. These tasks normally must be handled by staff, so automating them means reduced staffing costs, less mistakes, and overall improved operational efficiency. This software takes the complexities out of managing reverse logistics operations so companies can instead focus on increasing efficiency and keeping its customers happy.
Benefit 3: Improved Customer Experience
Arguably one of the most important benefits of this software is that it helps companies offer a seamless and enjoyable returns experience. Rather than fighting against customers and making returns more difficult like some alternatives, this solution enables companies to serve their customers more effectively. With this software, customers gain full visibility of their returns' statuses and can seamlessly submit a return request through a returns dashboard. This great customer experience can give parts distributors the competitive edge they need to stay ahead of their competitors and maintain a loyal customer base.
Implementing this software is a much easier process for companies than pursuing some of the alternatives. Many companies who offer returns management software will work with distributors as a partner to customize the solution to the company's unique needs. These companies also offer 24/7 support and training to ensure that the rollout of the software is as smooth as possible.

Arguments Against Returns Management Software
This solution certainly comes with its objections, as companies are often hesitant to utilize software programs to enhance their operations. However, these objections are often minimized by selecting the right software provider to partner with.
The first concern that companies often have is that software solutions can be difficult to implement across a large corporation. Companies will only see a return on investment if the software is used effectively, and ensuring that usage is effective across the entire corporation can be very difficult. This is a challenge that Sutton recognizes, and, he says, is the primary reason why many software providers put such an emphasis on in-house support and training. With the software provider at the company's side throughout the roll-out process, questions can be answered in real-time and software tweaks can be made on the fly, ensuring a smooth implementation process.
Another concern companies voice is the efficacy of purchasing a returns management solution rather than simply developing one in-house. Many times, companies feel they can use their knowledge of their operations to custom-make a software solution for themselves rather than paying for an external solution. Though it may be true that these companies have the most hands-on experience with their own operations, oftentimes developing a solution in-house can be more expensive and time-consuming than purchasing another solution. Also, Sutton says, the most innovative of reverse logistics software companies will work with companies to customize their solution to the company's unique operational challenges. In this case, companies get the best of both worlds by using a solution tailored to their company while also keeping costs down and receiving top-notch support.
Conclusion
Implementing a returns management software solution is the best way for wholesale automotive and aftermarket distributors to enhance their reverse logistics operations, reduce costs, and impress their customers. This software is the best solution to the reverse logistics hassle because it is cost efficient, can automate difficult tasks, and offers a stellar customer experience.
To get started, distributors should research returns management software solutions that are offered within their industry. Ensure to pay special attention to solutions focused on last mile product returns and that offer 24/7 support and training throughout the rollout process and beyond.
If parts distributors select the right returns management software and fully commit to its implementation, they can transform the reverse logistics hassle into an opportunity to enhance their bottom line and drive new business.
Elite EXTRA Returns Automation
This is the exact solution that Elite EXTRA has designed with its Returns Automation product. Elite EXTRA is a trusted last mile solution provider who has been serving the wholesale and aftermarket automotive spaces for over 15 years with its industry-leading Routing & Dispatch solution.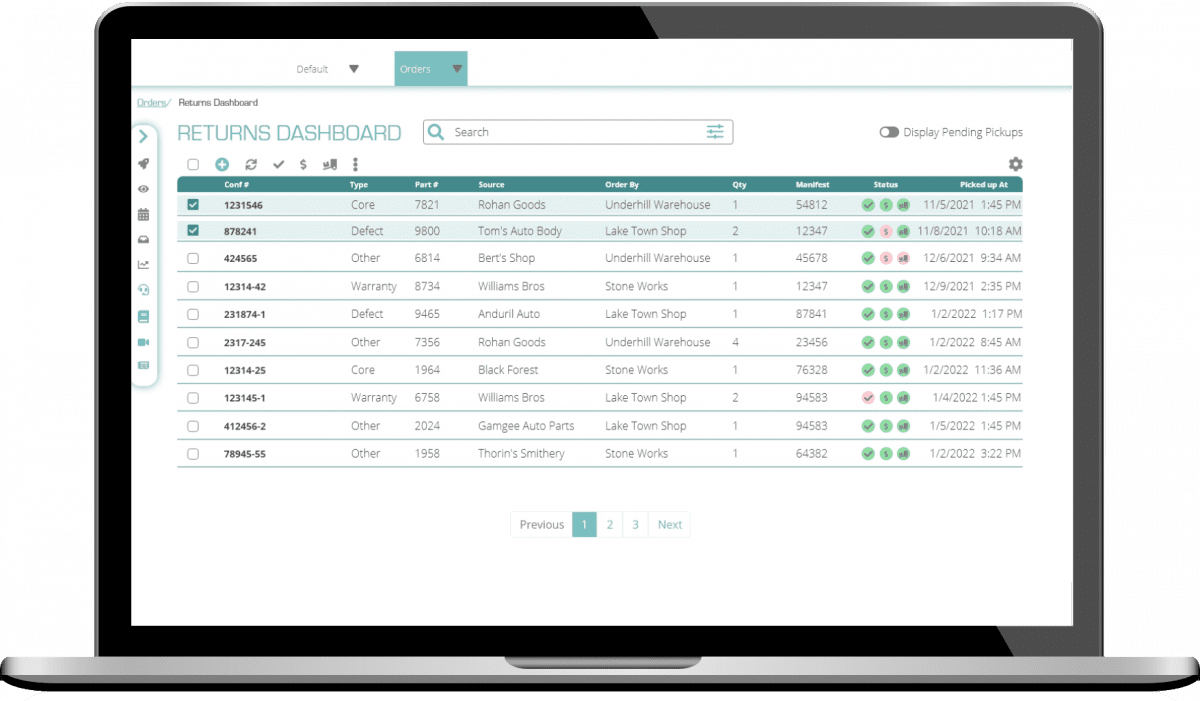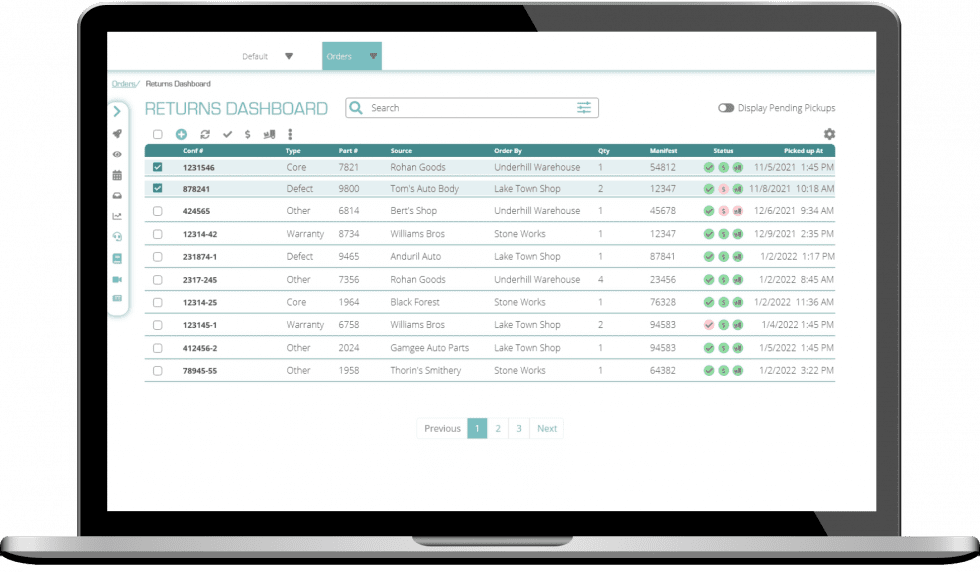 Now, Elite EXTRA is offering Returns Automation as a returns management solution designed to simplify and streamline reverse logistics operations. Returns Automation was built out of years of industry experience and with each of these above challenges in mind to be the perfect solution to the reverse logistics hassle.
For your customers, Returns Automation integrates with your eCommerce solution and has an easy-to-use customer dashboard to make the returns request process a breeze. For your employees, an automated returns validation system and streamlined returns routing and dispatch experience keeps their jobs simple and minimizes mistakes. And for your inventory, automated returns authorization and return validation tracking ensures products are fit for resale before your team puts it back on the shelf. All the while, gain full visibility over your returns operation through Returns Automation's returns dashboard.
If you are interested in learning more about how Returns Automation can simplify and streamline your reverse logistics operations, reach out to our Elite EXTRA team at sales@eliteextra.com or visit our Returns Automation webpage. We look forward to working with you!
Sources
https://doi.org/10.1016/j.indmarman.2004.12.005
https://doi.org/10.1108/09574090310806530
https://www.vehicleservicepros.com/
https://www.alliedmarketresearch.com/reverse-logistics-market
Ward, C., & Sutton, D. (2022, January 20). The hassles of reverse logistics. personal.
https://doi.org/10.1016/j.indmarman.2005.01.003