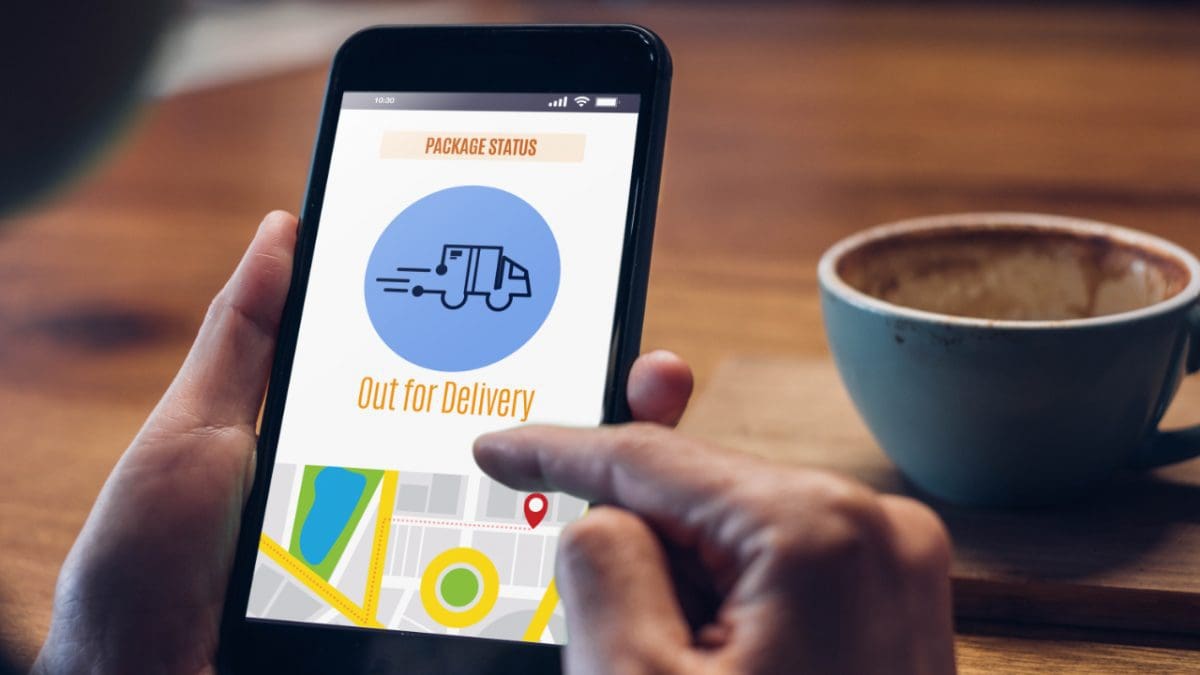 In today's convenience-driven world, it's possible to get anything delivered right to your doorstep, from food to furniture! While waiting for a delivery, whatever it may be, approximately 90% of consumers want to track their orders. Fortunately, as the delivery industry evolves, many companies provide tracking links, making it possible for customers to stay updated on the status of their deliveries.
As they check the status of their deliveries, they will receive multiple notifications, from 'order processed' and 'en route' to 'delivered'. However, one phrase seems to stump customers on its exact meaning: Out for Delivery.
So what exactly does 'out for delivery' mean? This post will discuss everything you should know about 'out for delivery' in the last mile, including when to expect your package and how to track it.
What Does 'Out for Delivery' Mean?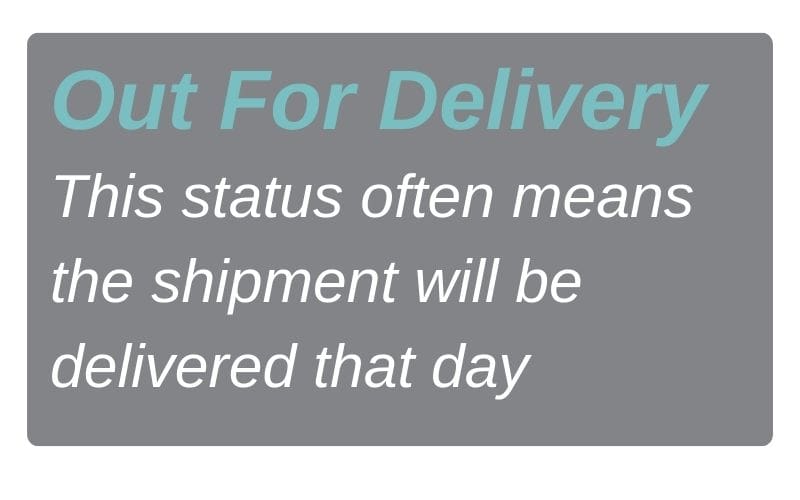 Out for delivery is a status update that indicates that the local distributing center received a shipment and has placed that shipment on a delivery truck for transportation to its final destination. A package or shipment 'out for delivery' is in the last stage of the delivery process and is almost reaching the recipient.
Typically, a shipment or package reaches the out for delivery phase on or near its expected delivery date. This status often means the shipment will be delivered that day, but that's not always the case. Various factors, such as the driver's workload, working hours of the local distribution/fulfillment center, traffic, weather conditions, and signature requirements, may result in the scheduled delivery date being moved to the next day or another available day.
What is the Difference Between Out for Delivery and Other Delivery Process Status Updates
The status 'out for delivery' is often confused with other shipping status updates, such as shipped, in transit, and delivered. Here's a look at how it differs from these delivery status updates.
As mentioned earlier, when you receive a notification informing you your package is out for delivery, it means the local distribution center received the package and has put it on a shipping vehicle that is transporting it to its final destination.
On the other hand:
When a package has been shipped, it means the shipment has been packaged and dispatched, but could be anywhere between the location of origin and the final destination.
When a package is in transit, it means it's on its way but hasn't reached the fulfillment center.
When a package is delivered, it means the delivery driver has dropped off the package at the final destination and has completed the transaction by updating all associated tracking systems.
Understanding the difference between the different delivery status updates can help you predict when to expect your package or even track down a delayed or lost package.
When Should You Expect Your Delivery After Receiving 'Out for Delivery' Notification
Usually, when you receive an out for delivery notification, it means you'll get your package in the course of the day, often within a few hours, provided there are no mishaps in the last phase of the last-mile delivery. The time you get your package will depend on your location in the delivery route. For example, if your delivery location is near the beginning of the route, you may receive your package earlier. However, if your delivery location is at the end of the delivery route, you may not receive it until later in the day. In short, after receiving an out for delivery notification, you should expect to receive your package within a few hours or by the end of the day (at the latest).
That said, while customers often expect to receive their package within a few hours after receiving an out for delivery notification, various events and factors may result in a delay in the delivery day. Here's a look at some of these factors:
Occurrence of a Delivery Exception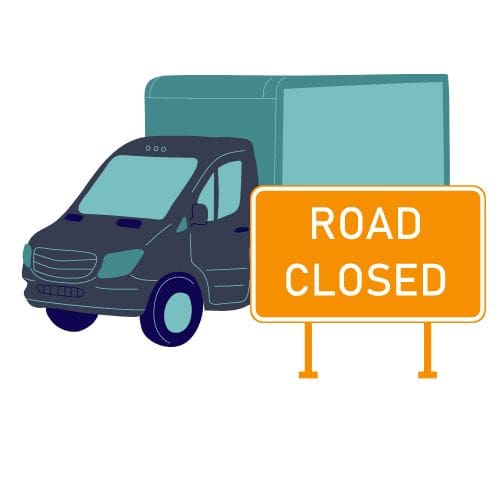 Delivery exceptions are one of the main factors that affect the order fulfillment process. It could be anything from bad weather conditions to road construction preventing delivery providers from completing last-mile deliveries. For example, a shipping/delivery provider can delay the delivery if a customer's location isn't accessible due to a recent storm.
No Proof of Delivery Location
Another factor that may result in your package delaying despite it having an out for delivery status update is the lack of proof of delivery. A delivery service usually needs a signature or digital proof of delivery before giving the package to the customer. In some instances, they may require a delivery fee. Suppose no one is available to receive the package; they may leave a note and return it to the local distribution center. They could either make another attempt to deliver the package later or leave the package at the distribution center for the customer to pick up.
The Driver Couldn't Access the Delivery Address
The delivery provider or carrier may be unable to access the destination address due to a number of factors. For instance, a business being closed on a weekend, a client's gate being locked, or a growling dog preventing the delivery driver from accessing the delivery address. In such a scenario, the delivery vehicle may leave the package or attempt to make the delivery another time.
Miscommunication
Miscommunication could also lead to there being a delay in the delivery of a package. Here are the different ways miscommunication could occur:
A delivery management system sending customers the wrong tracking number
A package marked out for delivery being loaded onto the wrong delivery truck, and the carrier didn't update the status of the package
A driver delivering a package but forgetting to scan it as delivered or leaving the package with the neighbor.
A delivery provider or carrier delivering a package to the wrong address.
Other factors that may lead to a delay in the delivery of a package include the damage being sent back to the sender because it was damaged in transit or a package getting stolen.
Because of these and other variables, seeing that a shipment is 'out for delivery' isn't a guarantee that it will be delivered to you on the scheduled day. While there may be slight delays, if a customer experiences major delays, say a delay spanning more than a day, this could indicate significant fractures in the supply chain visibility, efficiency, and overall order fulfillment management.
Remember, while 44% of customers don't mind waiting two days for their delivery to arrive, 55% prefer same-day delivery. So you should take measures to prevent delays in deliveries.
What to Do if You Don't Receive Your Delivery by the End of the Day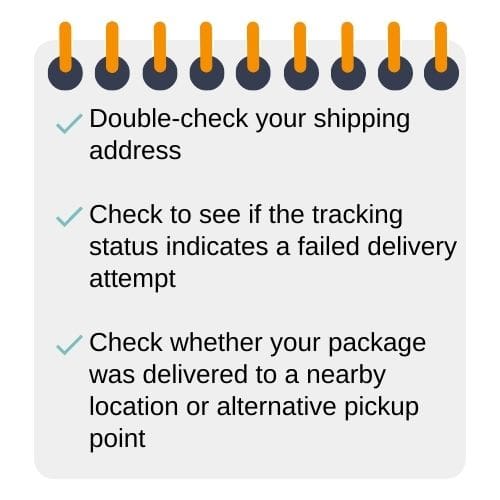 As mentioned earlier, when you receive a notification informing you that your package is out for delivery, in most cases, it will arrive at your doorstep by the end of the day. However, factors such as traffic, poor weather conditions, and miscommunication can result in a delay in the delivery of the package.
So what should you do if you don't receive your package by the end of the day? Here are some steps to take:
Double-check your order to confirm that the shipping address was entered correctly
Check to see if the tracking status indicates a failed delivery attempt
Check whether your package was delivered to a nearby location, such as an office manager (in case of a B2B delivery) and neighbor (for residential deliveries)
Check whether your package was delivered to an alternative pick up point
If there were no issues with your shipping address and the package wasn't delivered to a nearby location or an alternative pick up point, check with the retailer's customer care.
How to Track Your Delivery
So how can you track a shipment that's out for delivery? Here's a look at how both customers and retailers can track a package that's out for delivery.
As a customer
While in most cases, packages are delivered properly, sometimes they get damaged, misplaced, or even lost. Because of this, customers need to track their package to determine its status and exact location and ensure that it reaches them safely on the expected delivery date. There are a number of ways customers can track their deliveries, including:
Use the Provided Link: Often, carriers send customers tracking links via SMS or email when shipping their products. This way, customers can check the progress of their delivery. Use this tracking link to check the progress of your delivery throughout the delivery process.
Tracking on the Carrier's or Retailer's Website: You can also enter your tracking number in your carrier's or retailer's website to check the progress of your delivery. Suppose there are any delays with your delivery; they will be updated on the website.
As a Business Owner
Tracking a shipment that's out for delivery requires you to work with a shipping carrier or a third-party logistics company that provides an app or platform that you can navigate to see status updates and the progress of customer deliveries. This way, you can notify customers of any delays in their deliveries and update them on when to expect their delivery.
At the same time, as a business owner, you should partner with a logistics provider or carrier to give customers visibility into the status of their delivery. Unfortunately, most business owners fail to do this. According to a recent survey, approximately 61% of retailers fail to offer visibility for packages that are out for delivery, keeping customers in the dark. This problem is compounded for businesses that use third-party fleets to make deliveries.
When customers don't have visibility into their delivery, customer satisfaction will be impacted negatively. The lack of visibility can also increase your delivery costs because you'll be forced to pay extra for every extra delivery that results from miscommunication with your customers during the 'out for delivery' phase.
Needless to say, businesses (retailers) need to implement measures and invest in solutions that will give them and their customers complete visibility into the status of their delivery.

Adding Real-time Notifications and Tracking To Your Deliveries
Over the last couple of years, more and more customers have been purchasing items online. In fact, recent reports estimate that 2.14 billion people globally purchased items online in 2021, and the number is only expected to increase going forward.
While this is good news for online retailers, it also presents a new challenge—the growing number of online retailers has increased competition in this industry. However, you can gain an edge in this hyper-competitive industry by improving your customer experience. One way to do that is by adding real-time notifications and tracking to your deliveries. After all, 85% of consumers say they only purchase from online retailers with proper tracking features.
Real-time notification ensures that customers get delivery alerts pertaining to the status of their orders in real time. Some benefits of adding real-time notifications to your deliveries include:
Increase in Customer Loyalty: Delivery notifications can ensure you satisfy your customers' needs, earning you the loyalty you need to gain repeat customers.
Prevents Redelivery: When you notify customers of the status of their delivery in real time, the chances that you will miss them when you deliver their package to their doorstep are slim.
Fewer Questions: When you provide customers with real-time notifications pertaining to the status of their delivery, they will have fewer questions, if any, concerning the same.
Real-time delivery tracking offers customers visibility of a given delivery's location as it moves through the supply chain. Real-time tracking is a vital component of eCommerce as it helps ensure that online retailers offer customers a satisfactory delivery experience. Other benefits of real-time tracking of deliveries include:
Real-time Visibility on Personnel and Deliveries: Businesses can see their carrier's whereabouts while customers can see the exact location of their delivery.
Increased Customer Satisfaction: A real-time tracking solution offers the exact location of a package and the package's ETA (estimated time of arrival) and gives customers real-time updates should there be any delays with their deliveries. As such, it helps give them a satisfactory experience.
Conclusion
Real-time notifications and tracking are vital in the eCommerce world. Adding these capabilities to your deliveries will help you improve your customer experience as well as make you stand out from your competition.
Elite EXTRA can improve your last mile logistics, satisfy your customers, and drive your bottom line. It offers automated routing & dispatching, optimized route planning, and ETA notifications for smooth tracking and notifications. Book a demo today to see our solution in action.
Sources
https://www.businesswire.com/
https://www.statista.com/
https://www.oberlo.com/blog/online-shopping-statistics
https://getcircuit.com/package-tracker/blog/difference-between-shipped-and-out-for-delivery