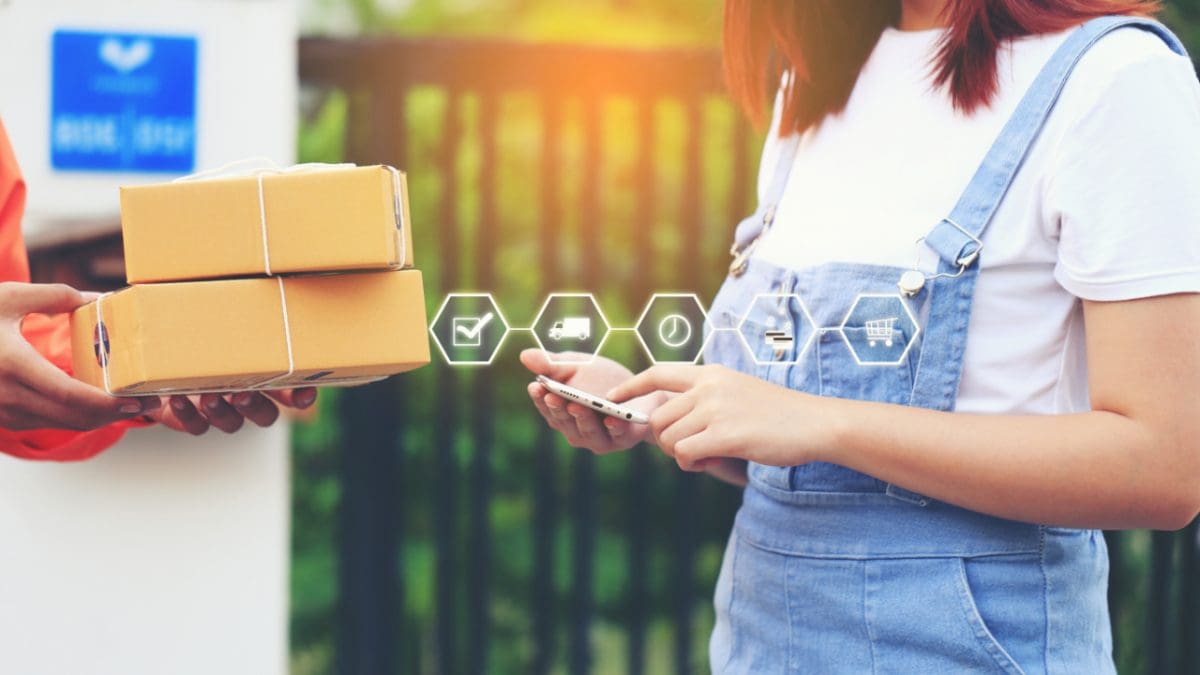 Tips for Better Package Visibility
When customers shop online, they aren't just looking at the quality or price of a product. They're also scrutinizing the delivery experience a company offers. These expectations have made last-mile delivery tracking crucial for companies that want to satisfy customers and improve loyalty.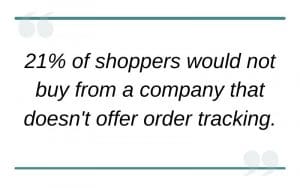 The modern-day customer wants a seamless delivery experience. Seamless, in this case, means deliveries are made on time and in good condition. However, it doesn't end here: Customers also want to see "real-time order tracking available" when checking out from your eCommerce store. In fact, 21% of shoppers would not buy from a company that doesn't offer order tracking.
By investing in last-mile delivery tracking, businesses can give customers more visibility into the delivery process. Doing so can also help companies to identify areas in the delivery process that require optimization.
Fundamentals of Last-Mile Delivery Tracking
Last-mile delivery tracking refers to a service offered by a business or 3PLs that enables customers to check the status of their orders (packages) during transit. Primarily, last-mile delivery tracking provides real-time visibility of the delivery process to businesses and customers.
It is important to note that last-mile delivery tracking is sometimes referred to as last-mile carrier tracking or final-mile delivery tracking.
What Goes into Last-Mile Delivery Tracking?
Although it's possible to track last-mile delivery manually, it's a hectic process that can allow inefficiencies in the delivery process. Digitizing tracking helps you satisfy customer expectations and identify delivery issues before they affect schedules and customer trust.
If you're using digital delivery tracking, you must have access to a couple of tools.
Below we share the tools that enable last-mile delivery tracking.
Barcode Scanners: Barcode scanners are used throughout the delivery process from fulfillment until a package reaches the point of delivery. Primarily, the barcode scanner helps a brand or courier keep track of its inventory. In addition, delivery personnel use barcode scanners to collect proof of delivery data.
GPS Tracking Apps: This tool shows customers exactly where their package is during transit. There are plenty of options for delivery tracking software, however, you will want to be sure that you select one that is reliable and offers all the capabilities you're searching for. In this case, free options are not typically sufficient for professional operations.
Communication Apps: Businesses will also require communication apps to reach clients and drivers. Some companies choose to use SMS to communicate package delivery status with customers. However, a good last-mile solution will offer both communication and tracking.
Radio Frequency Identification(RFID) Tags: These tags track packages throughout the shipment process. The tags are scanned at various points to update customers about the package location.
Last-Mile Delivery Software
All the tools above can exist as stand-alone features, but you can integrate them into a single last-mile delivery software. A last-mile delivery software is a multi-purpose tool that enables a business to provide customers with real-time delivery updates and package tracking options. Let's explore the role of last-mile delivery tracking.
1. Offer Customers Real-time Updates
The last-mile delivery software helps a brand communicate delivery schedules with customers. In addition, the software enables businesses to send timely notifications about a package's shipment status.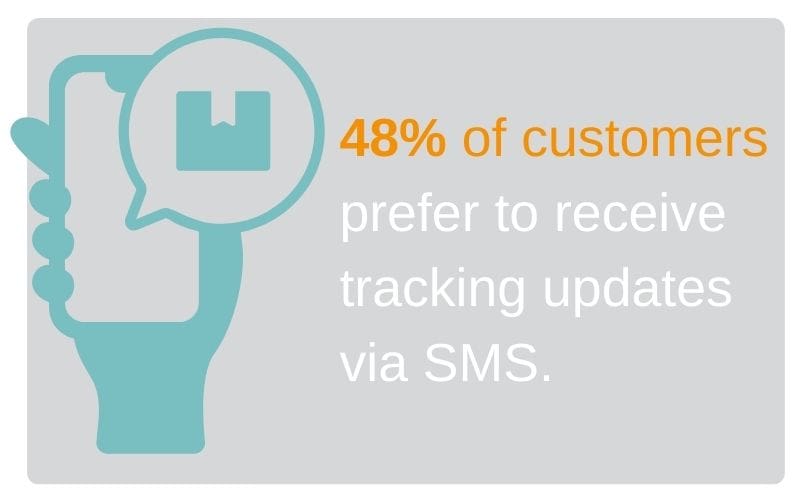 You can communicate these schedules and notifications via email, SMS, or in-app notifications. SMS may seem spammy, but the truth is that as many as 48% of customers prefer to receive tracking updates via SMS.
2. Provide a Platform for Customers to Track the Package
It doesn't end with notifications. Customers expect a platform where they can hop in and check the progress of a package in transit. Tracking capabilities are usually integrated into the last-mile delivery software as a live map.
3. Give Customers Direct Access to the Delivery Personnel
Last-mile delivery can be overburdened with middlemen and bureaucratic processes if poorly organized. In turn, information can get lost in the translation from one middleman to another.
With last-mile delivery software, providing seamless and direct communication access between delivery personnel and clients is possible. This way, customers can provide gate access codes, specific location directions, and schedule changes to delivery personnel. Direct access translates to less information lost during the process and faster, on-time deliveries.
4. Provide Proof of Delivery
The delivery process doesn't end when the delivery personnel leaves a package on the porch. With the rise of porch pirates, customers don't want to risk leaving their packages out too long. It's vital that personnel provide proof that the package has been delivered.
Delivery personnel can send a picture and top it up with a message if a customer is not there. The personnel can ask customers for a digital signature through the last-mile delivery platform if the customer is present.
This element can help you prevent fraudulent cases of 'package damaged or not delivered'.
5. Allow Customers to Rate the Delivery Experience
Other last-mile delivery software allows customers to rate their delivery experience. These ratings are critical and super beneficial as they tell you what customers like and don't like during delivery. Reviews are also a great starting point for optimizing and improving the delivery process.
On the other hand, a chance to provide feedback about their experiences makes customers feel empowered and heard.
Three Core Tips for Improving Last-Mile Delivery Tracking
The key to excellent delivery tracking is continuous and data-backed improvements to your entire delivery process. Here's how you can optimize last-mile delivery tracking.
1. Make the Leap From Manual to Digital Tracking
You can only improve tracking by integrating all elements of the delivery process into a centralized system. This is only possible by digitizing your last-mile operations. As stated earlier, manual last-mile delivery processes are opaque and deny you the necessary visibility to improve operations.
Conversely, digital last-mile delivery tracking is like an open book. You get to see all the processes, data, and people involved from a single centralized system. In turn, it becomes easier to identify issues before they delay the entire process. Here's a breakdown of how digitizing last-mile delivery tracking benefits your brand.
Transport Optimization: Last-mile delivery software tools enable you to design and optimize the transportation process. Ideally, this optimization creates a situation where products are picked up and dropped off on time. This software gives you the data to plan the best routes and delivery times to ensure customers receive their packages at the intended time.
Unfractured Tracking and Monitoring of Products: Digitization of last-mile delivery tracking also lets you view and understand the delivery process in its entirety. It helps you identify bottlenecks in your system and catch delivery issues before they cause delays. For instance, if certain orders are affected by weather issues, the last-mile delivery software can filter them out and reschedule to avoid further delays.
Full Visibility Access for Customers: Last-mile delivery software helps you give customers full visibility over the delivery of their packages. Customers can now easily track the location of their order and how long it will take for their package to arrive. This type of visibility is a huge deal for customers. In fact, studies show that 56% of customers expect this kind of full visibility.
Seamless Communication: Many last-mile delivery tracking software integrate communication elements into the system. This integration allows accessible internal and customer communication. For instance, if delivery personnel face issues en route, they can quickly communicate these issues to avoid further delays. On the other hand, the software provides the data required to send customers timely and real-time notifications.
2. Update Your Last-Mile Software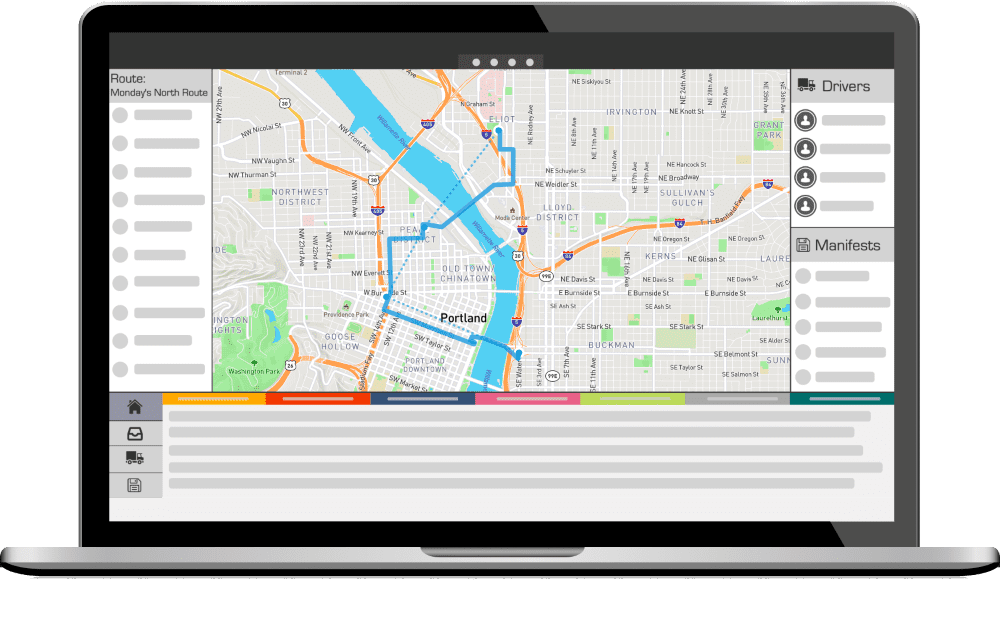 While digitizing your last-mile operations is a significant step, choosing the right software is even more impactful. The right last-mile software simplifies the delivery process by uncovering the right data and giving full visibility. The wrong software will only exacerbate issues and cause frustrations in your delivery process.
Below are must-have features and capabilities of excellent last-mile delivery software.
Optimized Route Planning: Last-mile delivery software should come with route planning and optimization capabilities. This feature allows a brand to choose the best routes and delivery schedules. In turn, you minimize costs and improve customer satisfaction since you have a higher on-time delivery rate.
Customer ETA Notifications: A good last-mile software tool features an integrated communication channel. This channel should be able to send in-app notifications about a package's status. If not, it should integrate with Email or SMS.
Real-time GPS Tracking: Many last-mile delivery tools offer real-time GPS tracking to provide more visibility. This feature lets customers see where their package is at the moment and the estimated time of arrival.
Photo and Signature Capture: Proof of delivery is essential to last-mile delivery. The right software should allow your delivery personnel to collect evidence of delivery to complete the process. This can be through customer signatures or photos of packages delivered.
Customer Reviews and Feedback Channel: This feature allows customers to give you feedback about their delivery experience. The feedback data will be vital in helping you optimize delivery.
Robust Reporting: Besides all the above, last-mile delivery software should feature comprehensive reporting. After all, reporting data gives you much-needed insight into what needs improvement in the delivery process.
3. Invest in Telematics
Telematics are software-supported systems businesses, and transport brands use to monitor and manage operation assets. These systems rely on sensors(such as cameras, radar, and laser) that capture data and send it to an integrated system for analysis. GPS systems and RFID are also part of telematics, and they all capture the data needed to manage assets and provide real-time notifications.
Broadly speaking, telematics can help your brand to optimize delivery, increase profitability, and remove inefficiencies in delivery operations.
By integrating telematics into last-mile delivery, your business can:
Access Real-Time Data on Delivery Status: Telematics give businesses visibility into the location of a package and active routes. In turn, companies are able to optimize delivery.
Asset Management: Telematics also helps a business to learn early when assets are not in prime condition. Early intervention can reduce costly downtimes and delays.
Why Last-Mile Tracking is Crucial
Knowing the delivery date is not enough for customers these days. Customers want to be looped in the process from fulfillment to door delivery. An EFT survey of 194 executives in North America and Europe found that 56% of customers want full visibility of the delivery process. In other words, more than half of shoppers want to shop with brands that let them track packages in real time. In addition, 48% of customers want delivery schedule notifications.
As you can see, the type of delivery experience you offer customers is a crucial determinant of whether they'll return. Unfortunately, 85% of shoppers would not purchase from you again if the delivery experience felt subpar. One essential element of this experience is tracking and real-time updates.
Providing customers with both these expectations improves their perceptions of your company and leads to more returns. Conversely, bad experiences hurt customer satisfaction and increase churn.
Tie it All Together with Robust Reporting
Fortunately, many last-mile delivery software tools offer comprehensive reports about your operations. These reports should show orders delivered, those delivered on time, scheduled returns, and delayed orders. Such reports can give your businesses a detailed overview of the full process. In turn, you can identify bottlenecks early on and optimize the rest of the process. The result would be satisfied customers coming back to buy from you.

Final Remarks
The ability to track delivery can leave a fantastic impression on customers. It can reduce anxiety after ordering and improve customer satisfaction, encouraging future purchases and loyalty.
However, seamless last-mile delivery tracking is only possible with the right software. Take a look at Elite EXTRA's last-mile tracking software. For starters, their software provides GPS tracking, real-time ETA notifications, automated routing and dispatch, and 24/7 expert support. Elite EXTRA also features detailed reports to give you a comprehensive overview of the last-mile delivery process.
Contact us to learn how Elite EXTRA can help you improve last-mile delivery visibility.
Sources
https://www.statista.com/
https://img03.en25.com/
https://www.ipsos.com/en/ecommerce-marketplaces-delivery-experience
https://www.mobtexting.com/wp-content/uploads/2022/01/SMS-Solutions-1.pdf