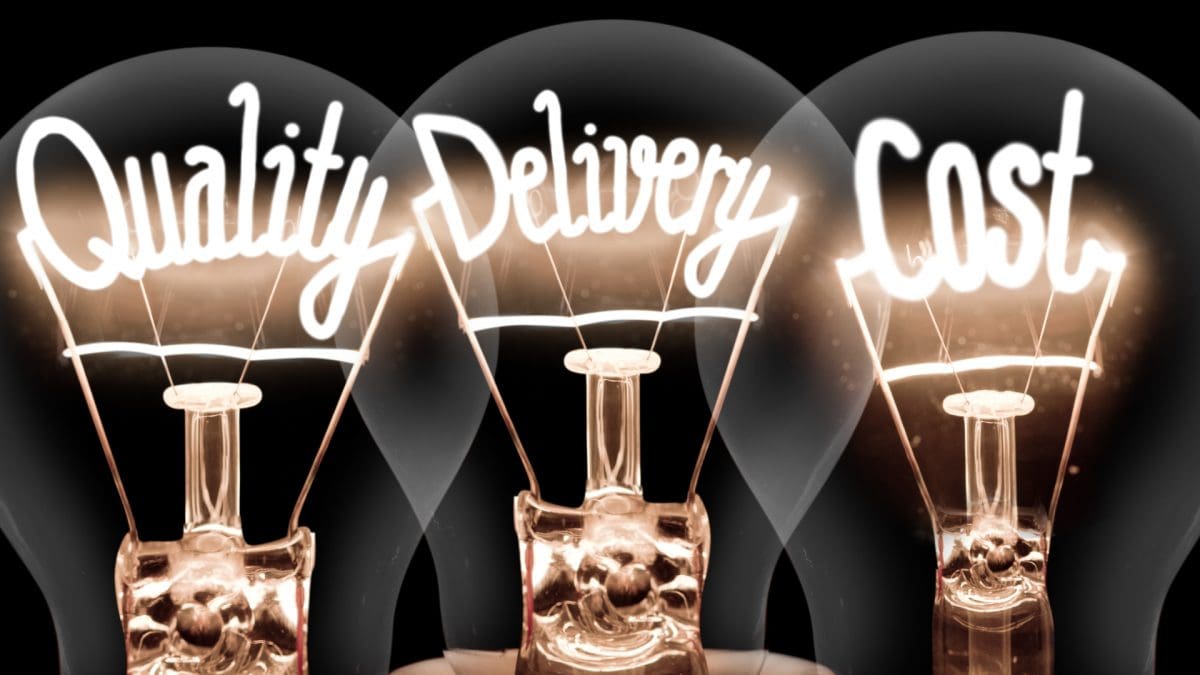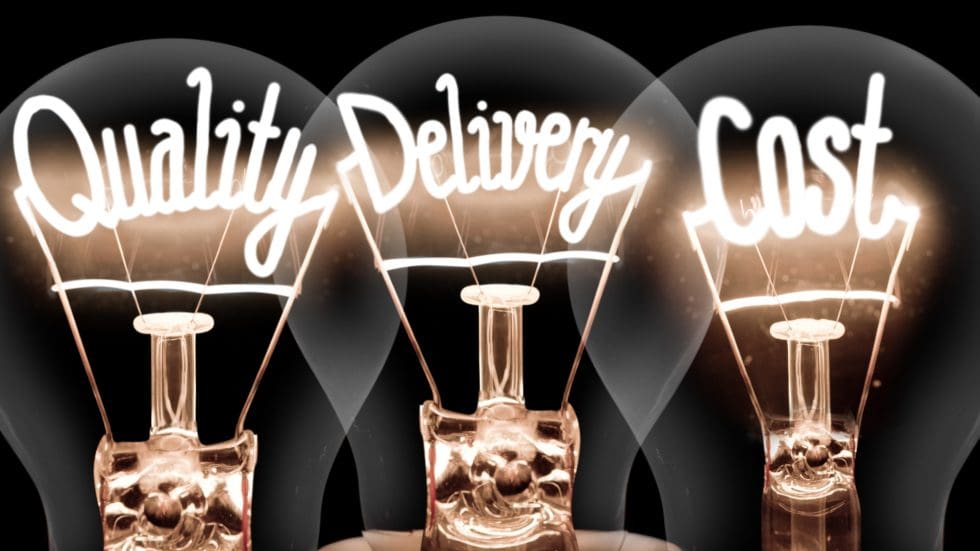 In today's eCommerce-dominated world, the last mile delivery process is more important than ever. Unfortunately, it can also be one of the most costly and confusing aspects of running a business. According to a 2020 survey by Statista, retail CEOs in the United States paid an average of 17.2 dollars per failed delivery. According to the same survey, a failed delivery in the UK cost 11.6 British pounds. However, there are a few key ways to overcome the challenges of last mile delivery and streamline the process.
What Is Last Mile Delivery?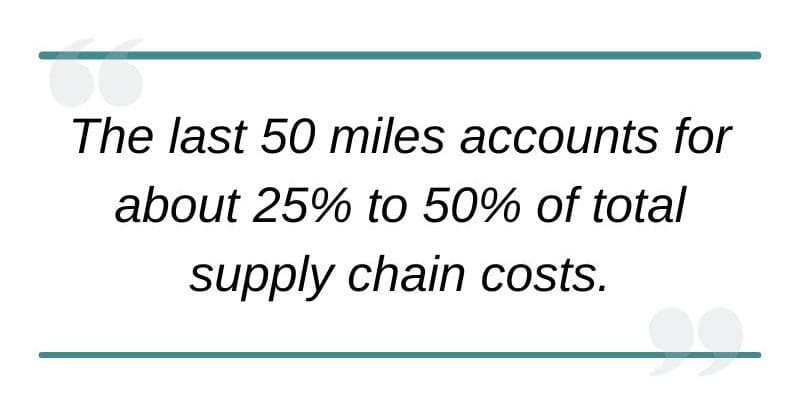 Last mile delivery is the process of delivering goods from a distribution center to the customer's door. This can be done either by the retailer themselves or by a third party delivery company. According to the National Retail Federation, the last 50 miles accounts for about 25% to 50% of total supply chain costs. That means that last mile delivery can make or break your business's bottom line.
Costs of Last Mile Delivery
There are a few main factors that contribute to the cost of last mile delivery, including:
Distance from the distribution center to the customer's address
Number of items being delivered
Weight of the items being delivered
Size of the items being delivered
All of these factors will play a role in how much it costs to get your products from Point A to Point B.
Why Is the Last Mile Considered the Most Expensive Leg of Delivery?
The last mile of a delivery is often considered the most expensive leg, and for good reason. It's the leg of the journey that takes goods from the transportation hub to the customer's door. This final stage requires a lot of resources, including time and manpower, which can drive up costs. We'll take a closer look at why the last mile is so costly.
Logistical Challenges
One of the main reasons the last mile is so expensive is that it's often the most logistically challenging. This is because delivery companies have to account for a number of variables when planning last mile routes, including traffic, weather, and construction. All of these factors can impact the time it takes to make a delivery, which can raise costs.
Manpower
Another reason the last mile is costly is that it generally requires more manpower than other stages of delivery. This is because someone needs to physically bring the goods to the customer's door. This can be time-consuming, especially if there are multiple deliveries to be made in a day.
Time
As we mentioned, the last mile often takes longer than other stages of delivery, which can impact costs. Many variables such as number of stops, how long it takes to report deliveries, weather conditions, and more all impact the time it takes. The more time each route takes, the less deliveries are able to be made for that day. This variable is especially challenging since there are so many unpredictable factors.
Infrastructure
Infrastructure contributes to the cost because it includes essentials like gas, maintenance, and vehicle wear and tear. In addition, delivery companies often have to pay extra for necessities like insurance and permits when making last mile deliveries.
Packing Materials
In addition to infrastructure costs, Another cost associated with the last mile is packing materials. This includes things like boxes, tape, and bubble wrap. These materials can add to the cost of the last mile, especially if they are not reused or recycled.
Customer Expectations
Finally, customer expectations can impact the cost of the last mile. This is because customers often expect things like same-day or next-day delivery, which can be challenging and costly for delivery companies to provide.
From logistical challenges to customer expectations, it is surprising how many elements can impact your bottom line. Delivery companies have to account for all of these factors when planning and budgeting for last mile delivery. Despite the challenges, the last mile is an essential part of the delivery process, and companies are continuously working to find ways to make it more efficient and cost-effective.
From Route Optimization to Electric Vehicles: How to Save on Your Last Mile Delivery
Now that we've looked at the cost of last mile delivery, let's take a look at how you can save on your last mile delivery.
Luckily, there are many options when it comes to saving on last mile deliveries, including:
Last Mile Delivery Software
There's a new player in the last mile delivery game, and it's shaking up the industry. The last mile delivery software is designed to help businesses optimize their last mile deliveries, making the process smoother and more efficient. Read on to learn more about this innovative technology!

Key features
Route Optimization
The software uses algorithms to optimize delivery routes, taking into account things like traffic, road closures, and more. This ensures that your drivers are taking the most efficient route possible, saving time and money.
Multiple-Stop Support
The software supports multiple stops, so businesses can optimize their delivery routes even further and quicker with the click of a button.
Driver Tracking
Last mile delivery software includes driver tracking features, so you can see where your drivers are at all times. This is especially useful for businesses that need to make real-time updates to their customers.
Real-Time Updates
Customers can receive real-time updates on the status of their delivery, so they always know when to expect their package. This feature is favored by customers because it gives them insight into their deliveries and aren't left wondering when a package will arrive.
Customer Support
Last mile delivery software includes easy to use customer support features, so businesses can provide assistance to their customers promptly and efficiently. This can be a great tool to grow your relationship with clientele and improve overall customer satisfaction.
Integration With ERP and POS Systems
Good last mile software can be integrated with ERP and CRM systems, so businesses can manage their deliveries from one central platform. By integrating with businesses previous systems, this smooths the transition of integrating with a new one.
Data Analysis
One way to save on last mile delivery is to use data analysis. Good last mile software should automate a lot of this process for you, but it is still important to manually review your reports, trends, and reviews to make sure you are completing your deliveries efficiently. By understanding things like traffic patterns and customer demand, delivery companies can make adjustments to their operations to improve efficiency and reduce costs.
Save Money in the Last Mile with Third-Party Delivery
A third-party delivery service is when an outside company manages your deliveries for you. This can either be done through a contract or simply using their services on an as-needed basis. There are a few different types of third-party delivery services, such as contracting courier or partnering with a delivery provider, but the most effective is a Delivery Network. A delivery network allows you to access a pool of third party delivery providers and select which one is best for you every single delivery.
How Can it Save You Money?
There are a few different ways that using a third-party delivery service can save you money.
1. Flexible Deliveries
Utilizing third party fleets increases the flexibility of your delivery operations and allows you to deliver even when your internal fleet is unavailable. This means you can meet customer demands without having to hire additional driving staff. Best of all, you only pay these third party fleets when you use them, and don't have to pay for a full driver's salary.
2. Better Rates
Another advantage of using a third-party delivery service is that they can offer you lower rates than your own deliveries might cost. This is because they ship in bulk and they have negotiated rates with the carriers. This can save you a lot of money, especially if you're shipping a lot of products.
3. Save On Delivery Costs
In addition to helping you save on shipping costs, using a third-party delivery service can also help you save on other costs. For example, they can help you save on packaging costs. This is because they can consolidate your shipments and use their volume discounts to get lower prices on the packaging. They can also help you save on storage costs by storing your products for you and then ship them out when you need them. Although you'd likely only use this for specific circumstances, it is something tho keep in mind!
4. Improved Customer Satisfaction
Using a third-party delivery service can save you money is by helping you improve your customer satisfaction. This is because they can fill in for sick delivery drivers where packages might have otherwise been delayed. They can also complete same-day or next-day deliveries that your company just might not have the resources to complete. No matter the situation, they are available to step in and help your company achieve its goals.

More Efficient Vehicles
Although electric vehicles are more efficient than traditional gasoline-powered cars and trucks, there are still many factors to consider before investing in an electric fleet. Going electric can save your company fuel costs, maintenance costs, and is better for the environment. However, the initial investment cost is considerably higher and you'll have to be conscious of adding stops and time to your routes to charge the vehicles. Although more cash and planning is required on the front end, electric vehicles are still save your company money long term.
Although charging stations can be hard to come by in some cities, electric vehicles can often be charged overnight, and if you have a fleet of electric vehicles, you can take advantage of bulk discounts on charging costs.
Finally, electric vehicles are often smaller and more maneuverable than traditional delivery vehicles. That means they can navigate tight city streets and get into parking spaces that larger trucks can't. That can save you time on your deliveries, and it can also help you avoid traffic congestion.
There are a few different types of electric vehicles to choose from, so it's important to select the right one for your needs. For example, if you're doing a lot of stop-and-go delivery work in a city, a smaller vehicle like a van or SUV might be a good option. If you need to transport larger items, a truck or cargo van might be a better choice. And, if you're looking for the best gas mileage, an all-electric car might be the way to go.
Top Last Mile Delivery Software Companies
If you're looking for last mile delivery software, there are many different companies to choose from. Each one offers its own set of features, but there are a few that stand out from the rest.
Elite EXTRA
Elite EXTRA is the leading last mile delivery software company in a number of different industries. Our company offers a complete suite of solutions that help you cut costs, save time and streamline your deliveries.
Key features of Elite EXTRA's software suite include:
Optimized route planning
Automated routing & dispatching
Real time GPS tracking
Customer ETA Notifiacations
Photo & signature capture
Driver mobile app
Route scheduling
Robust reporting suite
24/7 customer support
Third party deliveries
Millions of delivery drivers
Delivery automation
Central contracting & billing
Provider price/time comparison
Business rules setting
Preferred providers
Delivery provider analytics
Secure chain of custody
Automated returns validation
Customer facing dashboard
Customer return requests
Return policy enforcement
Integrated returns portal
Advanced rules engine
Automated pickup requests
Elite EXTRA ranks top on our list because of our customer centered focus. We truly care about helping companies improve their last mile delivery experience and help businesses cut down costs and time while doing so. Not to mention, the configurable nature of our solutions make them perfect for businesses of any size or workflow. Elite EXTRA's automated routing and dispatching features are top-notch, and our real-time GPS tracking is incredibly useful for keeping tabs on your fleet and giving customers visibility on their deliveries. Overall, Elite EXTRA's customers are highly satisfied with the attention they receive and the increased productivity as a result of using this software.
Axon Trucking Software
Axon Trucking Software is a complete solution for businesses of all sizes that need to manage their fleet and optimize their delivery operations. Their key features include:
GPS Tracking
Route Optimization
Dispatch Management
Load board integration
Driver communication
Customer notifications
Proof of delivery
ELD compliance
Trucking accounting
Integrated payments
Axon Trucking Software ranks second on our list because of its comprehensive features and capabilities. Their GPS tracking and route optimization features are competitive, and their dispatch management system is incredibly user-friendly. In addition, their customer notifications ensure that your customers are always kept in the loop when it comes to their deliveries.
Trimble TMS
Trimble is a leading provider of advanced location-based solutions. The company develops Transportation Management System (TMS) software that helps businesses plan, execute and optimize their supply chain operations. Trimble's TMS software is designed to improve the efficiency of transportation operations and help businesses save time and money. The software provides users with real-time visibility into their supply chain, allowing them to make informed decisions about routing, shipping, and delivery. Trimble's TMS software also includes features such as route optimization, load planning, fleet management, and tracking, and driver management.
Conclusion
Research shows that the worldwide last mile delivery market is predicted to expand to more than $200 billion USD by 2027, up from 108.1 billion USD in 2020. The rising volume of online orders is driving the rise of last mile delivery services.
With last mile delivery becoming increasingly important, it's crucial that businesses choose the right software to manage their operations. This will ensure that they are able to save time and money, while also providing a top-notch delivery experience for their customers.
Want to streamline your last mile deliveries? Contact the Elite EXTRA team today!
Sources
https://www.statista.com/statistics/973182/last-mile-delivery-average-cost/
https://nrf.com/blog/supply-chain-challenge-last-mile
https://www.statista.com/statistics/1286612/