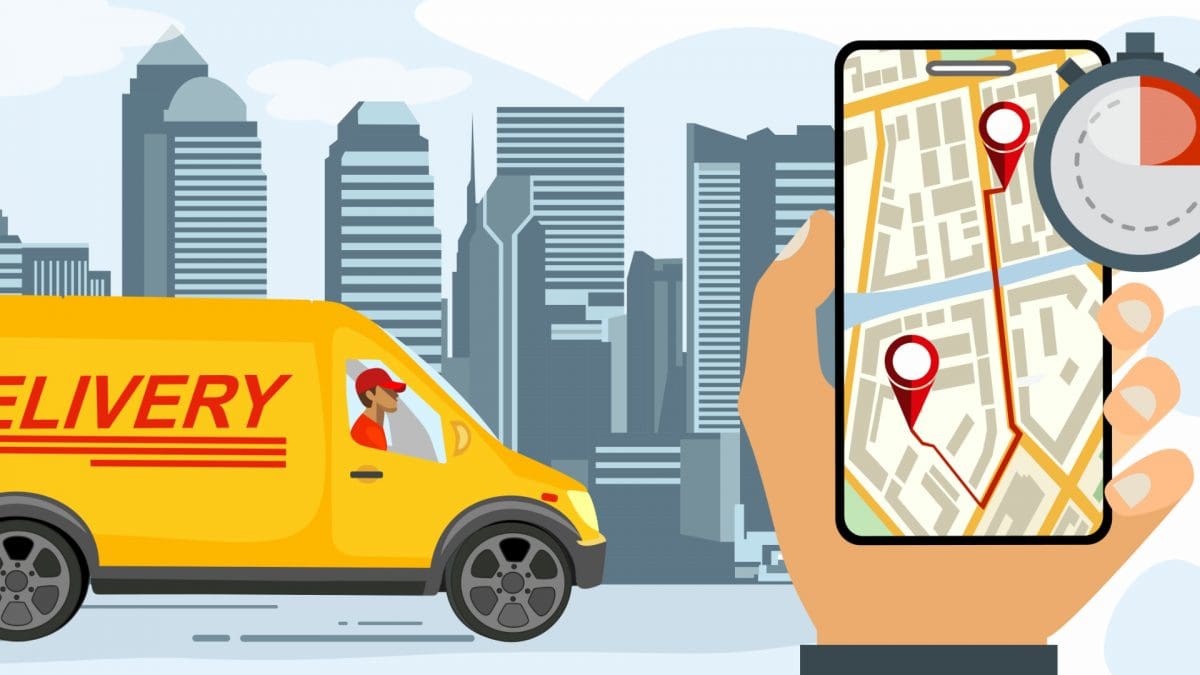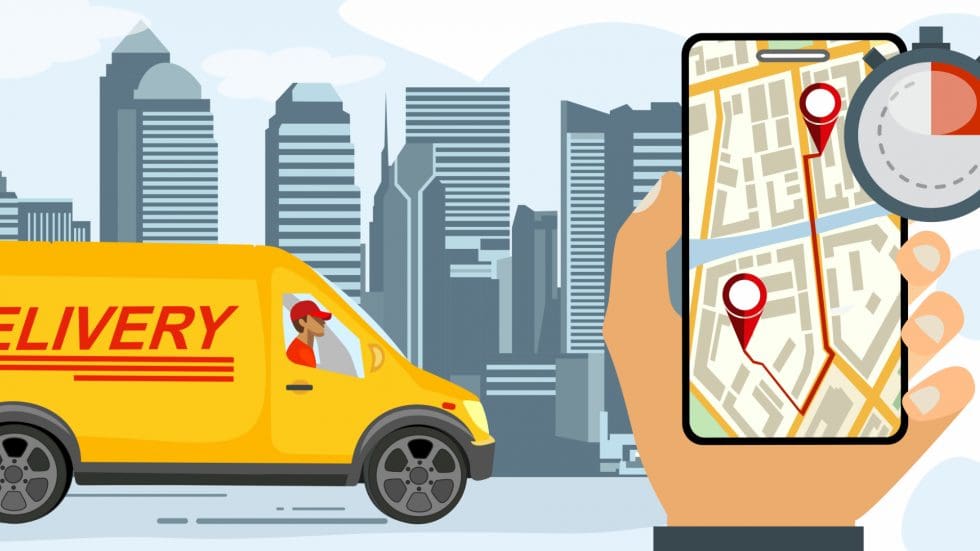 When it comes to completing deliveries, there are intricate working parts throughout the whole supply chain, but it ultimately comes down to your final mile delivery driver to ensure that the customer receives their order. Regardless of any conditions– whether it be traffic congestion, poor weather, or any other unforeseen circumstances– the bottom line remains: deliver the product on time and without damage.
The final mile of every delivery service journey is challenging, but the right strategy and software can make this typically complicated process as smooth as possible. This guide will help you understand what it takes to fulfill final mile deliveries and provide an overview of your options to get your shipments to the end user in the most efficient way possible. We'll cover strategies for in-house fleets, as well as strategies for using third-party delivery drivers.
What Is Final Mile Delivery?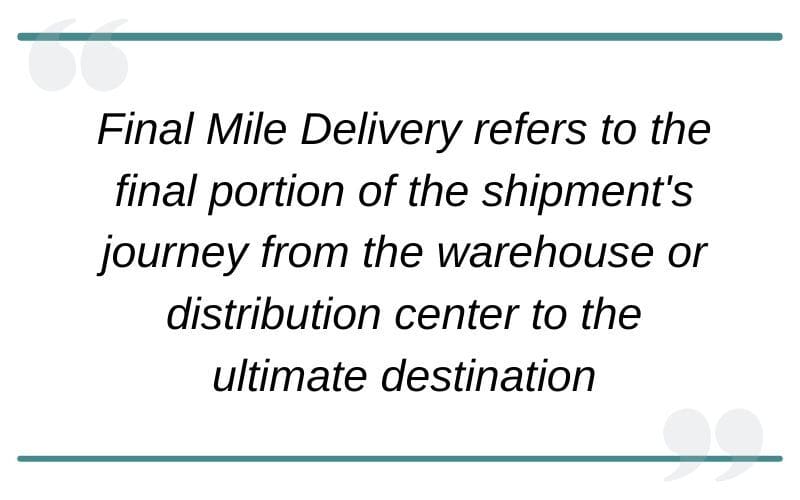 A final mile delivery is the last leg of a shipment's journey. The term refers to the final portion of a shipment's journey from the warehouse or distribution center to the ultimate destination. The final destination is typically the drop-off location, such as the customers' residence, work address, and anywhere the customer specifies to receive their orders.
The last mile is the most complex and crucial step in delivery because it carries the most weight in terms of customer experience. Customers that are dissatisfied with their deliveries are quick to turn to other competitors even after only one bad delivery, so it is crucial to always put your best foot forward. Essentially, the last mile is the businesses last chance to make an impression on customers to showcase their value, brand, and promise at the customer's door.
Who Uses Last Mile Delivery?
The major aim of final mile delivery is to boost sales and improve customer experience. An efficient last mile delivery makes it convenient and accessible for people to purchase products and services from the comfort of their homes.
The sectors implementing final mile delivery into their strategies include physical retail, eCommerce, food, goods distribution, and beverage delivery. Businesses like grocery, on-demand pharmacy, and construction are also getting a lot more involved with last-mile delivery thanks to the pandemic.
How Does Last-Mile Delivery Work?
Final mile delivery follows a standard step-by-step method, although they may differ between organizations. These include:

Processing orders: The first step is processing the order request when a customer purchases a product on a company's website. The admin logs and sends the order to a centralized system. The admin will then source the order on the supply chain, prepare it for transport, and schedule a pick-up. The customer receives an order confirmation, tracking link, and delivery info to start waiting for their order.
Delivery planning: After getting the order ready for delivery, the planner assigns it to a specific driver and route. Planning delivery is more efficient using Routing and Dispatch software, where many of the processes are automated.
Dispatching deliveries: After all the orders get a specified route, dispatchers can share the order information, delivery schedule, and task list with drivers. This step is crucial as it involves assigning the most productive route to drivers in the fleet. The efficiency of deliveries is based on stop density, time to destination, driver requirements, and order priority.
Picking up and scanning orders: The first task for drivers after they leave the transportation hub is to pick up orders from the warehouse or supply depot. The workers and drivers scan the orders before loading them into the system to allow stakeholders to track them during the last mile.
Order arrival: The delivery is completed and confirmed after it reaches the final destination. The last mile involves additional steps after the customer gets their orders. These include using ETAs, collecting proof of delivery, delivery date, or customer feedback.
Tips and Strategies for In-House Delivery Fleet
In-house delivery service is one of the best ways to meet customer delivery needs, offer a better experience, and have greater control over all deliveries. By definition, in-house delivery is when a business uses its own employees and resources to deliver orders to the end user. These businesses do not typically work with shipping carriers at all to deliver their goods, and if they do, it is very sparingly.
In-house delivery services have the following advantages: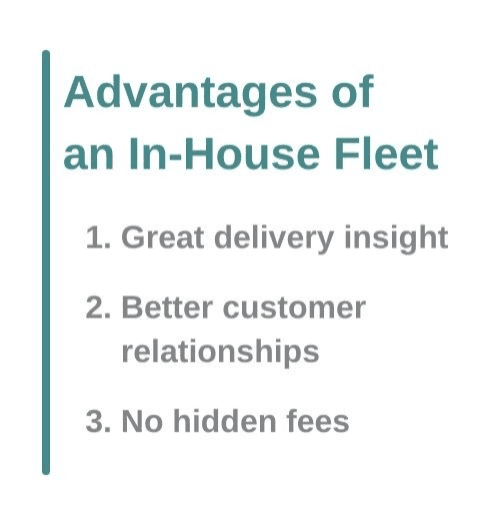 Greater delivery insight: With such a complicated process, the opportunities for problems such as late deliveries, wrong packages, etc, are inevitable. However, in-house delivery teams are less likely to make delivery mistakes as they interact more with the goods and customers. Their increased time with the customers also allows them to build a more trusting relationship.In comparison, third party delivery companies could be more likely to make mistakes as they may have several orders at a time from different businesses on the same route. Unfortunately, when they show up late to deliver an order, the customer will blame your company instead of the delivery company.
Better customer relationships: Because the delivery drivers work for your company, they can be a great spokesperson or advocate for your products. Whether it be just creating a good impression of the company by chatting with the customer while completing proof of delivery, answering their questions, or being able to explain why a package might be arriving a little late, don't underestimate the value of your drivers.
Have no hidden fees: When working with third party vendors, it is important to be aware of any fees or hidden prices so you don't get blindsided by extra expenses. In-house teams that controlled and regulated by your company require no additional fees or unexpected expenses.
Last Mile Delivery Strategies- Must Haves
Modern consumers want what they want, and quickly. To keep up with the fast-paced delivery, companies must implement features that enable them to stand out among the stiff competition. Established online retailers have seemingly limitless resources they can use, and competing with them can seem impossible. The following features are 'must haves' to survive amongst competitors when using in-house delivery services:
Multi-stop route optimization: This enables you to determine the optimal routes for deliveries by factoring in variables like delivery addresses, driver and truck availability, fuel efficiency, the volume of shipments, driver skills, traffic, schedules returns, and special handling of packages.It also considers the uncertainties that may impact last-minute deliveries, such as road closures and vehicle breakdowns. The feature enables you to decide the fastest route delivery agents should take to deliver packages to the consumer as quickly as possible within the estimated period.
Proof of delivery (POD): A receipt showing that a consignee has received the correct goods. It aims to complete the chain of custody and show that the end user has received the package.POD is a crucial requirement in the last mile to ensure the supply chain is working. Businesses also use it to gain insights into how fast their deliveries are and if they satisfy the client's needs.
Real-time updates and easy-to-access delivery tracking: Real-time tracking effectively increases customer satisfaction levels, driver productivity, and response time. With an effective real-time tracking solution, you can easily optimize routes, gain visibility on personnel performance, and keep customers informed.It typically gives managers and dispatchers an eye on the delivery while drivers use it to concentrate better on the road. Each party involved in the process should also have seamless access to the data collected from the tracking to make quick decisions and smoother deliveries.
Want more industry insights?
Subscribe to our newsletter to receive weekly last mile logistics insights directly to your email inbox each week!
Last Mile Delivery Strategies- Impressing Customers
Delivery is one of the major factors that impact customer experience. Most modern customers judge a business by the quality of delivery service they offer. Today, businesses must implement efficient and reliable final delivery solutions to impress their customers. While those last features help you keep up with competitors, implementing these ones will help you stand out.
Here are some of the last-mile delivery features you can use to achieve this:
Automated & dynamic routing & dispatch: A fully automated delivery strategy eliminates the need for manual processes in the delivery that are prone to human error. It will reduce delivery delays and time investment required for repetitive manual tasks, while also offering better insights into the process.Additionally, customer experience constantly evolves, and keeping up with their delivery needs can be daunting. A dynamic routing solution offers several key benefits over static routing to solve this issue. Between the two, the greatest benefit for dynamic routing is the ability to quickly adapt to changes throughout routes which in turn allows your business to grow faster.
Easy to manage returns portal and policy: Returns are integral to delivery services, but because they don't directly generate revenue, this process is often ignored. However, every business must treat them with the same care as the other steps involved in last-mile delivery because studies show that an easy to manage returns process is a huge selling factor for customers.The best returns policy should find a balance between being lenient enough for customer preferences and but efficient enough to protect your business against losses.
Same-day or next-day delivery: The demand for fast deliveries has increasingly become a significant focus for online customers. About 48% of shoppers want same-day or next-day deliveries and are willing to pay more to get these services. Being able to offer fast delivery periods is essential for consumers, especially when making orders at the last minute.
Using Third Party Providers for Final Mile Deliveries
Don't have your own fleet? Use a third party delivery provider! Third-party delivery services can be beneficial for companies of any size or workflow. Whether you have your own in-house fleet and are looking for fast, supplementary drivers, or are looking to outsource all your deliveries, it is worth adding third party drivers to your strategy. Businesses outsource these services from companies with dedicated vehicles and drivers, such as Lyft, Uber, DoorDash, and more. The providers help ease the workload while maintaining an effective delivery process on behalf of the company.
Join a Delivery Network
Although third-party providers can help drive your bottom line, be cautious when getting into direct partnerships with them. During the pandemic we learned that when businesses (specifically restaurants) got involved in partnerships with a single dealer, they were quickly taken advantage of. Because of delivery fees and other minutiae, it quickly became clear that supporting these deliveries were not financially sustainable. However, discovering this did have an upside.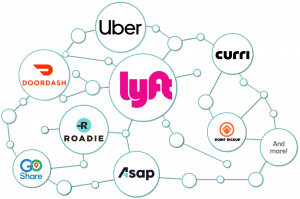 As a result of this problem, the concept for Delivery Networks were born. By joining a network, businesses don't get stuck in poor partnerships with single providers and are able to keep control over their deliveries. In the network, you can access millions of delivery drivers and compare factors such as time, cost, and more to choose the delivery option that is best for you, every delivery.
With expanded control in the delivery network, Joining a delivery network can drive your profits. With greater access to drivers comes expanded customer reach, which increases sales opportunities. In addition, it can save you money by not having to pay salary and insurance costs for your own drivers. Between the additional sales and new savings, your profits are sure to rise.
What to Look For in Partnerships:
Even though a delivery network connects you to more drivers, maybe you decide that a partnership is just better for your company. If this is the case, be sure to consider these qualities before entering the partnership:
Ensure the provider has enough vehicles to accommodate your delivery needs
The fleet fits in your business's desired delivery window
The drivers are experienced, certified, and dependable
They don't have excess or hidden charges that could impact your business profit margin
Check the providers ranking in terms of customer service and service ratings
Inquire about the tech and tracking solution they implement for their fleet
Check if they have a reliable communication network.
Suppose you have difficulty relying on an in-house delivery fleet or outsourcing the service to a third party. Why not consider both simultaneously?
With a dedicated fleet management solution like Elite EXTRA, you can manage a fleet of vehicles from a single interface without hassle. The software enables you to maintain an in-house fleet and partner with an outsourced delivery providers at a lower cost. So, if you have an in-house delivery team but struggle with limited capabilities, you should consider using the software to connect with an external fleet and boost your delivery efficiency.
Finding Success in Final Mile Delivery
Whether you have in-house deliveries or use a third party, implement the features above into your delivery strategies to improve efficiency and earn more revenue.
Get Started: Using a final mile delivery management software like Elite EXTRA gives you complete insight into your deliveries while streamlining the process. Talk to our team to find out how you can level up your deliveries today!
Sources
https://www.insiderintelligence.com/insights/
https://www.forbes.com/sites/