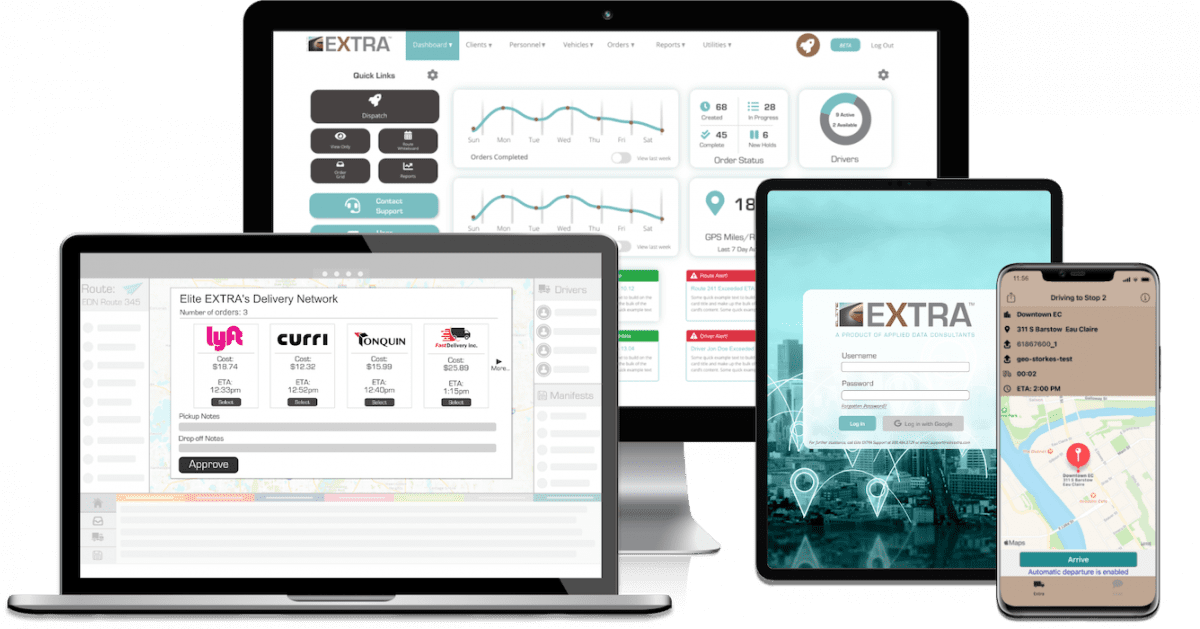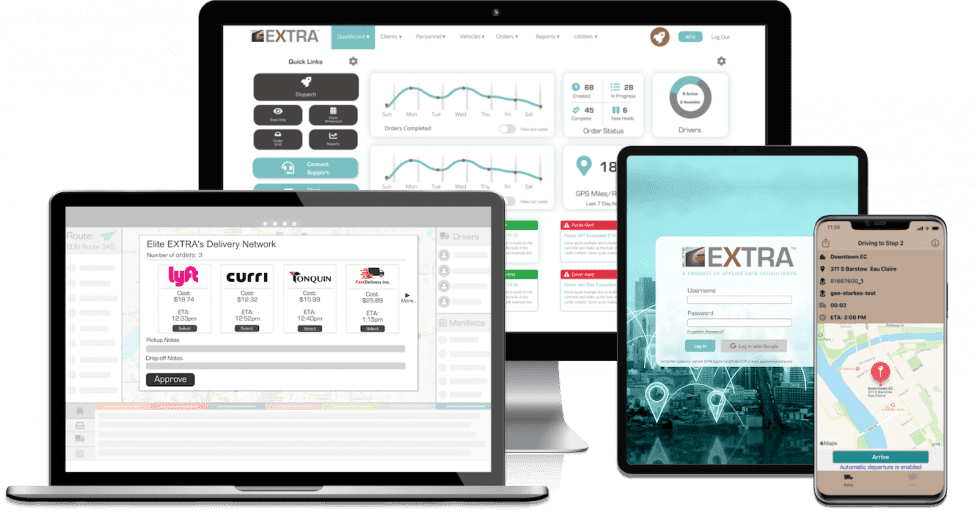 Elite EXTRA offers optimized driver routing solutions to meet your delivery needs and increase your revenue. Our dispatching software provides automated dispatch and route optimization while considering factors such as traffic patterns, priorities, capacities, and more.
Whether you are a small business with just a couple of drivers or a large business with thousands, Elite EXTRA is scalable to any size. Our fully integrated platform is easily integrated with your ordering system, allowing orders to flow seamlessly from one system to the next, giving you the ability to expedite your delivery route processes. We also offer a mobile dispatching solution on Android and iOS that allows drivers to build their own routes. This is a great feature for businesses that may not have dispatching personnel.
Elite EXTRA also offers estimated arrival time notifications, tracking numbers, return tracking and customer portals. These features allow you to provide your customers with exceptional customer service. We also offer signature capture and photo capture for your proof of delivery needs.
Elite EXTRA allows you to easily build optimized routes in a variety of ways. From scanning barcodes, to manually selecting invoices within our software, to selecting customers from a map view, we offer multiple solutions to build your delivery routes in the most optimized way. If you prefer to have full control over the stops in your routes, Elite EXTRA also offers you the flexibility to adjust and build routes in whatever order you choose. If you prefer route automation, use our scheduled runs, recurring routes, or auto-routing features to assist! Let Elite EXTRA do the work for you so you can focus on your other priorities.
When your active drivers are out on runs, you can view their exact location and communicate with them through text messaging built right into the EXTRA Driver app. Use this information to determine the most efficient driver's route to add on pickup orders while saving gas, money, and time.
Let Elite EXTRA help you with your route optimization needs. Whether you have fewer drivers on the road, or are trying to pack more stops into current routes, our software can help you cut your delivery and service costs. Route profitability reporting will show you what is working and what areas can be improved for further efficiency. From reducing fuel and maintenance costs, to providing your customers with a higher level of service, you will see the benefits right away.
For more information, please visit eliteextra.com, or contact our Sales Team at 1-888-484-8729 or sales@eliteextra.com.