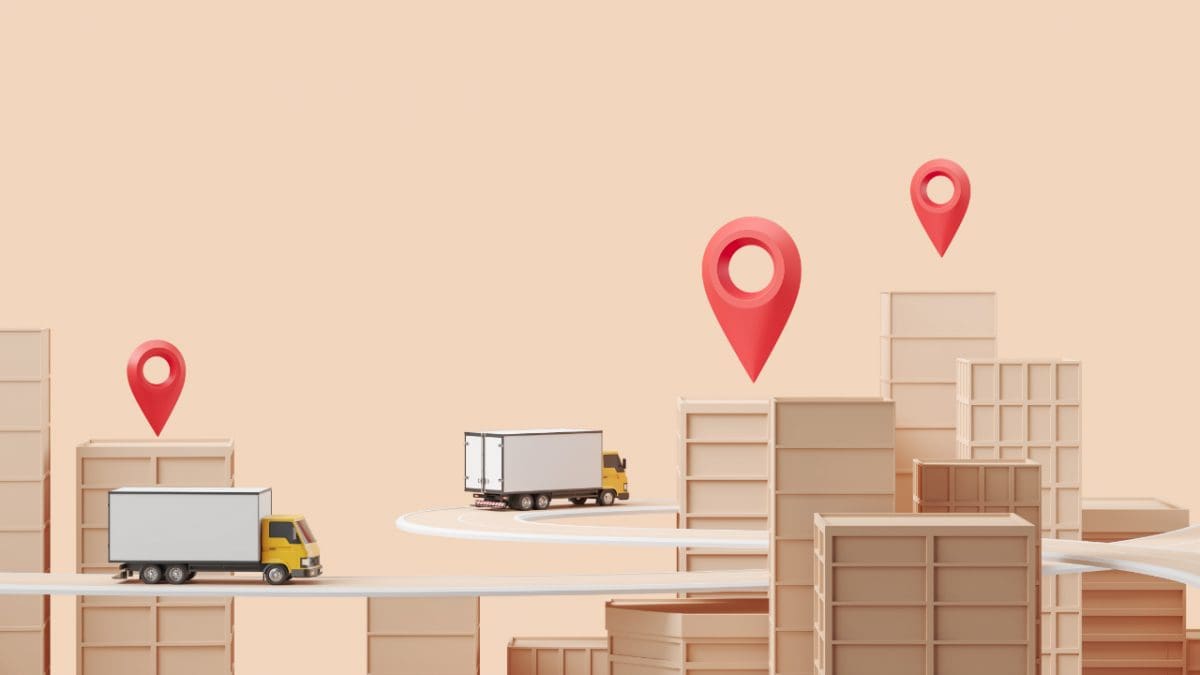 Individuals are shopping online more than ever before. eCommerce sales surged by 43% in 2020. While the onset of the pandemic heavily affected the increase, online sales didn't decrease when restrictions were lifted. In fact, U.S. eCommerce sales grew by 10.8% in Q3 of 2022. As more individuals turn to the convenience of online shopping, customer experience is a big focus for eCommerce retailers. This is why some eCommerce retailers are utilizing real-time dispatching to improve customer experience.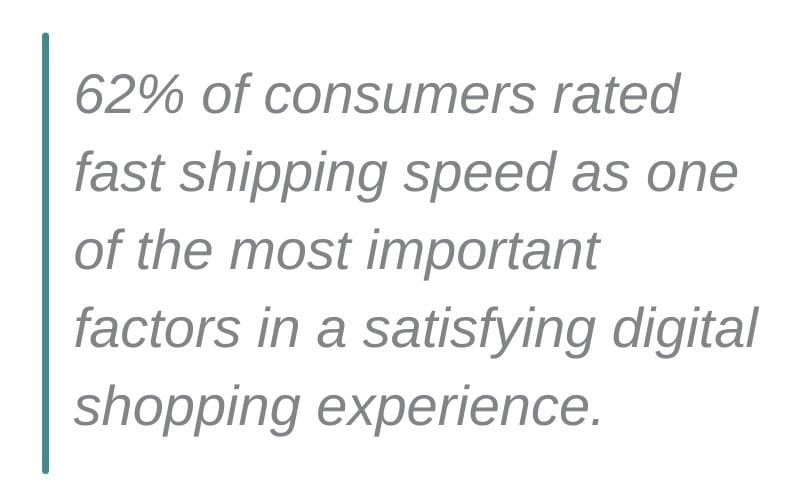 While consumers rate friendly customer service reps and easy return policies as important, a streamlined delivery experience makes the biggest impact on digital shoppers. A whopping 62% rated fast shipping speed as the most important factor in a satisfying digital shopping experience. To meet customer expectations, delivery processes must be streamlined to avoid bottlenecks and ensure timely and accurate deliveries. For many companies, this is made possible through integrating real-time dispatching software into their delivery process.
What is Real-Time Dispatching?
Real-time dispatching is the act of using a centralized online system to automate routing and scheduling tasks to assure faster delivery. The system works in real time to coordinate point-of-sale activity with delivery dispatchers and immediately plot routes for drivers. As routes progress, changes can be made as necessary to avoid delays and improve efficiency. The same software allows both dispatchers and customers to keep track of orders for a streamlined logistics operation and enhanced customer service.
When you use real-time dispatching, the delivery process begins with seamless software integration between your point-of-sale systems and dispatch. When an order is received, it can be automatically dispatched to a driver's mobile device to be put on a route. If a route in progress needs to be changed, dispatchers can make the alteration remotely for a seamless transition. Real-time driver tracking is added to the tech stack to keep dispatchers informed about the location of drivers and keep customers informed of the process every step of the way.
Advanced real-time dispatching software can optimize route planning, incorporate third-party delivery services to improve last-mile logistics, and even automate returns management to allow your delivery drivers to focus on customer satisfaction.
Pain Points in the Traditional Delivery Process
Outdated shipping and fulfillment technology slows down processes from the warehouse to delivery. Growing businesses can have difficulty scaling and reaching success when delivery issues continually disappoint customers. Legacy shipping software and manual processes cause multiple pain points that lead to delayed or failed deliveries.
These are the most common delivery pain points for eCommerce companies.
Delays Due to Manual Decision-Making: When manual intervention is needed throughout each stage of the fulfillment process, the entire process suffers from inefficiencies and delays.
Increasing Costs: Shipping delays and logistics issues have made headlines in recent years. Supply chain disruptions and rising fuel costs have led to soaring delivery costs. These costs are absorbed by companies or passed on to customers. Neither option is good for business. Delivery companies are continually seeking ways to improve spending to offset costs they can't control.
Limitations of Manual Routing: Without modern software, the delivery process is filled with delays due to manual decision-making. The process of manually mapping out routes takes a significant amount of time and is prone to errors. Without real-time tracking, dispatchers have little insight into driver actions and delays.
Unexpected Delays: With little or no insight once the shipping process is underway, dispatchers can't make decisions that help drivers recognize and avoid potential delays. These delays increase fuel costs and lead to delayed or failed deliveries.
Last-Mile Challenges: The last few miles in any delivery are the shortest part of the journey but also the most expensive and challenging. Delivery points on a route can be miles apart and difficult to access, delaying deliveries and adding significant costs to the entire delivery process.
Shipping Errors: Heavy reliance on manual decision-making and disjointed systems can lead to costly shipping errors and inaccurate orders. Inaccuracies are likely to decrease customer loyalty and become a major problem for companies trying to scale.
Lack of Metrics: Feedback in the form of data is essential for determining the success of any business practice. Yet, much of the delivery process occurs without oversight. Once drivers are on the road, dispatchers have little insight into the reason for delays or inefficiencies in the system. Without visibility into the status of your shipping operation, logistics companies have no way to plan for improvement or even see the ROI of their current processes and tools.
Dissatisfied Customers: A fast and convenient delivery process is a vital part of a good customer experience. Slow shipping, late deliveries, and inaccurate orders discourage customers from repeat purchases, lead to poor reviews, and severely impact customer loyalty.

How Real-Time Dispatching Can Upgrade Your Deliveries
In the past, delivery routes were planned manually with the use of manifest sheets, organizing routes on a whiteboard, or manually organizing optimal routes into mapping software. These solutions allowed no room for new information and were subject to delays due to unexpected incidents like traffic jams or accidents. Real-time dispatching supports a constant flow of back-and-forth real-time communications to eliminate delays and inefficiencies. With real-time dispatching tools designed to address the pain points of the delivery industry, you can upgrade your deliveries with these benefits.
Slash Wasted Time with Improved Efficiency
Manual processes are inefficient and subject to human error. Manual routing processes depend heavily on human knowledge and paper documents that change hands many times. When information is entered into spreadsheets or automated mapping systems, errors can be made that lead to delays. Once the route is planned, it's typically locked in place, leaving delivery drivers helpless in the face of traffic jams or other unexpected incidents. Such inefficiencies disappoint customers and drive up delivery costs considerably through increased fuel consumption, idling costs, and lost time.
From importing orders to creating the fastest route, high-end automation technology greatly improves the overall delivery process. Automated order importing allows you to eliminate the delay between when an order is received and when it can be dispatched. In addition, automated route creation uses the most up-to-date information and can be changed to address real-time logistics issues. Driver tracking keeps drivers accountable for their time and creates automated customer alerts as well as receipt of proof of delivery.
Faster Deliveries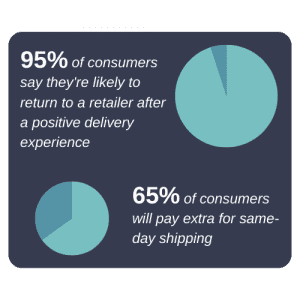 Delivery speed is of vital importance to online consumers. Around 95% of consumers say they're likely to return to a retailer that offers a positive delivery experience, and 65% will pay extra for same-day shipping. On the other end of the spectrum, slow shipping can lead to lost customers since 22% of customers abandon their carts to slow delivery.
Real-time optimization automatically creates routes based on the rules you set. This means you can optimize routes based on efficiency, time windows, customer priority, and more. Automated route optimization can determine up to several weeks' worth of routes for all your drivers and orders in seconds and incorporate third-party delivery services for increased speed. To allow for necessary flexibility, these predetermined routes aren't set in stone. Software reporting capabilities allow dispatchers to assess what's working and what isn't to make changes in real time. When a driver is experiencing delays, dispatchers can adjust routes and update drivers immediately. If delays are inevitable, customers can be automatically alerted to the change, so they can remain informed and avoid disappointment.
Enhanced Customer Experience
While quality and price are important to consumers, overall customer experience has more of an impact. A good customer experience combines all touch points of the sale and delivery for streamlined service that leaves the customer feeling heard and appreciated. According to a PwC survey, speed, convenience, consistency, friendliness, and human touch are what it takes to create a good customer experience. Customers will pay 16% more for an improved experience and are more likely to try additional products or services from a brand providing a superior experience. A bad customer experience has even more of an impact, as 32% of all customers would stop doing business with a brand they loved after one bad experience.
Real-time dispatching improves the customer experience by improving delivery speed and convenience. Customers value transparency and have high expectations of the delivery process. Real-time dispatching begins by eliminating inefficiencies that lead to slow delivery. It adds transparency to the delivery process with automated alerts and updates that constantly reveal the status of their orders. Real-time updates and tracking allow customers to have greater insight into their deliveries which improves their overall experience and perception of the brand.
Reduced Costs
Increased shipping costs are a reality for all businesses, and some of the causes can't be avoided. Trucking spot rates increased by more than 100% from May 2020 to their peak in January 2022. While rates are declining, shipping costs remain a major concern for eCommerce retailers. Increased shipping costs eat into business profits, create sales hardships for online retailers, and are eventually passed down to customers. Research shows that a 1% increase in price results in a 2.6% loss in customers, leading to an even bigger financial impact.
These impacts make cutting shipping costs in any way possible a necessity. Luckily, real-time dispatching helps cut shipping costs across many points of the shipping journey. Automation allows companies to cut costs before products even hit the road. Automated order importing and route planning reduces personnel hours by dramatically cutting manual tasks. Automatically optimized routes mean drivers spend less time on the roads, decreasing costs related to fuel use, vehicle maintenance, and driver pay. Cutting shipping costs across the entire shipping process leads to improved ROI and lower costs can be passed down to customers.

Greater Insights
Without insight into inadequate processes, you can't make improvements. We've established the importance of fast and reliable shipping to the customer experience. Shipping also represents one of the biggest direct costs for eCommerce retailers. Like other business processes, companies need a way to effectively track the productivity, effectiveness, and ROI in their chosen delivery solution. Yet, without the right technology, it can be difficult to gather the data necessary to gain insight into the effectiveness of your delivery process.
Real-time tracking provides you with a way to keep track of the entire delivery from point-of-sale to delivery. Real-time driver tracking gives you insight into the causes of delays during the shipping process. Automated reports created by your software system give you key stats about your overall delivery process (such as delivery time, cost, etc.), so you can improve your process. These stats can also help growing companies gather the data they need to plan for increased delivery demands as they scale.
Reduced Last Mile Delivery Challenges
Customers expect deliveries to be fast and efficient, but last mile delivery challenges can slow shipping processes and increase costs significantly. According to 59% of transportation and logistics companies in the U.S., last mile delivery is the most inefficient process of the entire supply chain. Friction in last mile delivery logistics can lead to delayed or failed deliveries. It can also double shipping costs, leading to cart abandonment and decreased customer loyalty.
The final step of delivery (last mile) is the shortest part of the delivery process. It's also the slowest, most expensive, and most demanding. The problem is exacerbated in rural areas where delivery points along a particular route can be miles apart. In areas like these, real-time dispatching is especially beneficial when optimizing last mile routes and providing new options for delivery.
Real-Time Dispatching Software Can Transform Your Delivery Service
Highly effective real-time dispatching software has a variety of features to address all the pain points of traditional delivery services. When companies can automate manual tasks and gain improved insight into the entire delivery process, delays and inefficiencies can be eliminated. At Elite EXTRA, we provide customized software solutions to meet your unique shipping and delivery needs. Learn more about real-time dispatching by contacting Elite EXTRA today!
Sources
https://www.insiderintelligence.com/
https://www.pwc.com/
https://www.institutionalinvestor.com/
https://www.globenewswire.com/news-release/2020/07/06/2057928/0/en/Last-Mile-Delivery-is-the-Most-Inefficient-Process-for-More-Than-Half-of-North-American-Transportation-Logistics-Companies.html