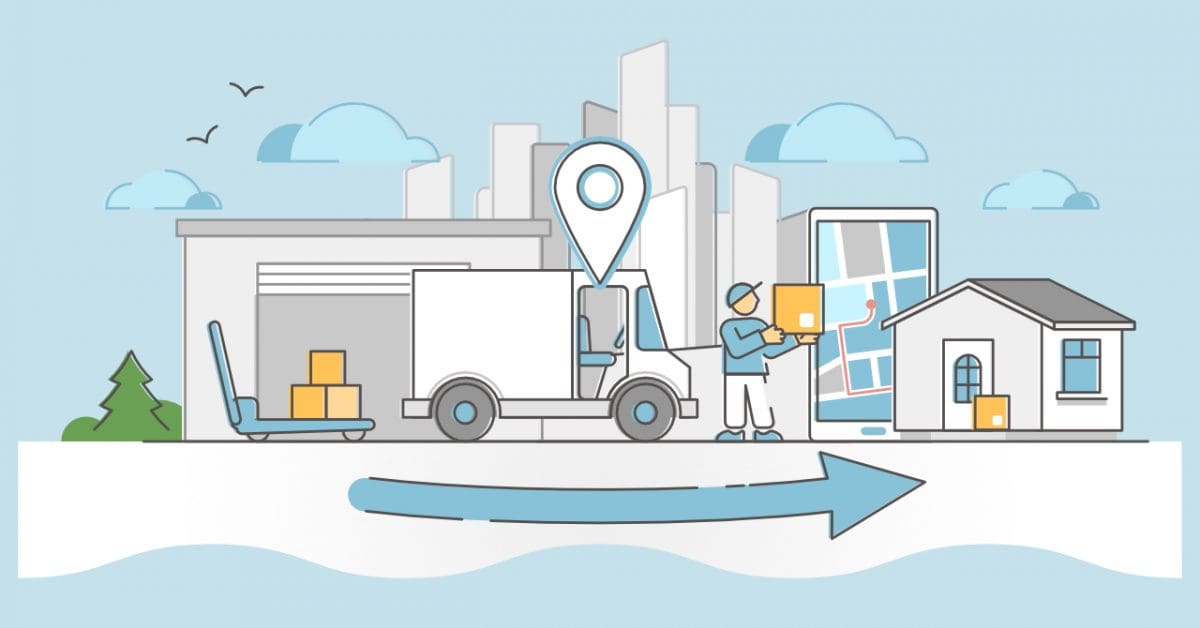 In today's fast-paced retail world, providing a seamless delivery experience for customers is crucial for driving sales and building customer loyalty. With eCommerce on the rise, delivery options have become essential to any retail business strategy. Consumers expect their items to be delivered quickly and easily, no matter where they live, and businesses must be able to meet these demands to stay competitive.
Shipping items domestically or internationally can be costly and time-consuming for retailers, but offering various delivery options can help reach a much larger market and provide a personalized service that today's shoppers have come to expect. However, with all the delivery options available, choosing the right ones for your business can take time and effort.
This article will explore the top delivery options for retailers and how to choose the best ones for your business. Whether you're primarily online, in-store, or a combination of both, shipping and delivery are significant sales drivers and areas where you can't afford to fall short. By understanding the delivery options that customers expect, retailers can make an informed decision on shipping services and provide a seamless delivery experience that will satisfy customers and drive sales.

Understanding Your Customers
When it comes to offering delivery options, understanding your customers is vital. Customers are unique and have preferences regarding how they want to receive their products. By understanding these preferences, you can tailor your delivery options to meet your customers' needs and provide a better customer experience. Here are some tips to help you do just that:
Gathering Feedback and Insights
Surveying, interviewing, and focus-grouping customers are some of the best ways to get feedback on your delivery options and customer experience. You can ask questions such as:
How do they prefer to receive their products?
How often do they place orders?
What is the average order size?
How large are the typical shipments?
When and how often do they want to receive their products?
This can provide valuable information about their delivery preferences, such as preferred delivery times, days, and notifications. Additionally, analyzing customer data and purchase history can provide insights into their delivery preferences. For example, if a customer frequently purchases items that require next-day delivery, it may be beneficial to offer them expedited delivery options.
Understanding Your Customers' Preferences
Offering your customers the option to choose their delivery times and days will help you reduce attempted deliveries while increasing completed ones. This improves the customer experience and saves your business time and resources.
Keep Up With the Latest Trends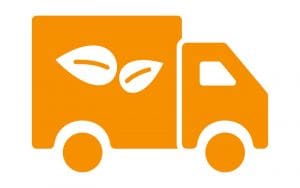 To understand your customers' needs, you must keep up with what other companies are doing and the latest trends in consumer behavior. For example, as consumers become more aware of their environmental impact and the importance of preserving resources for future generations, there is a growing demand for eco-friendly products.
By understanding this trend, retailers can offer eco-friendly delivery options and attract customers who prioritize sustainability.
What Delivery Options Should You Offer?
Different customers have different needs, and understanding those needs is key for any company offering delivery options. You can help customers by providing various delivery options. This may include:
Standard Delivery
A standard option delivers within a given timeframe (e.g., 2-5 business days). It is ideal for busy people who need their items in a hurry but still want quality service.
Standard shipping is also an excellent option for customers close to your business or who don't mind waiting a few days for their order.
You can offer free shipping on orders over a certain amount, incentivizing customers to spend more money with you in the long run.
Flexible Delivery
Flexible delivery allows customers to select a date that works best for them. This is an ideal option if you know that many of your customers are busy professionals who need their items delivered when it fits into their schedule.
One way to cater to these preferences is by allowing customers to choose when they receive their delivery. You can do this through a delivery schedule or calendar feature on your website or by offering flexible delivery options during checkout.
Priority Delivery
A faster delivery option delivers within 24 hours (e.g., overnight). Priority shipping is ideal for customers who need their items as soon as possible. You can do this by partnering with a delivery service specializing in expedited delivery or using multiple delivery services. Offering fast delivery options can attract customers who need to receive their items quickly, such as those making last-minute purchases and individuals running low on a necessary item.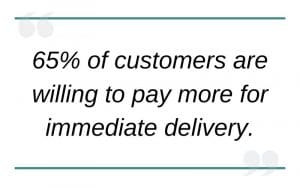 Remember, not all customers are willing to pay extra for faster delivery. A study by Omnitracs found that 65% of customers are willing to pay more for immediate delivery. On the other hand, a study by Deloitte shows that 48% of consumers are willing to wait longer for product personalization and customization.
As a business, understanding these statistics and offering a balance of delivery options can be a game changer.
Providing Tracking and Self-Service Delivery Options
Businesses should also offer customers the option of tracking their packages. This can include a tracking number, a delivery map, or real-time updates. These options allow customers to track their packages and know when to expect delivery quickly.
Consider offering a self-service portal for customers to track their deliveries. This can include scheduling a delivery, changing the delivery address, or requesting a specific time for pickup. Giving customers more control over their deliveries helps them avoid problems with missed appointments and incorrect addresses.
As customers become increasingly accustomed to online shopping, they'll expect more from the companies they buy from. A good way to stay competitive is by offering various delivery options and providing excellent customer service.
Why Should You Offer Various Delivery Options?
Customers have different preferences for how they receive their products. Consider offering some of these delivery options to appeal to a broader range of customers. These options allow customers to choose the delivery service that best suits their needs and budget. It's also important to consider offering international delivery options for overseas customers. By doing so, businesses can reach a larger market by expanding the total number of people they serve.
Offering various delivery options is a fundamental aspect of customer satisfaction and driving sales. By allowing customers to choose their delivery days/times and expanding to offer quicker deliveries, you can cater to the diverse preferences of your customers. In turn, this will increase satisfaction, and ultimately improve sales for your business.
It's essential to understand the statistics of your target market and offer a balance of options that caters to both types of customers, those who are willing to pay for faster delivery and those who are willing to wait for standard delivery.

Communication Options
Effective communication with customers is crucial to the success of any business. Not only does it keep customers informed about the status of their delivery, but it also helps to ensure that the delivery is successful.
One key communication element is choosing the best method that suits your customers. Some customers prefer to be contacted via text, email, or phone, while others prefer to receive notifications through an app or website.
Understanding how your customers want you to communicate can ensure they receive the information they need without overwhelming them.
Notifying customers about their packages is the essence of communicating with them and ensuring they have a pleasant post-purchase experience. Some customers may want to be informed at every stage in the delivery process, while others only want updates once their package arrives. By offering different types of notifications, you can cater to your customer's preferences and provide a better customer experience.
Eco-Friendly Delivery Options
As consumers become increasingly conscious of their impact on the environment, eco-friendly delivery options are becoming more popular. Not only do these options align with consumers' values, but they also help reduce the delivery process's environmental impact. There are several different ways that businesses can offer eco-friendly delivery options.
One way is through the use of electric or hybrid vehicles. These vehicles emit less pollution and lower carbon footprint than traditional gasoline or diesel vehicles. By switching to electric or hybrid vehicles, businesses can reduce their environmental impact and attract customers concerned about sustainability.
Offering reusable packaging materials is one way to provide eco-friendly delivery options. This can include using reusable boxes, containers, or bags instead of disposable packaging materials. Businesses can reduce their waste and environmental impact by using reusable packaging materials.
Investing in green technologies (such as renewable energy or reforestation projects) can further reduce your carbon footprint. By offsetting carbon emissions, businesses can neutralize the impact of their delivery process and promote sustainability.
In addition, businesses can also consider using more fuel-efficient routes and consolidating deliveries to reduce the time and fuel used. This not only helps in reducing the carbon footprint but also saves costs in the long run.
Green delivery options help the environment and boost a company's bottom line. By offering eco-friendly options, businesses can attract customers who prioritize sustainability, set themselves apart from their competitors, and improve their reputation.
Furthermore, implementing eco-friendly options can also be cost-effective in the long run and help to reduce the business's environmental impact.
Pricing Options
Customer perceptions about pricing are heavily dependent on what other options are available. Offering different price points for products and services will generate interest from many customers.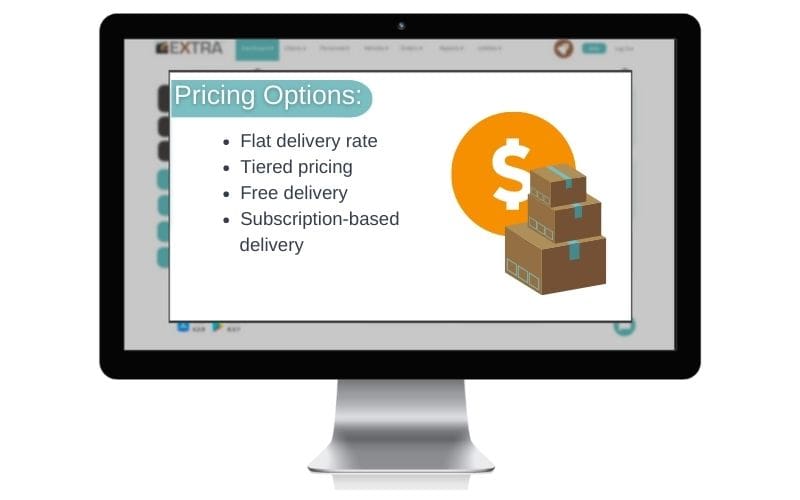 There are several pricing options that businesses can consider. These include:
A flat rate for delivery: This can be a flat fee for delivery within a certain radius or a flat fee for delivery within a specific timeframe, such as next-day delivery. Businesses can provide customers with a clear and straightforward pricing structure by offering a flat rate.
Tiered pricing for delivery: This can include different pricing for standard, express, and same-day delivery. Customers can choose the delivery option that best suits their needs and budget by offering tiered pricing.
Free delivery: Businesses can also consider offering free delivery for specific items or customers who meet certain conditions, such as spending a certain amount or making a certain number of purchases. By offering free delivery, businesses can attract customers and increase sales.
Subscription-based delivery: This can include a monthly or yearly subscription fee for a set number of deliveries. By offering subscription-based delivery, businesses can provide a convenient and cost-effective option for customers who frequently make purchases.
Pricing options should be transparent and understandable to customers. Businesses can increase customer satisfaction and reduce confusion by providing precise and straightforward pricing structures.
Businesses should consider offering different options for customers to manage their deliveries, such as scheduling a delivery and requesting one at a specific time. Doing so allows customers to take control of their deliveries and make changes to suit their needs.
Benefits to a Company
Offering a variety of delivery options can provide numerous benefits for a company. These benefits include:
Increased Customer Satisfaction and Returning Buyers
The more options a business offers, the more satisfied customers are likely to be. By providing various delivery options, companies can cater to the diverse needs of their customers, increase satisfaction, and ultimately drive sales.
Less Attempted Deliveries and More Completed Deliveries
By offering customers the option to choose their delivery times and days, businesses can reduce the number of attempted deliveries and increase the number of completed deliveries. This improves the customer experience and saves the business time and resources. Additionally, by offering different communication and tracking options, businesses can improve the delivery process and increase the chances of successful deliveries.
Increased Revenue and Brand Reputation
Offering various delivery options can also lead to increased revenue and a boost in brand reputation. By catering to customers' diverse needs and preferences, businesses can attract a larger customer base and reach a larger market. Additionally, companies can attract customers who value sustainability by offering eco-friendly delivery options.
This can increase sales and a positive reputation among environmentally conscious customers. What's more, Businesses that offer a range of prices to their customers can attract buyers from all segments, boosting profits and revenues.
Cost Savings and Efficient Use of Resources
By consolidating deliveries and using more fuel-efficient routes, businesses can reduce the time and fuel used for delivery, ultimately resulting in cost savings.
Additionally, by using eco-friendly vehicles and reusable packaging materials, companies can reduce their environmental impact and save on costs associated with disposable packaging materials.
In addition to saving money, taking steps toward sustainability can help a company improve its image and attract new customers.
Conclusion
Providing delivery options is essential to satisfying your customers and driving sales for your retail business. With the rise of eCommerce and the increasing expectations of consumers, retailers need to stay competitive by offering a wide range of delivery options that cater to different preferences.
From allowing customers to choose their delivery times and days to expanding your delivery network, there are many ways to improve the customer experience. And with the right approach, you can increase customer satisfaction, reduce attempted deliveries, and ultimately drive more revenue for your business.
For more information on achieving this, contact Elite EXTRA, a leading delivery solutions provider for retailers. We are ready to help you make the most of your delivery options and improve your customer experience.
Sources
https://www.omnitracs.com/
https://www2.deloitte.com/