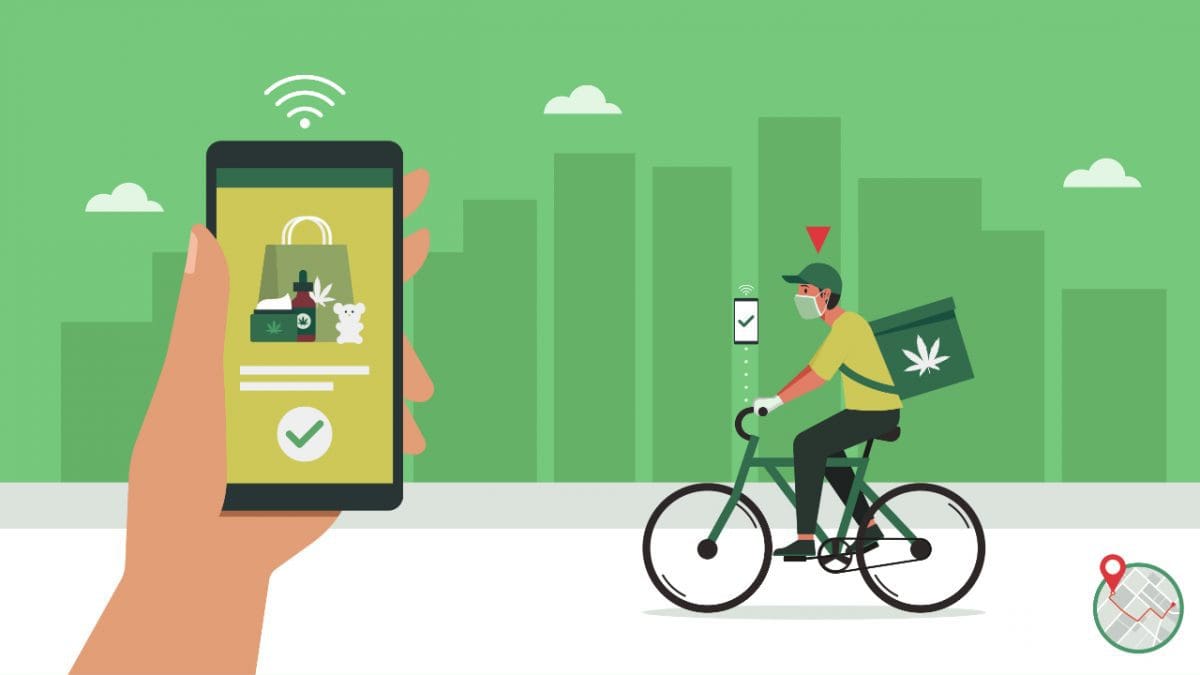 When it comes to marijuana, nothing provides more versatility than having your cannabis delivered right to your doorstep – and cannabis enthusiasts are willing to pay for it. Cannabis delivery benefits both marijuana dispensaries and customers.
This article provides valuable insights into the rising popularity of cannabis delivery, its effect on the market, and the benefits of marijuana delivery services.
Cannabis Delivery in North America
In Canada, provinces such as British Columbia and Ontario have approved cannabis deliveries in consumers' mail through Canada mail. At the same time, Quebec is still evaluating the minimum delivery time to migrate consumers to legal cannabis while preventing the overconsumption of cannabis.
In the US, Only 15 states allow marijuana retailers to provide product delivery; out of those 15, a few require operators to obtain delivery business licenses as well. Such legislations allow cannabis dispensaries to sell their products online to seize economic opportunities. On the other hand, consumers enjoy a new means of purchasing recreational cannabis from legal retailers in their communities.
The states that allow cannabis delivery include:
Arkansas
Arizona
California
Colorado
Florida
Massachusetts
Maine
Maryland
Michigan
Nevada
New York
New Mexico
Oregon
Rhode Island
Vermont
Authorizing cannabis deliveries means the removal or lessening of security verification requirements for marijuana stores, which eliminates delays in hiring. Licensed retailers can hire staff more quickly to implement and fulfill their delivery services, while the industry and government will see reduced costs. Combining the convenience of home delivery, and the blend of knowledgeable employees and regulated products, is the only effective means of making the legal cannabis industry a trusted choice for most consumers.
The Rising Popularity of Cannabis Delivery Services
Stay-at-home orders and health guidelines during the COVID-19 pandemic fueled the demand for cannabis delivery. Besides the logistics and safety benefits, home delivery provides a stress-free, faster, and more convenient operation that's here to stay.
The uptick in marijuana delivery sales was noteworthy, but its continued prevalence until now speaks a lot. A recent study highlighted on PR Newswire surveyed a sample population of 840 individuals. It showed that 90.1% of respondents said that cannabis delivery services were their primary means of buying cannabis during the pandemic, a 70% increase from 20.7% in the pre-pandemic era. That indicates that delivery services are likely to remain the primary method of purchasing cannabis in this post-COVID environment.
Besides the rising demand for cannabis delivery services, another surveillance report by NORML showed that more people than ever before support legal marijuana. That means that cannabis retailers must expand their operations and adapt to the increasing number of consumers who prefer purchasing legal cannabis with added delivery convenience.
Common Cannabis Delivery Models

Cannabis retailers use various delivery models, including:
Through a licensed and certified retailer or dispensary, eliminating the need for a separate delivery license
Obtaining a separate delivery license where the retailer sources products from one or more licensed dispensaries
Getting a delivery license that allows the retailer to source cannabis products directly from various operators, such as growers, manufacturers, and producers
Through a "gift" delivery program (especially in Alaska and Washington, D.C.)
Other jurisdictions allow businesses to operate in the cannabis market by providing multiple delivery options. Because delivery is a cost-effective means of gaining entry into the industry, delivery licenses have become integral to most jurisdictions' social equity efforts.
For example, the US made Marijuana Courier License applications available to equity applicants in 2020. In May 2021, applications for Marijuana Delivery Operator licenses opened specifically to social equity and economic empowerment workers for a minimum three-year period. It resulted in approximately 400 eligible applicants for these delivery licenses – approximately 300 social equity applicants and 122 certified economic empowerment applicants.
Consumer Needs that Spur the Demand for Cannabis Delivery
Traditionally, the majority of medical cannabis consumers have been required to visit a dispensary in person. However, amongst recreational consumers, there are a variety of needs that have heightened the demand for delivery.
Delivery services are ideal for ensuring consumers gain easy and safe access to cannabis products, regardless of their specific needs. Delivery services can strive to be discreet and compliant with legal policies and regulations to maximize the economic opportunities the system offers while catering to various types of consumers.
Just like delivery in any other industry, the convenience factor of cannabis delivery to the home is a game changer. This is why consumer demand for the service is continually rising.

The Benefits of Providing Cannabis Delivery Services
There's nothing more versatile than providing home delivery in the cannabis industry. While this service mostly focuses on the consumer, cannabis operators also enjoy several benefits. Below, we discuss some of the top reasons marijuana dispensaries should offer delivery services.
Reach More Consumers
One of the advantages of deploying the best marijuana delivery service is the incredible online reach of software technology that can place your cannabis store in front of a wider audience. For example, Elite EXTRA – a last-mile logistics software – has helped over 325,000 users worldwide. With online ordering and delivery increasing in the past two years, it's critical to ensure you reach as many potential customers as possible.
When you partner with a third-party cannabis delivery service, your brand is shown to the local consumers searching for cannabis products near them. Additionally, you can integrate other features into the delivery service to accelerate incremental sales based on your unique needs and budget.
Enhanced Flexibility
Cannabis delivery services are always on the move. They are not confined to a single brick-and-mortar location that controls the storefront cannabis operations. Instead, they are free to stroll throughout various territories and communities to cater to an extensive selection of consumers.
With increased environmental concerns over human-induced greenhouse gas (GHG) emissions, cannabis retailers have discovered that minimizing their carbon footprint significantly reduces operating costs. Cannabis delivery benefits retailers, i.e., they can invest in fleets of hybrid and fully-electric vehicles to contribute to environmental conservation and improve their bottom line.
This delivery system creates newfound opportunities for consumers, too. Cannabis consumers can get their preferred product anywhere within the delivery zone, providing more versatility. Clients no longer have to rush to a dispensary straight out of work (through heavy traffic) to purchase their cannabis product. It's delivered right where they are.
Reduced Operating Costs
Partnering with the best cannabis delivery service reduces a retailer's operation expenses more than running a physical dispensary since you need not have a large inventory or commercial property to operate from. Therefore, you don't have to have a big upfront investment in truckloads of marijuana products. But there's more to it.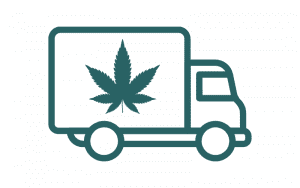 When you partner with a third-party delivery service, you alleviate last-mile logistics concerns. The delivery service plans the ordering and delivering e infrastructure so you can focus on what you do best – sourcing high-grade cannabis strains that keep your customers coming back.
Since your cannabis dispensary is already staffed and fully stocked with wide-ranging cannabis products, adding a cannabis delivery service requires no upfront expenses from your business account. You likely will be fine without recruiting other candidates to your team.
Deploying a third-party cannabis delivery platform is similar to having an entire workforce on demand. Between customer support, drivers, and other features, it's like adding ten extra individuals to your team for just the commission cost. When you consider the increasing demand for cannabis delivery and the minimal effort required to get started, the cannabis delivery benefits easily become apparent.
Provide the Convenience that Customers Expect
To remain competitive in an industry saturated with cannabis retailers, dispensaries must strive to meet consumers' expectations. When it comes to convenience, the advantages of cannabis delivery check all the boxes. According to the poll by Ganja Goddess, approximately 60% of the surveyed individuals use marijuana delivery services for convenience.
Convenience is the key term, and consumers value the fact that they need not visit a dispensary to purchase cannabis. Any customer will tell you that delivery services provide something that storefront dispensaries don't. Think of it like pizza delivery services; customers can enjoy the convenience of ordering a range of cannabis products from their smartphone and having them delivered to their doorstep.
Stay on Top of Market Trends
More consumers prefer cannabis delivery than ever before, and marijuana dispensaries must keep up with industry trends to meet that need more effectively.
While the cannabis flower market has been on a slow decline lately in the US and Canada, the purchase of cannabis beverages has steadily increased. In the US, the cannabis beverage category expanded from 2% in January 2020 to 3.7% in December 2021. In Canada, the marijuana beverage basket remained relatively steady at 4% in 2020, but it shot up significantly to an all-time high of 4.5% in December 2021.
Meanwhile, the tincture and sublingual category is currently the best-performing segment in Canada's cannabis product market. Other segments in the top-five list include topicals, pre-rolls, concentrates, and flowers.
The cannabis community often overlooks baby boomers and Gen X, yet they are the demography with a strong preference for home delivery. Nearly three-quarters of baby boomers (73%) prefer home delivery over in-store or curbside purchases. They are the generation that lobbied for the legalization of medical cannabis. Due to their overall health status and preference for discretion when it comes to cannabis, they can greatly contribute to the growth of CBD-rich tinctures and sublingual products.
Gen Z and millennials may be living the hype of legal cannabis – and don't mind the party atmosphere in the dispensary – but baby boomers prefer privacy and discretion. Understanding these industry trends enables you to stay ahead of the curve with your cannabis delivery services.
Want more industry insights?
Subscribe to our newsletter to receive weekly last mile logistics insights directly to your email inbox each week!
Conclusion
We operate in a convenience-driven society, and cannabis delivery services flourish because they satisfy that demand. Their flexibility enables a larger group of consumers to order cannabis products online, and the regulations surrounding cannabis delivery models are more supportive rather than stifling. As federal and local laws are shaped and updated, a well-regulated licensing process for delivery services will likely address many concerns of storefront operators and be an ideal compromise in the pursuit of safe access to cannabis products.
Before, cannabis delivery was considered a second-class option compared to storefront deliveries. Today, delivery solutions have become a hot topic in the cannabis industry.
Want to start cannabis delivery services by don't know where to start? Contact UBI Communications at 705 722-4043 (Ext. 226) or support@ubicommunications.ca to learn how to offer delivery as part of your cannabis operation.
Sources
https://vancouverisland.ctvnews.ca/british-columbians-can-now-get-cannabis-delivered-in-the-mail-through-canada-post-1.5980261
https://mjbizdaily.com/ontario-making-cannabis-delivery-permanent-for-provinces-1000-plus-stores/
https://nypost.com/2022/11/10/canada-province-bars-weed-startups-from-delivering-too-quickly/
https://www.prnewswire.com/news-releases/new-consumer-poll-reveals-sustained-surge-in-cannabis-delivery-more-than-a-one-year-into-the-pandemic-301282939.html
https://chainstoreage.com/survey-most-consumers-still-prefer-home-delivery-especially-group