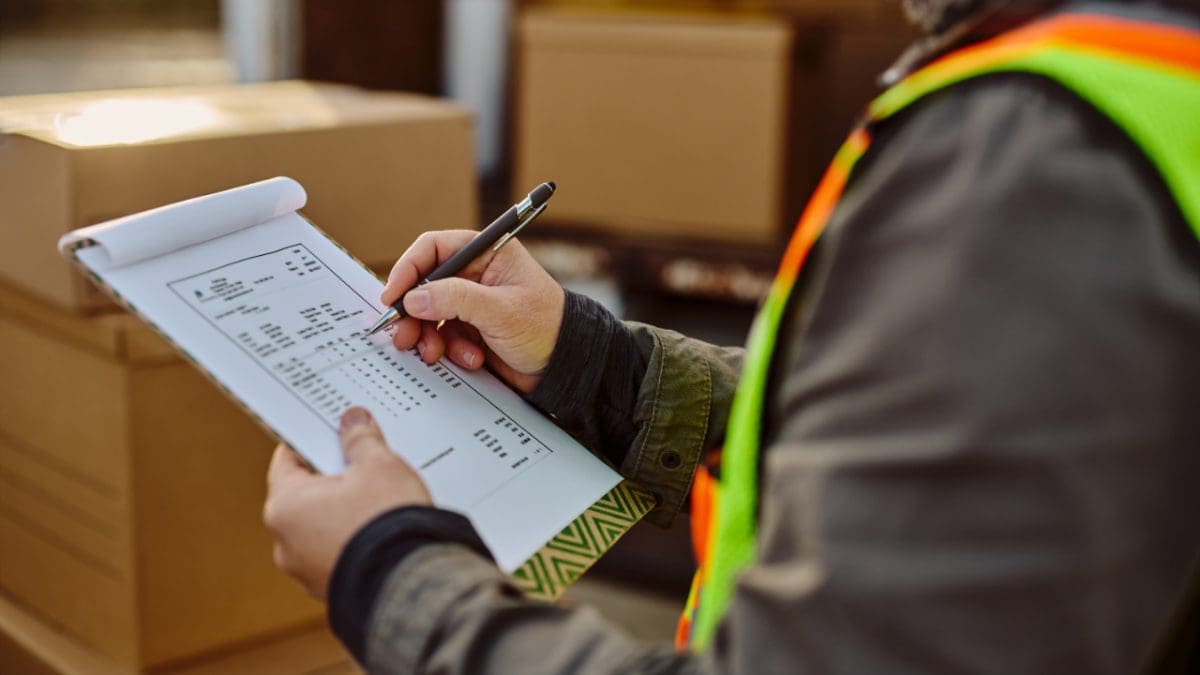 Given the level of competition in the modern marketplace, your company must go beyond the bare minimum to survive. This means going the extra mile to deliver exceptional customer service and paying attention to little details, such as the packing slip.
While it's modest and may seem like a formality, a packing slip is a crucial part of the last-mile delivery process that's often disregarded. In addition to ensuring precise delivery, a well-designed packing slip will improve customer experience by providing key information.
So, how do you turn your packing slip from a mere formality into an invaluable asset in your last-mile delivery? Read on to learn how to use personalized packing slips to enhance client relations and satisfaction.
What is a Packing Slip?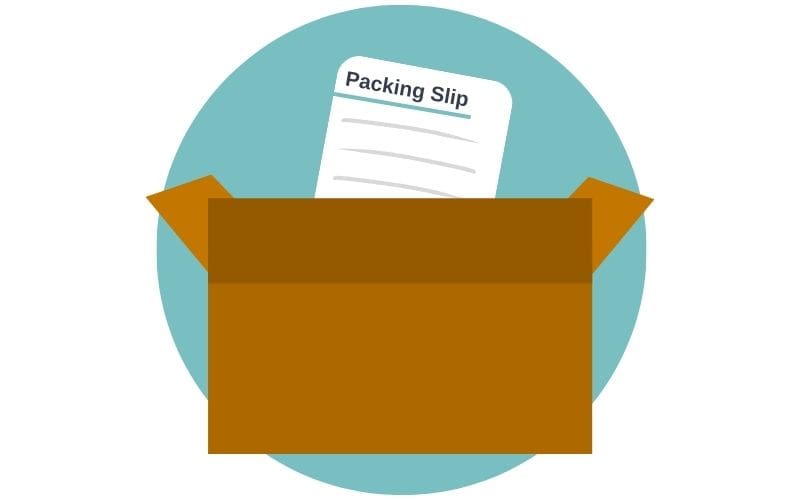 A packing slip is a shipping receipt that details the contents of the package. It usually comprises a brief description, the amount, and the name of the goods. The primary purpose of such slips is to serve as a record of the items being delivered and to help with inventory control.
Unlike other delivery documents, such as invoices or bills of lading, packing slips are unique. They don't touch on the billing and payment functions performed by invoices. Instead, they help you trace goods and ensure proper delivery even though they are not legally enforceable papers.
A packing slip may act as an inventory management tool and a quality assurance measure. You can use it to confirm that the correct goods are being transported to the client by comparing the items stated on the packing slip with the actual contents of the box. This can lessen the likelihood of expensive errors and raise general client satisfaction.
A packing slip is a crucial part of the last-mile delivery process because it guarantees that shipments include the right things in the right amounts when they reach their destination.
Why are Packing Slips Important for Last Mile Deliveries?
While operating without a packing slip is possible, you can't afford to do so. It offers numerous benefits, including:
1. Simplified Delivery Accuracy Verification
Errors such as delivering the wrong products or quantity are costly in last mile delivery. In addition to making a second delivery, it also hurts your customer satisfaction.
To guarantee precise last mile delivery, packing slips are essential. They enable delivery drivers to confirm that the right products have been put into their trucks for delivery and in the right quantities. Upon arrival, the recipients can also use them to verify that the delivered goods match the original order.
Inaccurate deliveries can result in unhappy consumers, missed sales, and harm your brand's reputation. By utilizing packing slips, you can reduce the possibility of making a mistaken delivery and ensure your clients get their goods on time.
2. More Trackable Inventory Levels
As a business, ensuring you can meet all client orders on time is essential. Otherwise, they'll slowly turn to your more reliable rivals.
Fortunately, packing slips can help with this. By recording the products and quantities shipped, you gain a simple approach to keeping track of stock levels. Moreover, you can instantly spot any inconsistencies by outlining the specific goods and amounts included in each delivery.
As such, packing slips will help you discover any products that are out of stock or require immediate restocking. This is crucial for companies that sell items in great demand since it may be simple to forget to refill if you don't have an effective tracking system.
In addition, you can keep track of inventory levels and ensure you always have the goods clients want by routinely inspecting packing slips.
3. Reduced Delivery Errors and Customer Complaints
It is impossible to exaggerate how vital packing slips are in lowering delivery mistakes and customer complaints. Customers' displeasure and discontent with delivery mistakes and inaccuracies can harm a business's reputation and result in lost sales. Packing slips are essential in minimizing these mistakes and guaranteeing that clients receive the correct goods quickly and effectively.
Delivery teams can use the packing slip to guide them in choosing and packaging the right products before leaving the facility. Also, by mentioning the product details and amount on the packing slip, the delivery staff may quickly confirm that they are giving the client the right things.
As they reduce delivery mistakes, packing slips also lessen customer complaints. Without dealing with complaints and second deliveries, your team will have more time to attend to other business functions.
Packing slips are a crucial instrument for lowering delivery faults and client complaints. You can use them to ensure customers receive the right products as they give you precise information about the products being delivered.

Types of Packing Slips
If you want to get maximum value from packing slips, you must understand the various types available and what each offers. In this regard, you can choose between standard and custom packing slips.
Standard packing slips are pre-made templates that you use for each delivery without altering any details. They contain the order's basic details, including the customer's name and address, order number, and the list of goods being delivered. Standard packing slips are commonly used by eCommerce platforms and shipping companies. This is because they can be created or printed automatically after processing an order.
If you want something unique that allows you to target each customer independently, custom packing slips are the ideal option. With these, you'll have to tailor each slip to address the client's unique needs.
Therefore, in addition to the primary shipping information, custom slips also include extra details like advertising messaging, return guidelines, and even comments to the consumer that are specifically tailored to them. As such, with custom packing slips you have a great platform to reaffirm the company's image and beliefs, making them an effective branding tool.
As a brand, standard packing slips are easy and quick to use. However, while custom ones take longer, they give you greater branding potential and flexibility.
Benefits of Creating Packaging Slips That Are Unique to Your Company
Nowadays, markets are consumer driven. As such, it's the organizations that meet unique client needs that thrive. To achieve this, you'll need to pay attention to customization, and there's no better place to start than with packaging slips.
1. Gives You a More Professional Look
A key part of personalization is branding. Otherwise, you may not reap the full benefits of a custom packing slip. Along with a great design, including your logo, slogan, and brand colors, will make your firm look more professional.
Personalization shows customers that you care about details and pride yourself on providing a great experience. Here's how customized packing slips will boost your brand's credibility and professionalism:
It makes customers feel valued
Shows attention to detail and a commitment to quality
It helps your brand stand out from competitors
Reinforces your brand identity and makes it more memorable for customers
2. You Can Include Specific Information like Promotional Offers and Important Instructions for the Customer
Customizing packing slips lets you provide customers with additional information that benefits them and the company. Such information may range from instructions to promotion details.
This information improves the consumer experience and indicates that your organization pays attention to detail and provides helpful information. Customizing packing slips can also boost business productivity by eliminating client order communication.
For instance, a packing slip promotion might promote repeat business and increase customer lifetime value.
3. Strengthen Client Relationships with Personalized Messages
Beyond high-quality products and efficient services, clients want brands that understand and resonate with them. You may show consumers you respect their business and loyalty by adding a handwritten letter or a gesture of thanks. This extra effort may establish consumer trust and loyalty, boosting sales and word-of-mouth.
The extra effort of including personalized remarks on packing slips will build customer ties. In turn, you will enhance trust and loyalty, boosting sales and word-of-mouth.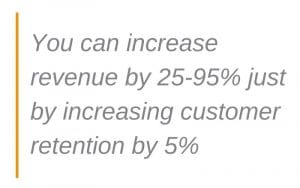 You can also include information about forthcoming sales, new goods, or special promotions on your packing slip to encourage consumers to return and buy more.
4. Streamlines Packing and Shipping
In the logistics sector, efficiency is a make-or-break factor. Frequent errors or delays will harm your company's growth and survival. This is why customizing your packing slip is especially important in last-mile delivery.
The slips include product weight, dimensions, and quantity to ensure the right things are packed and transported to the right consumer. As a result, you'll enjoy greater efficiency in your last mile deliveries. Furthermore, delivering orders on schedule and in acceptable shape saves time, money and improves customer satisfaction.
5. Reduces Errors and Mistakes
As mentioned, the details included in the packaging slips reduce errors and mistakes. Reducing faults and inaccuracies saves time and money on returns and reshipments and improves customer satisfaction by ensuring a seamless delivery.
6. Personalized Experiences Boost Customer Satisfaction
Landing new customers is always exciting. However, top brands know there is greater value in retaining customers than acquiring new ones. According to data, you can increase revenue by 25-95% by increasing retention by 5%.
As you can see, custom packing slips offer numerous benefits, from adding that extra touch that makes clients feel special to enhancing efficiency and providing beneficial information. As you continue to show clients that you care about their wants and preferences, they'll become more connected to the company. Ultimately, this will enhance the company's long-term success as clients will be keen to purchase again and recommend you.
What to Include on Your Customized Packing Slip
Including all the details required to simplify the packing and shipping process when designing a packing slip specifically for your company is critical. Some of the things you should include are:
Order Information: Ensure that you accurately capture client information, the order number, and purchase date.
Shipping Details: These include the delivery date and shipping address. They should be easily identifiable.
Product Information: Packing slips should always have a list of the items you're shipping and relevant information, such as quantity, weight, product number, etc.
Pricing Details: Explain the overall price and highlight tax and delivery charges.
Return Policy: If you accept return provide details on how to return items, the timeframe for doing so and any restrictions to prevent confusion.
Contact Information: Always add business contacts, including phone number, email address, website, and social media pages if possible.
Ensuring that you include the details above will make your packing slips more effective. However, it's not enough to get the results you desire. As such, you must also observe the best practices, including: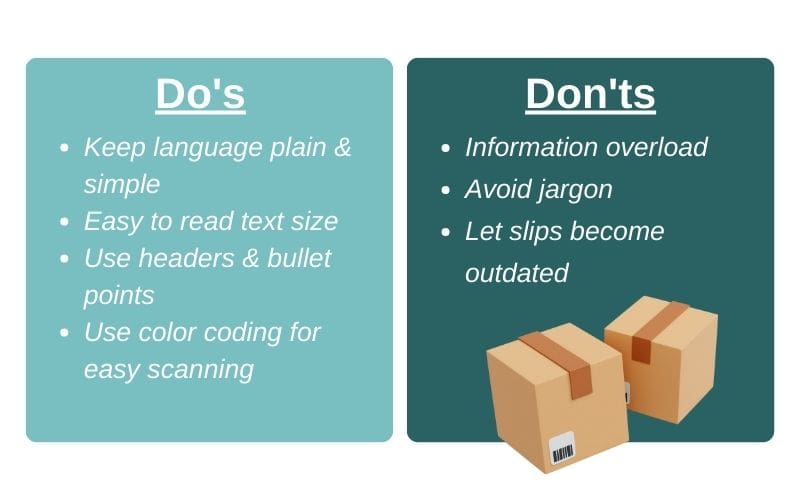 Keeping the language plain and simple.
Using appropriate font size so that text is not too small or big.
Using headers and bullet points to divide the material into small chunks.
Color coding content to make it easy to distinguish between different sections.
Finally, be keen to avoid the following errors while generating your packing slip:
Overloading the buyer with information makes it challenging to locate the crucial elements.
Using terminology that is ambiguous or obscure and might cause confusion.
Not updating the document to reflect alterations to your company's operations, such as a new return policy or contact information.
Enhancing Last Mile Deliveries with Customized Packing Slips
With customers now expecting goods to be delivered to their doorstep, there's great competition in the last mile delivery sector. That's why leveraging any competitive edge, including personalized packing slips, is crucial. Along with giving you a professional image, they can enhance delivery efficiency.
When it comes to elevating last mile delivery, the partner you choose makes all the difference. This is where Elite EXTRA comes into play. We have an industry-leading delivery management software that allows you to take control of all aspects of last mile delivery. It also allows you to customize packing slips to keep your clients coming back.
To find out more about our products and how we can help you with last-mile delivery operations, get in touch with us today!
Sources
https://www.websitemagazine.com/
https://smallbusiness.chron.com/
https://www.marketingevolution.com/