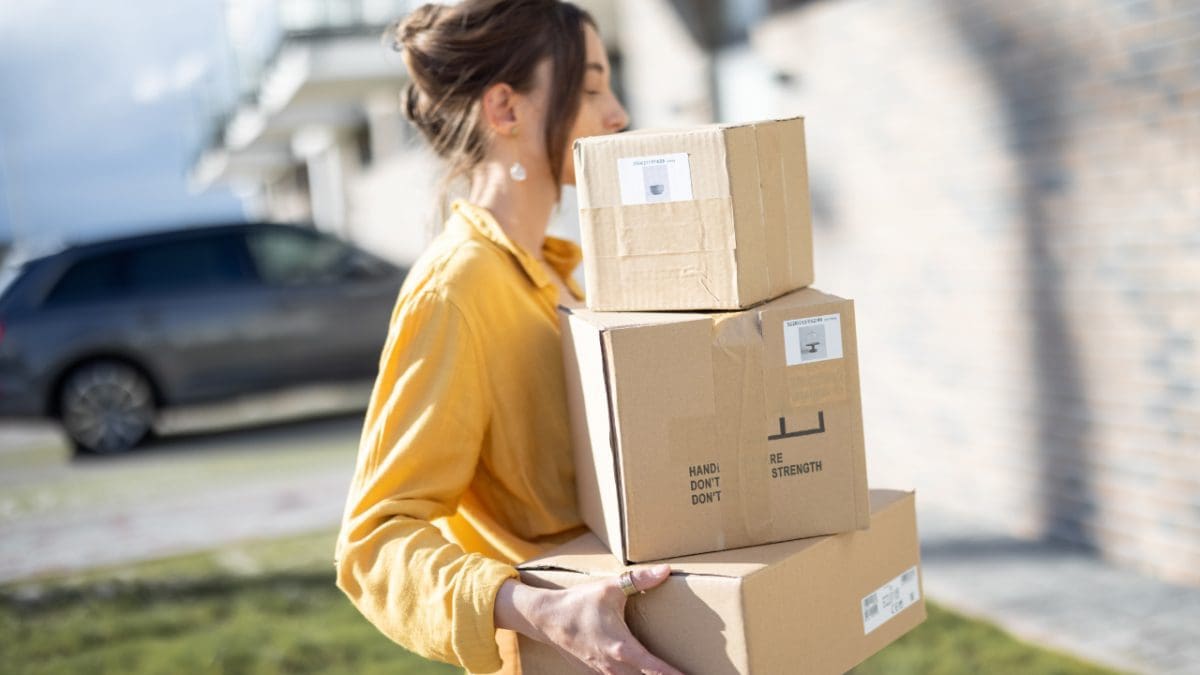 With more people shopping online than ever before, the demand for reliable and timely delivery services has never been higher. Unfortunately, missed and late deliveries can still be a significant problem for retailers and their customers, with roughly 5% of all parcels failing to arrive on the expected day. That creates the need for an efficient and sustainable delivery option, such as PUDO, for the eCommerce industry.
Late and missed deliveries can cause a range of problems for both retailers and customers. A survey by Loqate shows that each failed delivery can cost the retailer $17.78. Consumers expect the retailer to resolve the delivery issue, whether the retailer or the courier is at fault.
Pick Up Drop Off, PUDO, provides a valuable solution to these delivery issues by offering an alternative to traditional home delivery. It allows customers to pick up their parcels from a nearby location at their convenience rather than waiting for the delivery to their home or business address. With extended opening hours and more flexible pickup options, it provides a more convenient and reliable delivery option for customers, increasing customer satisfaction.
What Is PUDO?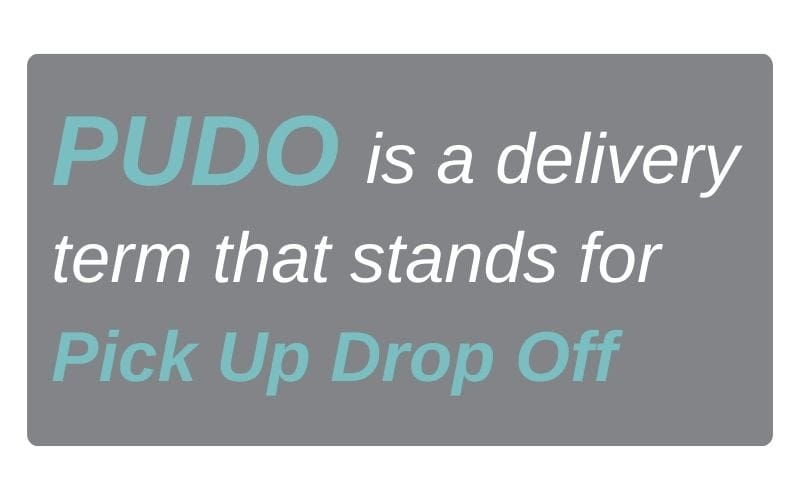 PUDO, which stands for Pick Up Drop Off, is a delivery option that provides customers with an alternative to traditional home delivery. It allows them to pick up and drop off their parcels at designated locations rather than waiting for delivery to their home or business. Drop off locations can include staffed counters in existing businesses, such as convenience stores and post offices, or unstaffed lockers, such as residential buildings, malls, or train stations.
The delivery option is becoming increasingly popular as it is innovative, convenient and offers numerous benefits to both customers and retailers. Furthermore, its popularity is expected to grow as more businesses and consumers become aware of the advantages.
How Does It Work?
PUDO uses designated areas, accessible through smart lockers with PIN codes, local stores, or retailers, where consumers can pick up and drop off items.
To use a PUDO location, customers must select the option when completing their purchase with an online retailer. After purchasing, they must choose a convenient PUDO location for collection, either a locker or a staffed counter at a nearby store. Once their item arrives at the selected location, they will receive a notification with a QR code and PIN code for pick up.
When collecting the package, the customer must enter the provided PIN code at the location, which will unlock the locker or enable the staff to hand over the package. The delivery method provides clients with a flexible and convenient way to receive their parcels as they decide where and when to pick up the parcel.
With a range of PUDO locations available, customers can select the one that works best for them and enjoy a hassle-free delivery experience.
Benefits to Retailers
PUDO services offer a wide range of benefits to retailers. Some of the most prominent perks include:
Simplified Last Mile Deliveries
PUDO points are strategically located within a reasonable distance from customers, making it easy for them to collect or drop off their packages. This reduces the number of home deliveries, helping retailers overcome driver shortages and cut last-mile delivery costs. It also streamlines delivery processes such as parcel handover to recipients, returns handling, and shipment tracking while providing customers with convenient and cost-effective delivery options.
Shortens Their Route & Time Spent Driving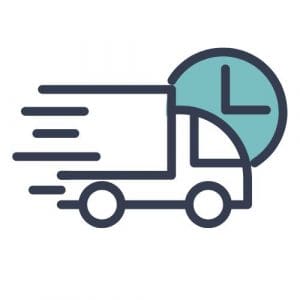 The provision of designated locations for package drop off and pick up by customers allows retailers to batch-deliver items to familiar hubs instead of making individual home deliveries. This reduces the time and route taken for deliveries, reducing the number of delivery drops per truck and saving time and resources for retailers.
Makes Delivery More Sustainable
By enabling customers to pick up their online orders from designated locations, PUDO eliminates the need for multiple delivery attempts and missed deliveries, reducing carbon emissions from delivery vehicles.
Moreover, retailers can optimize their inventory and streamline their operations. They can avoid keeping extra stock in their stores and deliver only what is necessary to the designated PUDO locations. This reduces the overall carbon footprint by eliminating the need for unnecessary transportation of products between warehouses, distribution centers, and individual stores.
Since it allows customers to choose the most convenient location, it minimizes the need for multiple delivery attempts or redirections. This means they can collect their parcel at a location on their daily commute or when running other errands in the same area, thus reducing the carbon footprint associated with separate delivery trips.
Saves Money
Pick up, Drop off can be a cost-saving solution for retailers in several ways:
By avoiding the extra courier cost of home delivery and missed or failed delivery attempts, PUDO can help retailers reduce delivery expenses.
Retailers can streamline the delivery and return process, prompting users to make an incremental purchase while picking their items. This results in additional sales for the retailers.
PUDO reduces expenses by delivering orders from multiple customers to a single location, potentially reducing the number of delivery drops per truck and increasing efficiency. This can result in significant cost savings for retailers, particularly those with high delivery volumes.
By redirecting deliveries to designated points, retailers can avoid the extra expenses associated with missed deliveries, such as rescheduling a delivery or returning a package to the warehouse.
It increases foot traffic at mom-and-pop stores and other businesses that offer it as a service, which can lead to increased sales. This presents an opportunity for retailers to attract new customers and generate additional revenue.

Benefits for Customers
Retailers aren't the only ones who benefit from PUDO services. In fact, when the customer selects this option at check out, they likely have these benefits in mind:
More Secure: Packages Aren't Left Outside
PUDO networks provide a secure way for customers to receive and leave parcels. Since the delivery locations are typically shops, parcel lockers, or other designated areas where postal carriers or logistics firms deliver in bulk, they eliminate the risk of packages being left outside, where they may be damaged by the elements or taken without permission.
Additionally, PUDO networks increase safety by using package tracking systems, secure lockers, mobile and email updates to alert shoppers of their package status. They also use technology solutions that detect unauthorized access and tampering with the package. The US Postal Inspection Service also recommends education and prevention of opportunity as two of the greatest weapons for minimizing the risk of package theft.
Increased Flexibility
By allowing customers to choose a pickup location that is most convenient for them, PUDO offers flexibility unavailable in traditional delivery methods. It eliminates the need to be present at home during delivery times and provides more options for people who have unpredictable schedules.
In addition, it reduces waiting time for customers and helps them avoid missed deliveries, which can be frustrating and time-consuming. Using PUDO gives consumers more control over their delivery experience, which offers them a more flexible and convenient option for receiving their parcels.
Simplified Returns Processes
PUDO simplifies the return process for consumers by providing a convenient and accessible location to drop off their returns. Often, these locations have extended operating hours beyond traditional post offices or carrier offices, allowing customers to quickly return their items without waiting in long lines or dealing with limited hours of operation.
Additionally, PUDO providers have systems for tracking returns, simplifying the process for both consumers and retailers. This streamlines and standardizes return processes, reducing the risk of errors or complications. As a result, retailers can process returns faster and with fewer errors, resulting in faster customer refunds and exchanges.
Eliminating Frustration From Missed or Delayed Deliveries
PUDO provides customers an alternate pick up and drop off service, eliminating the frustration of missed or delayed deliveries. PUDO point networks give customers more control of their parcel deliveries as they can get them whenever possible. This fully customizable and convenient delivery method allows customers to avoid the inconvenience of missed or stolen deliveries.

Shared Benefits for Retailers and Customers
While the retailer and the customer each have their own interests as to why they prefer PUDO deliveries, there are a few factors that they can both benefit from. Some of their shared benefits include:
Reduced Environmental Impact
As mentioned before, Pick Up Drop Off networks help customers and retailers reduce the environmental impact by reducing the number of delivery locations and increasing the volume of items dropped off daily. This reduces transport costs, non-delivery costs, and CO2 emissions. By offering this option to customers, it allows them to choose a cleaner delivery if they value environmentally friendly options.
PUDO's return to charity programs addresses the issue of eCommerce packaging, targeting, among other things, the massive quantity of cardboard used annually. This helps divert waste from landfills and reduces courier traffic. The delivery method leverages its existing parcel returns network to send boxes of consumer-donated merchandise to regional sorting warehouses for bulk shipment to charities.
Lower Expenses
PUDO services are less expensive for both customers and retailers than traditional home delivery services. This is due to parcel consolidation, which reduces delivery journey time and fuel consumption.
Because of the reduced cost and hassle on the retailers end, they will extend these savings to the customer and offer them a lower shipping price.
Offers More Pick Up and Delivery Locations
By offering more delivery and pickup locations, customers can collect their parcels conveniently without risking losing the package at their doorstep. This helps retailers avoid the extra courier cost of home delivery and missed or failed deliveries, saving on costs.
PUDO creates a symbiotic relationship between the retailer, the courier, and the eCommerce buyer by enabling any retail location to effectively manage its inventory while also providing a high-quality customer experience to buyers who come into the store to retrieve their packages.
Frequently Asked Questions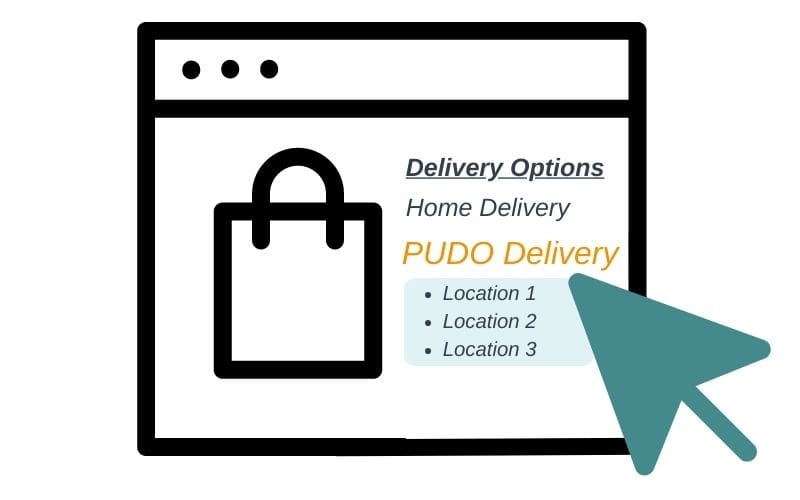 Where can I find PUDO locations?
You can find PUDO locations by visiting the website of the retailer you are purchasing from. Look for the option to choose a pickup location during checkout, and you can view the available PUDO locations near you.
How do I choose a PUDO location for my delivery?
During the checkout process on the retailer's website, you will be given the option to choose a pickup location. Simply select the PUDO location that is most convenient for you.
When is my package ready for pickup at the PUDO location?
Once your package has been delivered to the PUDO location, you will receive an email or text message notification that your package is ready for pickup. The notification will also include instructions on how to retrieve your package. You should pick up your parcel within 36 hours; otherwise, it will be sent to the nearest PUDO Depot.
How long will my package be held at the PUDO location?
The length of time that your package will be held at the PUDO location can vary depending on the retailer and location. Typically, packages will be held for up to 5 days before being returned to the retailer.
Can someone else pick up my package from the PUDO location?
In most cases, someone else can pick up your package from the PUDO location as long as they have the necessary information, such as the pickup code or PIN. However, some retailers may have specific rules regarding who can pick up packages.
Is PUDO available for international deliveries?
PUDO may be available for international deliveries, but this will depend on the retailer and the country of delivery. It is best to check with the retailer for specific information regarding international PUDO services.
Is there a fee for using PUDO?
The use of PUDO may or may not incur a fee, depending on the retailer and the location. Some retailers offer free PUDO services, while others charge a fee. It is best to check with the retailer for specific information regarding PUDO fees.
What are the hours of operation for PUDO locations?
The hours of operation for PUDO locations can vary depending on the location and retailer. PUDO locations typically have extended hours and may be open on weekends to accommodate customers. It is best to check with the retailer for specific information regarding the hours of operation for PUDO locations.
Conclusion
Pick Up, Drop Off (PUDO) is a revolutionary service that simplifies the delivery process for retailers and customers. By offering customers more control over their deliveries, reducing delivery costs, streamlining the returns process, and providing flexible and convenient options, PUDO is transforming how we receive and return packages.
For retailers, it has become an efficient and cost-effective delivery solution for their online customers. And as the demand for better services increases, we can only expect to see customers and retailers embrace PUDO services, leading to a more efficient and sustainable delivery ecosystem.
Explore the many ways you can optimize your deliveries by contacting Elite EXTRA today!
Sources
https://info.loqate.com/hubfs/Loqate 2018/Reports/Fixing Failed Deliveries.pdf
https://locus.sh/resources/glossary/pudos/
https://www.epa.gov/transportation-air-pollution-and-climate-change/carbon-pollution-transportation
https://www.supplychainbrain.com/blogs/1-think-tank/post/35090-how-pudo-boosts-last-mile-efficiency
https://www.scandit.com/resources/guides/