Manage Every Return in a Live Returns Dashboard
Bring much needed clarity and visibility to your returns process by tracking every product return in a single, live returns dashboard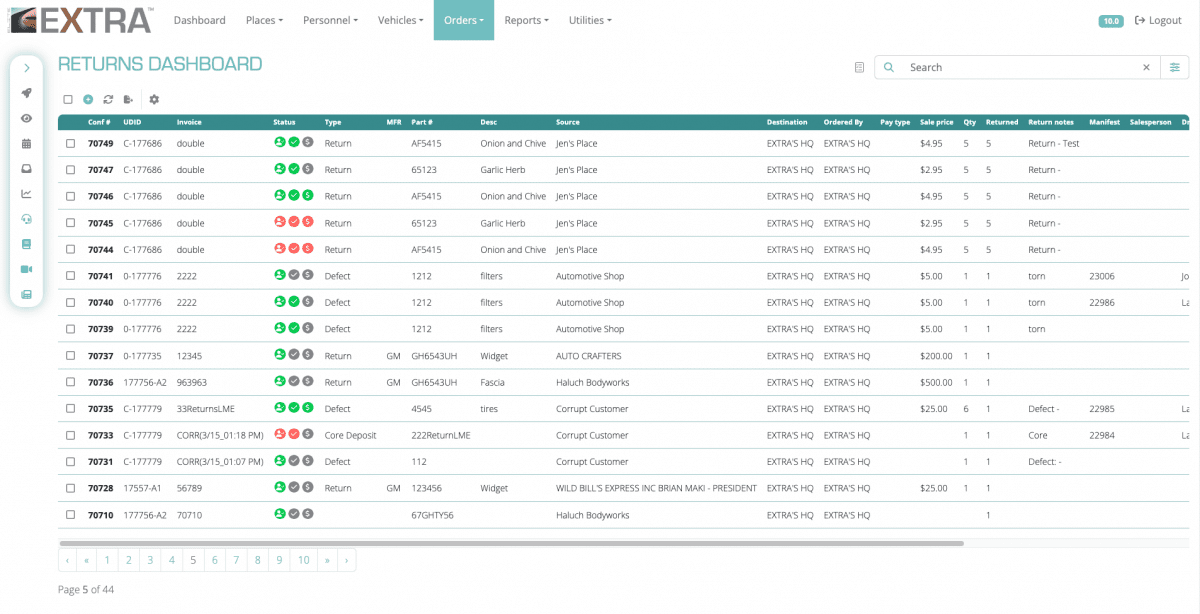 View
View all in-process returns from a single screen as your customers (or your team) submit return requests—no more returns blindspots
Track
See live-updating return statuses for every returned order and review a return's full history along the entire returns process
Manage
Update returns statuses as they move throughout the returns process and communicate these statuses live to your customers
Improve returns visibility across your organization and simplify the product returns process
A single, online returns dashboard to manage your entire returns operation—from receiving return requests to issuing credits and staying up-to-date every step in between
Returns Dashboard Benefits
Improved returns visibility
Simplified returns creation
Streamlined returns management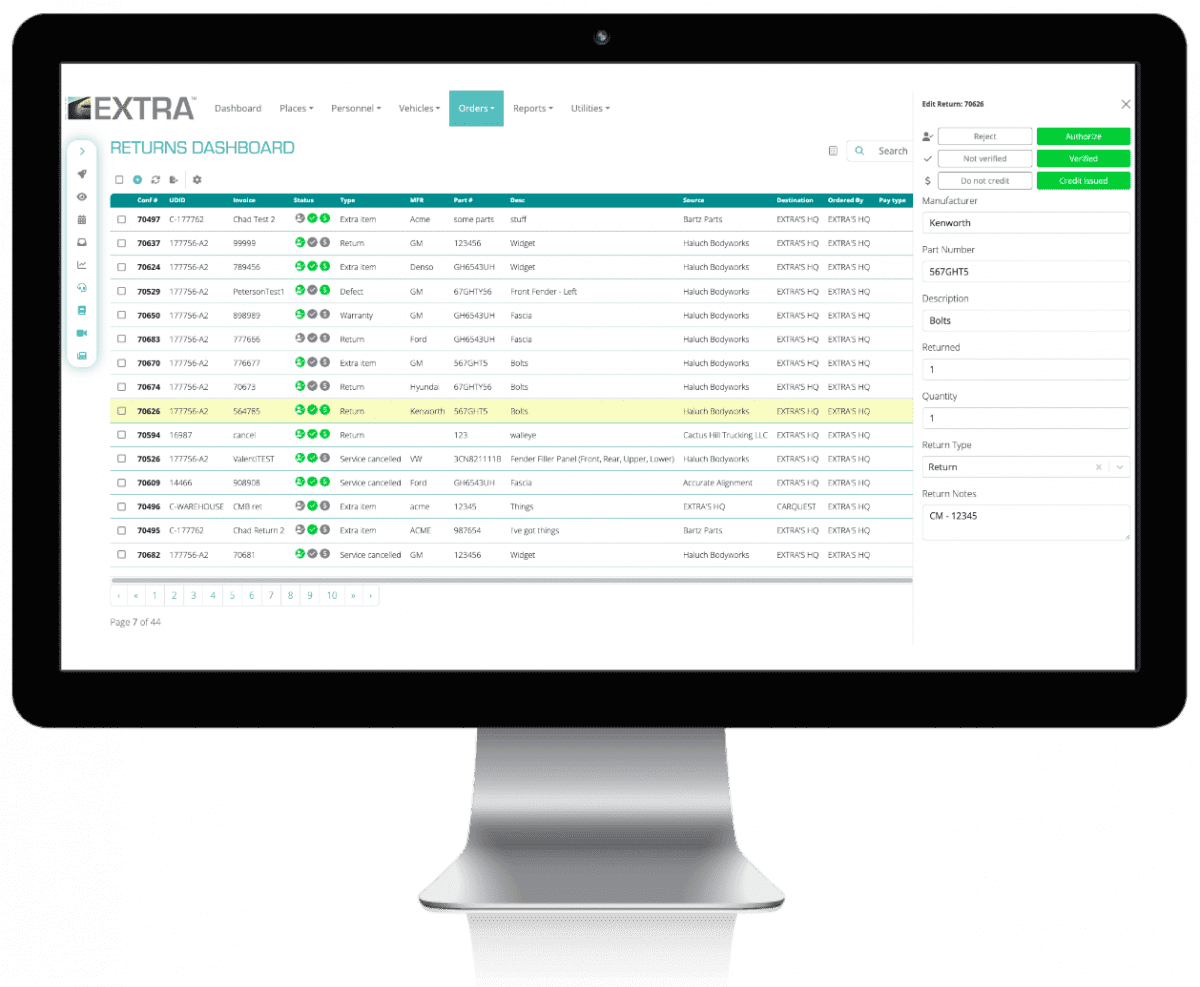 Returns Automation
Returns Management Software
Automatic returns validation
Returns policy enforcement
Looking to add more transparency and visibility to your returns process?
End-to-end returns management

Make your product returns process just as efficient as product delivery
Automated returns validation
Return policy enforcement
Integrated returns portal
Automated pickup requests
Tired of an inefficient reverse logistics process?
Frequently asked questions
Have questions about the returns dashboard feature of our Returns Automation product?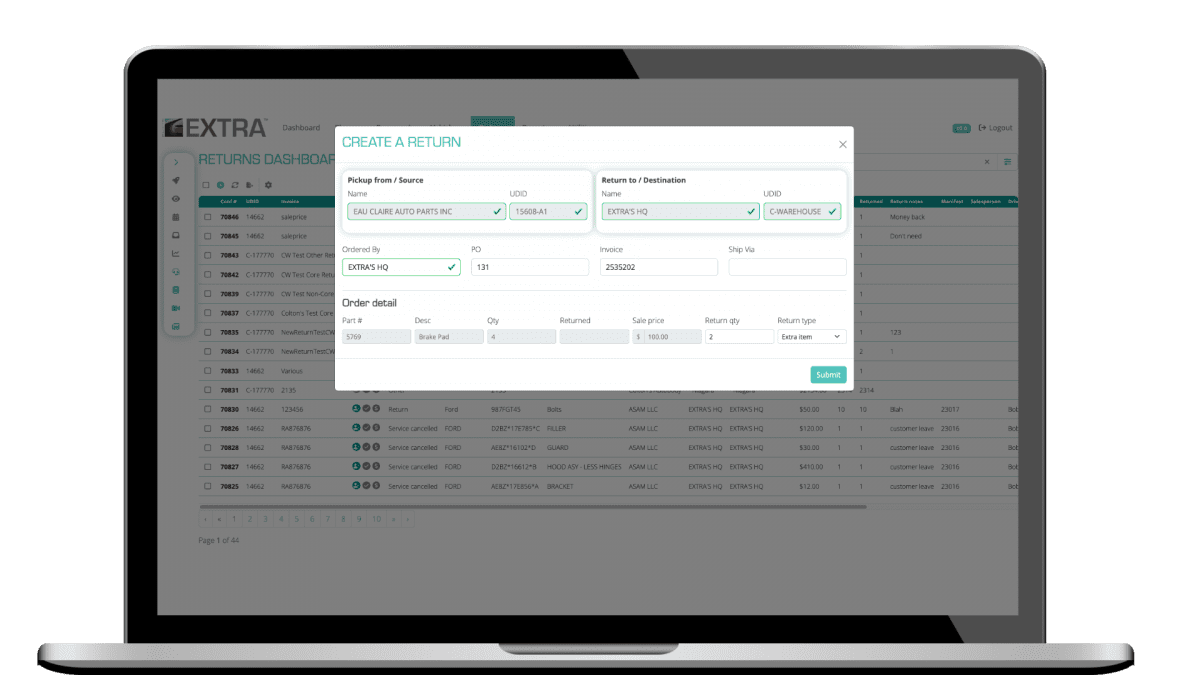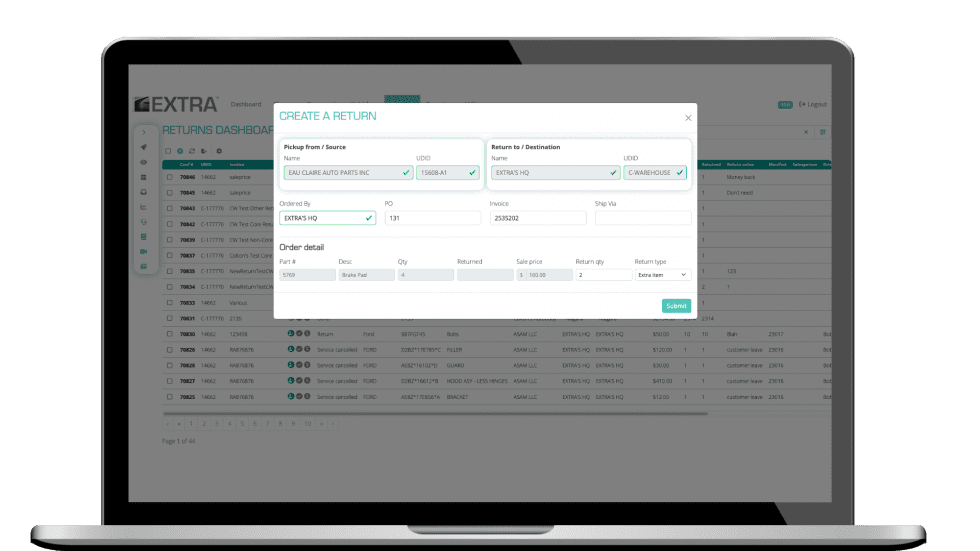 What type of information is provided on the returns dashboard?
You can customize the returns dashboard to show the information about each return that is important for you and your team.
Some of this information includes:
Order data (invoice #, line item description, source/destination, sale price, etc.)
Return data (return type, reason, notes)
Status data (Return policy authorization, product verification, credit issuance)
Historical data (Date/time of status updates, returned date, etc.)
How does the returns dashboard connect to Elite EXTRA Routing & Dispatch?
If you are a user of Elite EXTRA Routing & Dispatch and Elite EXTRA Returns Automation, the two solutions will be accessible seamlessly on a single web-view. Meaning, the returns dashboard will be added as an additional tab in your Elite EXTRA instance along with the other Routing & Dispatch features you use on a daily basis.
The integration between these two solutions gives you a variety of enhanced benefits, including:
Authorized returns will be automatically added to Routing & Dispatch as pickup orders to be dispatched to drivers
Drivers can enter return requests right from their mobile device that will be automatically added to the Returns Dashboard for tracking
Return history on the Returns Dashboard will include chain of custody/POD documentation, return dates/times, and other returns logistics data
Does the returns dashboard connect with the customer portal?
Yes! Returns requested by your customers on the customer portal will be automatically added to the returns dashboard for tracking.
Also, as returns statuses are updated in the returns dashboard, these statuses will be updated live on the customer portal for your customers to follow along.
How does entering return requests work on the returns dashboard?
In the case where a customer calls in to request a return, you can easily enter this return manually within the returns dashboard. When adding a new return, you can search for previously delivered orders to auto-fill all of the order information—making entering a return extremely fast and easy.
Returns are costly enough, why should I invest in software to improve my returns operations?
With over 15 years of industry experience, we know how much of a hassle and a cost-driver product returns can be. However, we also know that returns are a necessary part of any delivery operation and are a huge factor in customer satisfaction and industry competition.
Because of this, we firmly believe that companies should invest in improving their reverse logistics processes and make the product returns process a positive customer experience. Here are the top benefits you can enjoy with Returns Automation:
 More efficient process = cost savings
Spend less time processing returns for items you didn't sell
Less opportunity for products to get lost along the way
Improve customer experience with quicker turnaround time for returns credits
Less time handling returns = increased throughput from drivers
An early adopter of Returns Automation in the wholesale auto industry with annual sales of ~$13 million has forecasted returns savings of $75,000+ in just the first year of using the software. Along with this, we continually hear feedback from end customers about how much better the returns process has been since their suppliers have implemented Returns Automation. This is the type of positive impact we hope to make on the reverse logistics process and is why we passionately believe in this solution.
Have other questions you want answered? Talk with our team or request a live demo to learn more!
Have questions or want to learn more? Contact our team today to discover how Elite EXTRA can streamline your last mile logistics. Fill out the form or contact us from the email or phone number below to start a conversation.
Email Us: sales@eliteextra.com
Call us: 1.888.484.8729 
We look forward to working with you!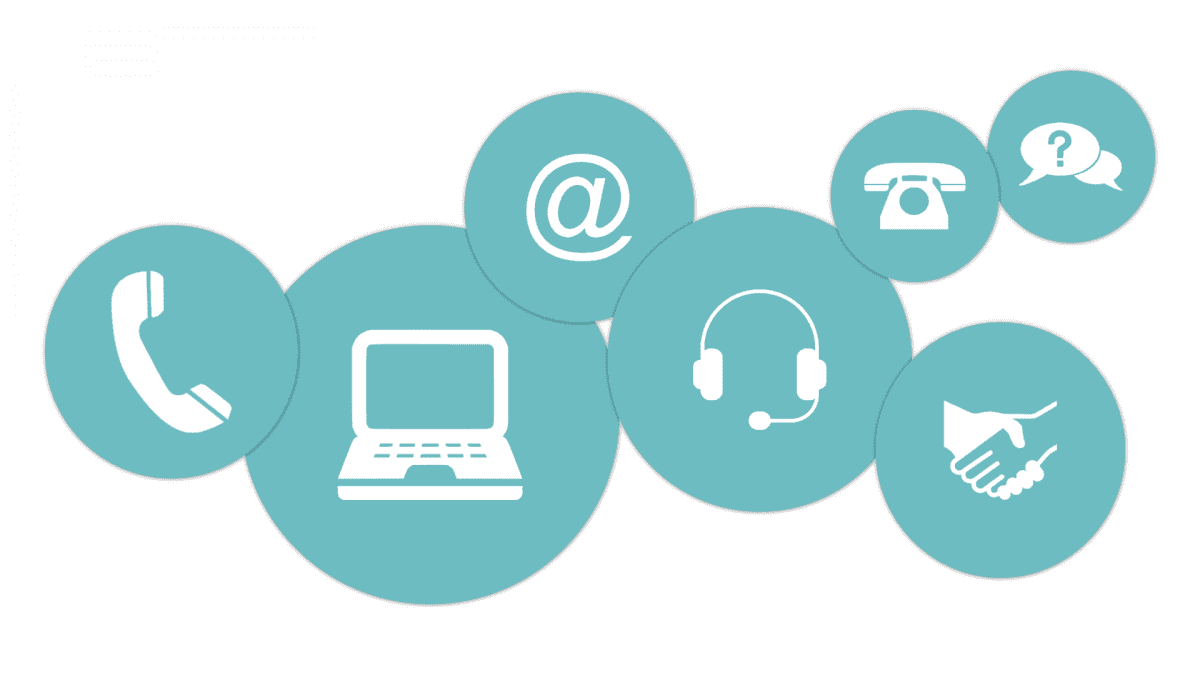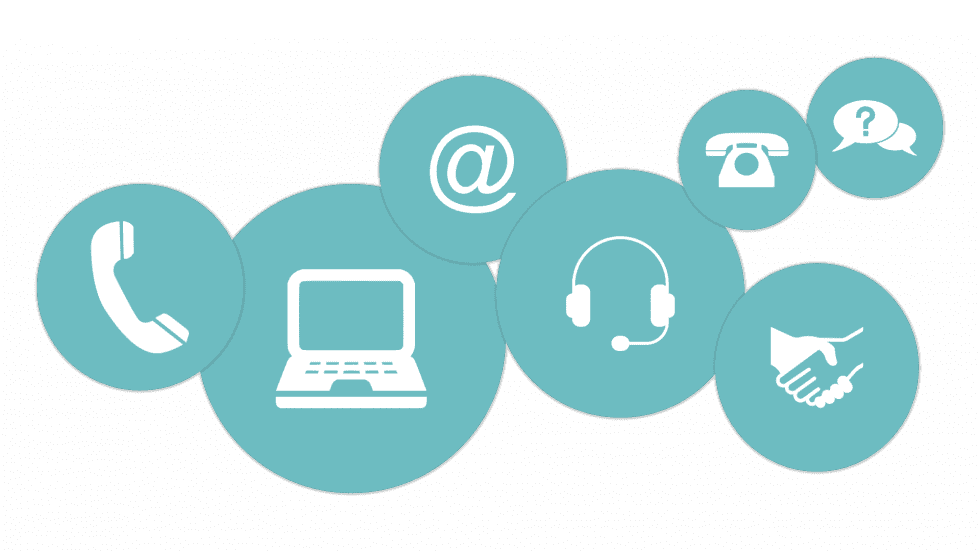 Please fill out the form: