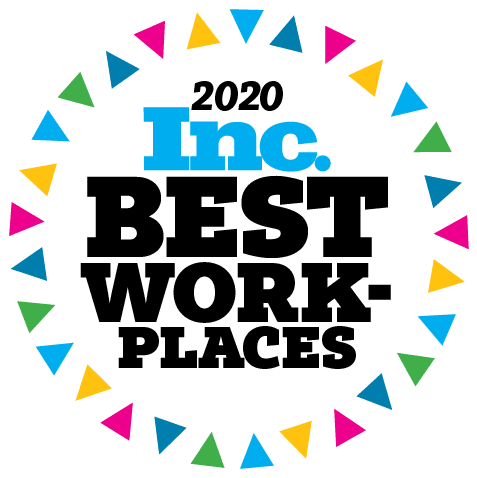 Eau Claire, WI — Inc. Magazine has named Wisconsin-based Applied Data Consultants (ADC), owner of Elite EXTRA, an advanced dispatch software, to its annual list of the Best Workplaces for 2020 (https://www.inc.com/best-workplaces/2020.html). The listing is based on an anonymous survey of employees' thoughts about their company.
ADC was one of only five finalists from Wisconsin and was selected from nearly 3,000 overall submissions. It is the only company to receive the award outside of the metropolitan areas of Milwaukee and Madison.
ADC/Elite EXTRA Founder and President Jim Ward said winning the award is not only a great testament to the team, but the survey results provide insight into ways to make the company culture and employee engagement even stronger.
"Our team members are our most valued resources, and creating a work environment where they want to come together to collaborate and innovate every day is a top priority," said Ward. "We enjoy an atmosphere that is conducive to a work/life balance, and where everyone contributes to its growth. This culture is not only important to our teams, but to the clients we are dedicated to serving."
The company, which provides advanced dispatch management software to a user base of over 100,000 globally, has seen its platform for last mile deliveries grow as consumers are demanding the need to deliver quickly, efficiently and safely during the crisis. New features, such as external delivery services that employ crowdsourced drivers to help with driver shortages, along with an On Demand feature, which calls in couriers, have been extremely popular with the increased demand.
After having just celebrated a groundbreaking ceremony for a new 6,000 square foot building, Ward sent a memo on March 14 requiring all employees to work remotely until instructed otherwise. The company has been operating remotely since then, without any interruption to service. It has donated its technology locally to businesses who needed to get into the delivery business quickly as the result of COVID-19.
"As a Wisconsin technology company that deals with harsh winters, we're able to adapt quickly to being remote," said Ward. "It is a testament to our team that we've continued to stay close, communicate well, and work hard, all while providing the same great service that our customers have come to expect. In fact, we've helped some companies grow with some of the new innovations we have developed."
Inc. has a reach of 50 million monthly readers and puts out their annual list after conducting a comprehensive employee survey from each nominated company. The survey was done prior to COVID-19. Survey topics included trust, management effectiveness, perks, and confidence in the future. Inc. gathered, analyzed and audited the data and then ranked all the employers using a composite score of survey results. ADC ranked 96 for employee engagement, with "fun" being the word most associated with the company.
Hitting newsstands May 12 in the May/June 2020 issue, and as part of a prominent Inc.com feature, the list is the result of a wide-ranging and comprehensive measurement of private American companies that have created exceptional workplaces through vibrant cultures, deep employee engagement, and stellar benefits.
According to Inc. Magazine Editor-in-Chief Scott Omelianuk, the strongest engagement scores came from companies that prioritize the most human elements of work. Inc. said these companies are leading the way in employee recognition, performance management, and diversity.
"Building a great corporate culture comes only from strong leadership," says Omelianuk. "The companies on Inc.'s Best Workplaces list are setting an example that the whole country can learn from, especially now, when company culture is more important to the workforce than ever."