Video Description
The "Welcome to Elite EXTRA!" video is our way of showing who Elite EXTRA is, what we do, and to introduce our wonderful team. Putting together this video was a blast, and our team is extremely proud of how it turned out. We think it'll do a great job at explaining our company and our culture for years to come, and you'll have to let us know what you think!
Going Behind the Scenes
In this video, Colton Ward, co-director of "Welcome to Elite EXTRA!" sits down to discuss the story of making the video and shares more insights into the company's culture. He also shares some never-before-seen behind the scenes photos and videos from the video's creation. Some questions he answers are: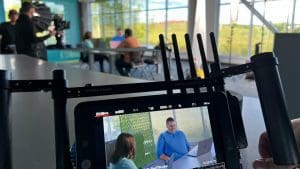 What was the initial vision of the "Welcome to Elite EXTRA!" video?
Who was the production team involved in creating the video?
How did you film the delivery vehicle driving scene?
Who was the cast in the video? Was everyone an Elite EXTRA team member?
Does your team actually consist of employees from every background you mention?
Why did you include the "glass crash" scene? How was that filmed?
What's the significance of being a "family-owned" company?
The Story Behind "Welcome to Elite EXTRA!"
"Welcome to Elite EXTRA!" was a special project from its inception. Ever since we moved into our new headquarters in 2021 and expanded our brand in 2022, we knew that we needed an updated version of our "We Are Elite EXTRA!" video that we produced in 2019. For us, "showing" this culture has always been more effective than "telling" it, so a video was the perfect way to share our story.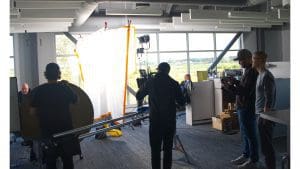 From the beginning, we knew the video needed to capture more than just the new changes to our product suite. We wanted to share how our culture has developed over the years and how it drives our innovation and top-notch customer service.
It was also important for us that this video stands apart from the rest of the videos we create. Pairing a quality message with quality visuals was key. For this reason, we brought in a stellar local video production team called JS Visual. They helped us hone our message and transform the vision into beautiful video shots.
Concluding Thoughts
The entire Elite EXTRA team had a hand in the 6 month process of bringing this video to the world, and we couldn't be more happy with how it turned out. For those of you just being introduced to our company, Welcome to Elite EXTRA! If you want to learn more about our company and our last mile software solutions, reach out to us!