How it Works:
Routes dispatched to delivery network services, such as Lyft and Uber, now appear in the Route Whiteboard for easy monitoring (located under Utilities). Lyft orders will appear once an order has been accepted, and Uber orders will appear as soon as there is a pending request. The routes will appear in the route whiteboard with either the driver's name or the service provider's name (may vary). Beneath the route header, users will see the status of the order, which will match the order status also posted in the messages panel on the dispatch screen and in the order grid columns. Unlike routes dispatched to internal drivers, the individual stops within the route whiteboard will not update. The Delivery Network orders are differentiated from other routes in the route whiteboard with a different icon and color.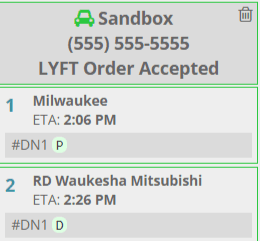 Benefits:
All active routes can now easily be monitored within the Route Whiteboard regardless of if they have been dispatched to internal or external drivers. This saves users from having to reference multiple places within Elite EXTRA.
Contact Elite EXTRA Support at support@eliteextra.com or (888) 484-8729, opt 3 for more information.